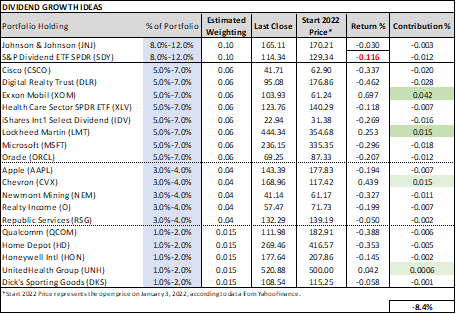 Image: Valuentum's simulated Dividend Growth Newsletter portfolio continues to "outperform" relative to almost any dividend-paying benchmark this year! Past performance is not a guarantee of future results. This is not a real money portfolio.
By Brian Nelson, CFA
We just talked about the awesome success rates of the Exclusive publication, the fantastic performance of the simulated High Yield Dividend Newsletter portfolio, and now my friends, let's put our hands together for Valuentum dividend growth investors!
As of the last tally through October 19, the simulated Dividend Growth Newsletter portfolio is beating the S&P 500 Dividend ETF SPDR (SDY) by roughly ~3.2 percentage points so far in 2022 (-8.4% versus -11.6%), all the while we've seen some awesome dividend growth by holdings across the board, with Microsoft (MSFT), Lockheed Martin (LMT), Honeywell (HON), and Realty Income (O) recently pushing through some nice dividend increases.
What's ~3.2 percentage points on a million-dollar portfolio? ~$32,000 in capital one doesn't have to make up when the markets come roaring back in the coming years – and that's relative to a dividend growth benchmark that is "outperforming" the SPY in a big way in 2022.
You all know that the SPDR Portfolio S&P 500 High Dividend ETF (SPYD) is down ~14.3% so far this year, that bonds (AGG) are off ~17.4% so far this year, that SPDR S&P 500 Trust ETF (SPY) is down ~23.5% so far this year, the Vanguard Real Estate ETF (VNQ) is down ~32.6%, the iShares Mortgage Real Estate Capped ETF (REM) is down ~40.0% --and here we are with the simulated Dividend Growth Newsletter portfolio down just ~8.4% on a price-only basis, excluding dividends!
You all have to be loving this!
Again, we're not cherry picking – the simulated High Yield Dividend Newsletter portfolio is putting up relative "outperformance," while success rates in the Exclusive publication are fantastic – the short idea considerations are doing great, and the list goes on and on. This is why we work hard each and every day, to position our ideas for relative "outperformance."
Very few investors were warning about the 60/40 stock/bond portfolio (VBIAX), which is off more than 20% so far this year, according to data from Morningstar, but we were!!! We continue to deliver for members across the board! Let's keep focused on preserving wealth during this tumultuous market environment. Valuentum dividend growth investors rejoice.
You've earned it, my friends!
We'll have another update on the simulated Best Ideas Newsletter portfolio soon, but based on its last measurement, it was carving out ~2.6 percentage points of relative "outperformance," and that was before we went to hefty "cash position" in advance of the late August/September swoon. It's been a difficult year for investors, but save for a couple ideas such as PayPal (PYPL) and Meta Platforms (META) that didn't follow through for us in 2022, I don't think we could have done better.
Look at this article from September 2019 – our pounding the table on "The Hierarchy of Idea Generation (September 2019)!" For new members, this is how we've explained and continue to explain our process. Frankly, it's hard not to be excited about what's going on at Valuentum!
---------------------------------------------
About Our Name
But how, you will ask, does one decide what [stocks are] "attractive"? Most analysts feel they must choose between two approaches customarily thought to be in opposition: "value" and "growth,"...We view that as fuzzy thinking...Growth is always a component of value [and] the very term "value investing" is redundant.
-- Warren Buffett, Berkshire Hathaway annual report, 1992
At Valuentum, we take Buffett's thoughts one step further. We think the best opportunities arise from an understanding of a variety of investing disciplines in order to identify the most attractive stocks at any given time. Valuentum therefore analyzes each stock across a wide spectrum of philosophies, from deep value through momentum investing. And a combination of the two approaches found on each side of the spectrum (value/momentum) in a name couldn't be more representative of what our analysts do here; hence, we're called Valuentum.
--------------------------------------------------
The High Yield Dividend Newsletter, Best Ideas Newsletter, Dividend Growth Newsletter, Nelson Exclusive publication, and any reports and content found on this website are for information purposes only and should not be considered a solicitation to buy or sell any security. Valuentum is not responsible for any errors or omissions or for results obtained from the use of its newsletters, reports, commentary, or publications and accepts no liability for how readers may choose to utilize the content. Valuentum is not a money manager, is not a registered investment advisor, and does not offer brokerage or investment banking services. The sources of the data used on this website and reports are believed by Valuentum to be reliable, but the data's accuracy, completeness or interpretation cannot be guaranteed. Valuentum, its employees, independent contractors and affiliates may have long, short or derivative positions in the securities mentioned on this website.