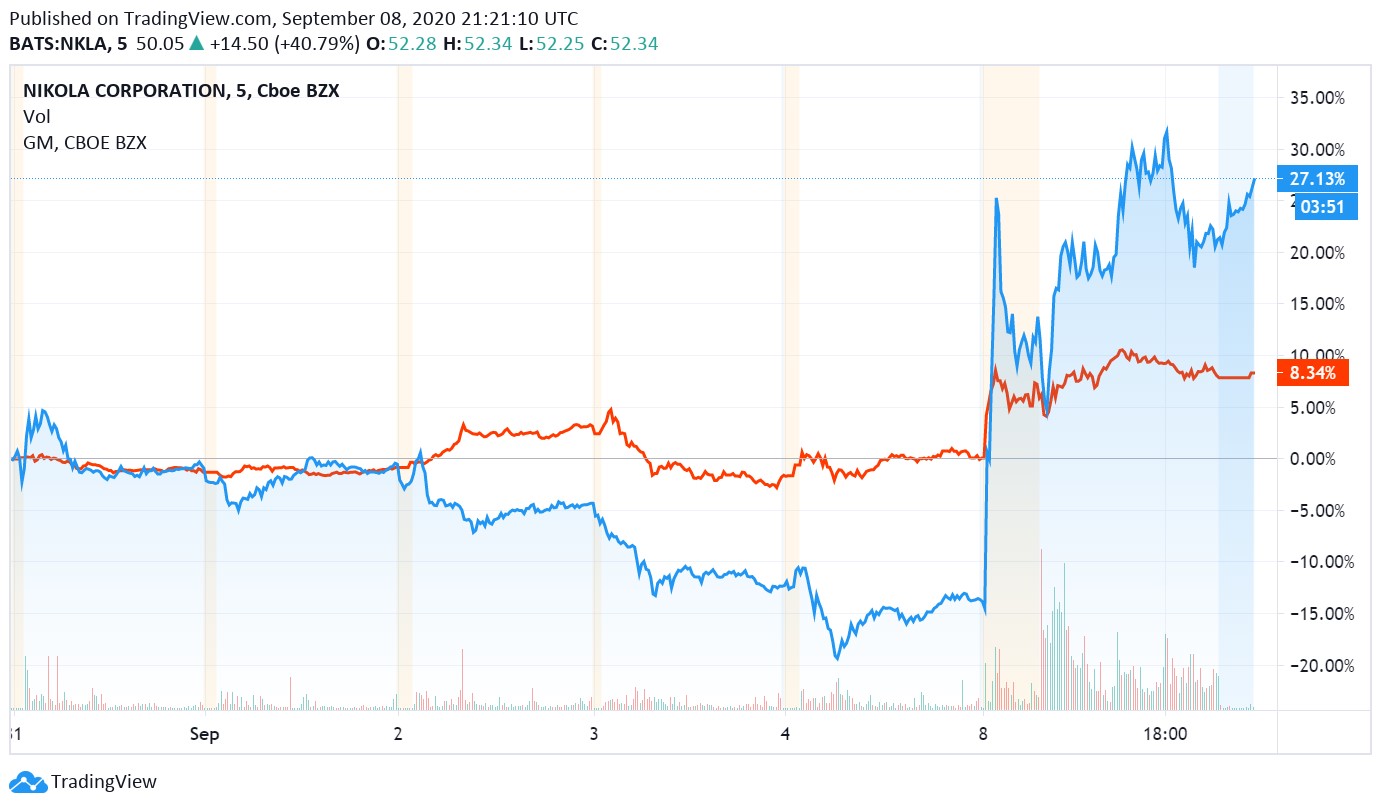 Image Shown: On September 8, shares of General Motors Corporation (in orange) and Nikola Corporation (in blue) jumped higher during normal trading hours after announcing their strategic partnership.
By Callum Turcan
On September 8, General Motors Corporation (GM) and Nikola Corporation (NKLA) announced a strategic partnership that saw shares of GM and NKLA leap up 8% and 41% during regular trading hours that day, respectively. General Motors will receive an 11% equity stake in Nikola (via common stock issuance) worth ~$2 billion in return for agreeing to provide Nikola in-kind services as "General Motors will engineer, homologate, validate and manufacture the Nikola Badger battery electric and fuel cell versions" which involves utilizing General Motors' "Ultium battery system and Hydrotec fuel cell technology." General Motors expects the agreement will close by the end of this month.
There will be a lock-up provision concerning General Motors' pro forma equity stake in Nikola that is set to run through June 2025. Nikola expects this agreement will save the firm ~$5 billion in battery, powertrain, engineering, and validation costs combined over the next decade as the company gains "access to General Motors' global safety-tested and validated parts and components" along with General Motors' hydrogen fuel cell and electric battery technology.
Overview
For reference, the Nikola Badger is a pickup with a hydrogen fuel cell and battery electric variants, both of which General Motors will manufacture for Nikola through this agreement. Nikola is working on developing its own manufacturing complex in Arizona, though as of now, Nikola does not possess any of its own commercial-level production capabilities. The press release announcing the General Motors-Nikola tie-up noted production of the Badger pickup would start in late-2022.
Please note Nikola already has an agreement with a subsidiary of the Italian-Dutch firm CNH Industrial NV (CNHI) to build trucks powered by hydrogen fuel cell and electric battery technology for the European market. Nikola is also focused on building semi-trucks for freight hauling purposes, such as its Nikola One offering which will be powered by hydrogen fuel cell technology. General Motors will also assist is reducing the cost of the "Nikola Tre, Nikola One, Nikola Two and NZT" programs. Here is what General Motors had to say in the press release announcing the deal (emphasis added):
The agreement with Nikola extends General Motors' utilization of its fuel cell technology to the Class 7/8 semi-truck market and represents a high-volume commercialization of its leading Hydrotec fuel cell system and complements the company's battery-electric propulsion. Fuel cells will become increasingly important to the semi-truck market because they are more efficient than gas or diesel. General Motors sees additional growth opportunities in multiple transportation, stationary and mobile-power end markets.
General Motors' battery development work is ongoing. Its Ultium battery technology roadmap includes silicon anodes and lithium metal anodes, which will improve vehicle range, affordability, and reduced dependence on rare and costly metals. It is already demonstrating automotive-grade durability and significantly higher energy density.
Based on General Motors' commentary, it appears the firm expects this partnership will spawn new collaboration opportunities between the company and Nikola. In a recent WSJ interview, General Motors' CEO Mary Barra noted the automotive giant would invest $20.0 billion over the next five years on electric and driverless vehicles (driverless vehicle technology is namely being developed through the General Motors-led Cruise unit). The deal with Nikola is a sign of General Motors' commitment to its new strategic focus.
Concluding Thoughts
We wrote a note covering Nikola this past June as the firm went public through a business combination with VectoIQ Acquisition Corp, a special purpose acquisition company ('SPAC'), that we encourage our members to check out here. Given that Nikola's equity appears very generously valued as of this writing for a firm with negligible revenues, we are staying far away from the company, though we are keeping an eye on the automotive industry at-large. Please note we removed shares of General Motors from both our Best Ideas Newsletter and Dividend Growth Newsletter portfolios back in January 2020 (link here), and have since pivoted towards large-cap tech firms with strong cash flow profiles, pristine balance sheets, and promising growth outlooks.
-----
Auto Making Industry – F GM HMC HOG TM TSLA
Auto Parts Supplier Industry – ALSN APTV JCI LEA MGA
Related: CNHI, MZDAY, NKLA, NSANY, VLKAF, VLKPF, VWAGY
-----
Valuentum members have access to our 16-page stock reports, Valuentum Buying Index ratings, Dividend Cushion ratios, fair value estimates and ranges, dividend reports and more. Not a member? Subscribe today. The first 14 days are free.
Callum Turcan does not own shares in any of the securities mentioned above. Some of the securities written about in this article may be included in Valuentum's simulated newsletter portfolios. Contact Valuentum for more information about its editorial policies.