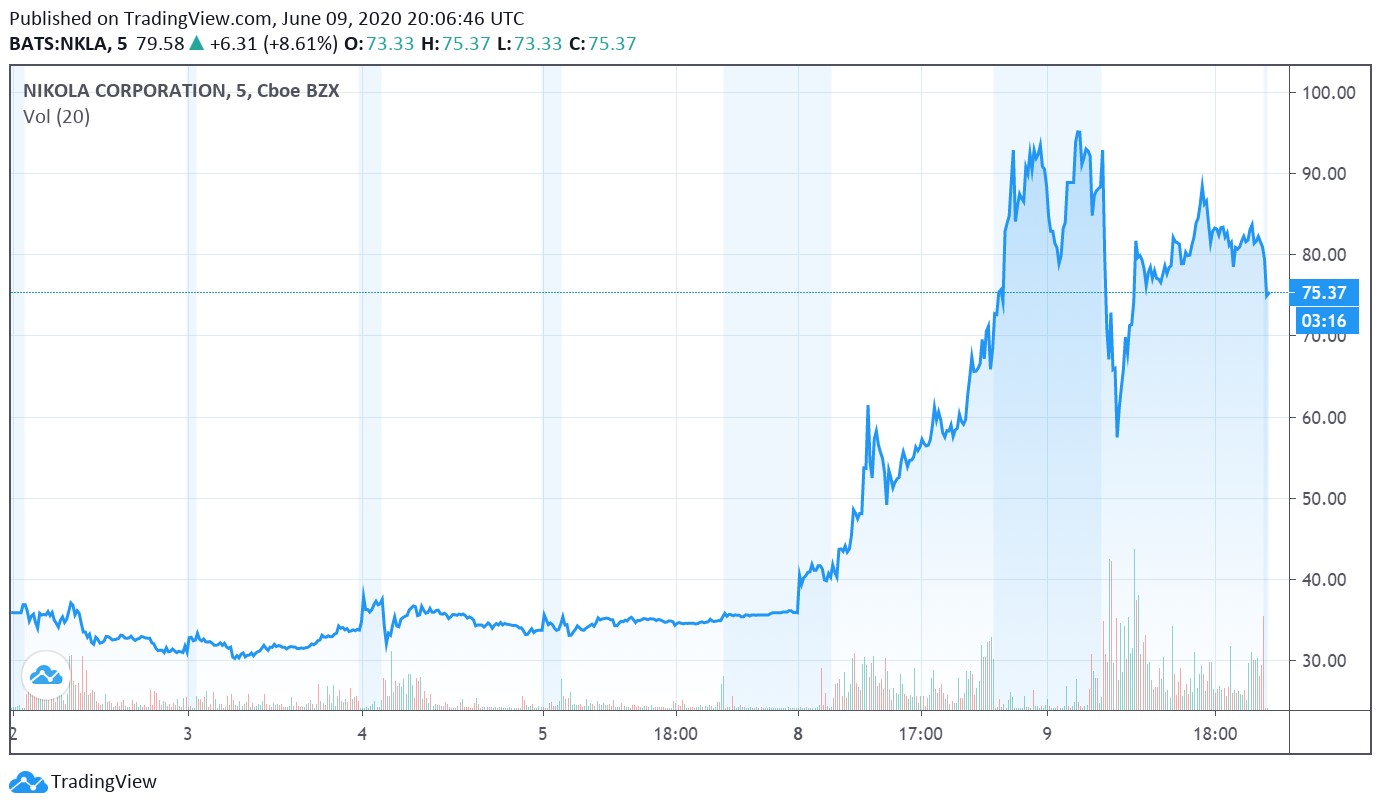 Image Shown: Shares of Nikola Corporation have skyrocketed since completing a business combination with a special purpose acquisition company in early-June 2020.
By Callum Turcan
Nikola Corporation (NKLA) completed its business combination with VectoIQ Acquisition Corp (a special purpose acquisition company or 'SPAC') on June 3, 2020, and a day later shares started trading under the NKLA ticker (VectolQ Acquisition previously traded under the ticker VTIQ). Effectively, this allowed Nikola Corp to become publicly traded without undergoing a "conventional" initial public offering ('IPO') and furthermore, the combination raised over $700 million to fund Nikola Corp's ambitions. VectolQ Acquisition was sponsored by VectoIQ Holdings LLC, P. Schoenfeld Asset Management LP, and Cowen.
Nikola Corp is run by CEO Mark Russell and Executive Chairman and founder Trevor Milton. Stephen Girsky, Managing Partner of VectolIQ, joined Nikola Corp's board of directors, bringing with him a ton of experience in the automotive space as he was formerly Vice Chairman of General Motors Corporation (GM) from November 2009 until July 2014.
The Plan
Going forward, the goal is to build a manufacturing facility for battery-electric ('BEV') and hydrogen fuel-cell vehicles ('FCEV') in Coolidge, Arizona, specifically to build heavy-duty class 8 trucks for logistics activities. The company bills itself as such:
Nikola Corporation is globally transforming the transportation industry. As a designer and manufacturer of battery-electric and hydrogen-electric vehicles, electric vehicle drivetrains, vehicle components, energy storage systems, and hydrogen fueling station infrastructure, Nikola is driven to revolutionize the economic and environmental impact of commerce as we know it today. Founded in 2015, Nikola Corporation is headquartered in Phoenix, Arizona.
Nikola Corp likes hydrogen fuel cell technology because it has the same qualities as electric vehicles ('EVs') powered by lithium-ion batteries without some of the downsides of EVs such as limited range, long charge times, cold start problems, and weight issues (the batteries in semi-trucks would have to be quite large to power such beasts with current technologies) according to its website. Particularly as it relates to class 8 trucks and larger vehicle offerings in general, hydrogen fuel cell technology arguably has a leg up on battery-powered EVs (more on that here) due to their significantly longer range and ability to quickly recharge given the need to traverse long distances in the logistics business. It is a much different world than the realm of passenger cars.
As an aside, Nikola Corp has historically generated negligible amount of revenue from solar installation projects that are completed within a year or less, an activity that will eventually be discontinued.
Reportedly, the ~$1 billion facility Nikola Corp seeks to build in Coolidge will house a 1 million square foot manufacturing facility that will create 2,000 jobs and thousands more in the supply chain needed to make the firm's vision possible. Nikola Corp had enough reservations at the start of June 2020 to potentially generate in excess of $10.0 billion in revenue according to a recent press release, though it appears the firm has yet to break ground on the facility (as of early June) and construction activities are expected to start by late 2020. Please note the ongoing coronavirus ('COVID-19') pandemic may impact its current timetable.
Part of these efforts include building out a network of hydrogen fuel stations that Nikola Corp hopes will stretch across North America and eventually become the largest hydrogen fuel station network in the world. The company seeks to start generating revenue by 2021 via the rollout of its Nikola Tre Class 8 BEV with the Nikola Two Class 8 FCEV rolling out in 2023 (according to a recent press release). As mentioned previously, these are semi-trucks for supporting logistics and freight trucking needs, not to be confused with the passenger cars made by Tesla Inc (TSLA) though Tesla also seeks to become a player in the semi-truck space (more on that here).
However, commercial production (according to a June 8, 2020 8-K SEC Filing) of the BEV truck offering is not expected to begin until 2022 and commercial production of the FCEV truck offering is not expected to begin until 2023 as the manufacturing facility won't be completed until late 2021 according to Nikola Corp. It appears that Nikola Corp may start generating meaningful revenue ahead of planned BEV truck deliveries or will source those BEV trucks from its European joint-venture that we will cover in just a moment. The BEV truck pre-orders are binding contracts which the firm negotiates on a case-by-case basis.
According to the same 8-K filing, Nikola Corp had 14,000 reservations for its FCEV trucks, which the firm intends to turn into binding orders as it gets closer to achieving commercial production in 2023. Nikola Corp's FCEV truck reservations have historically not required a deposit by the potential customer. The firm did not provide information on the number of future BEV truck deliveries that are currently covered by binding contracts.
Nikola Corp mentioned that Anheuser Busch Inbev NV (BUD) was one of its major customers and implied that its customers would lean on the hydrogen fuel station network Nikola Corp is building out, given the current lack of such a widespread network in North America (and elsewhere). While Nikola Corp plans to sell its BEV truck offerings directly, the firm noted it would offer bundled leases of its FCEV truck offerings, which would be "inclusive of the cost of the truck, hydrogen fuel and regularly scheduled maintenance" indicating there could be reoccurring revenue opportunities here.
European JV and Future Capital Raises
In Europe, Nikola Corp partnered up with the Italian firm IVECO S.p.A (acronym for Industrial Vehicles Corporation), a subsidiary of the Italian-Dutch firm CNH Industrial NV (CNHI), to build BEV and FCEV trucks for the European market. The 50/50 JV also appears to allow for Nikola Corp to jumpstart manufacturing activities as the firm noted in the 8-K filing that:
"The joint venture with Iveco provides the Company with the manufacturing infrastructure to build BEV trucks for the North American market prior to the completion of the Company's planned greenfield manufacturing facility in Coolidge, Arizona. The operations of the joint venture are expected to commence in the third quarter of fiscal 2020."
Additionally, this JV involves INVECO making a $100 million in-kind investment by providing Nikola Corp with advisory services at predetermined hourly rates. That includes providing "project coordination, drawings, documentation support, engineering support, vehicle integration, and product validation support. Those services are expected to be consumed primarily in 2020 and 2021 and will be recorded as research and development expense until the Company reaches commercial production."
More information on these subjects should become available over time. We caution that Nikola Corp's ability to raise funds in capital markets will be essential to supporting its various manufacturing capacity growth and network expansion initiatives. Historically, the firm has utilized redeemable convertible preferred stock to raise funds, though the business combination with VectoIQ Acquisition Corp could allow for other capital raise avenues as well. Nikola Corp mentioned that (from the March 2020 press release announcing the business combination):
The transaction reflects an implied enterprise value at closing of $3.3 billion. Cash proceeds raised in connection with the transaction, which will primarily be used to fund operations, support growth and for other general corporate purposes, will be funded through a combination of VectoIQ's cash in trust and a $525 million private placement of common stock at $10.00 per share led by institutional investors including Fidelity Management & Research Company, ValueAct Spring Fund and P. Schoenfeld Asset Management LP. Current Nikola stockholders will remain majority owners of the combined company at closing.
Future equity raises are quite likely especially given the recent strength of the share price of NKLA. Debt issuances are also possible, though that might take place closer to the start of commercial production. As mentioned previously, the business combination between Nikola Corp and VectoIQ Acquisition raised over $700 million for Nikola Corp.
Concluding Thoughts
Though an interesting company, Nikola Corp is one we would place in the "uninvestable" category at the moment. Given its lack of significant revenue (manufacturing activities have yet to begin in earnest and won't for some time) and its current market capitalization of almost $30.0 billion as of this writing, this seems more like a technical-driven parabolic rally that will eventually come crashing down. Longer term, there could be an interesting company here, but that upside and much more is likely already fully priced in as of this writing.
Arguably, a similar situation happened with spaceflight company Virgin Galactic Holdings Inc (SPCE) which got listed via a business combination with a special purpose acquisition company in October 2019 that saw shares of SPCE spike up towards $40 per share at one point in February 2020 before SPCE crashed down to $16-$17 per share (where shares are trading at as of this writing). The future is exciting, but these opportunities will take time to become real revenue and most importantly free cash flow generators.
-----
Auto Making Industry – F GM HMC HOG TM TSLA
Auto Parts Supplier Industry – ALSN APTV JCI LEA MGA
Related: BUD, CNHI, MZDAY, NKLA, NSANY, SPCE, VLKAF, VLKPF, VWAGY
-----
Valuentum members have access to our 16-page stock reports, Valuentum Buying Index ratings, Dividend Cushion ratios, fair value estimates and ranges, dividend reports and more. Not a member? Subscribe today. The first 14 days are free.
Callum Turcan does not own shares in any of the companies mentioned above. Some of the securities written about in this article may be included in Valuentum's simulated newsletter portfolios. Contact Valuentum for more information about its editorial policies.