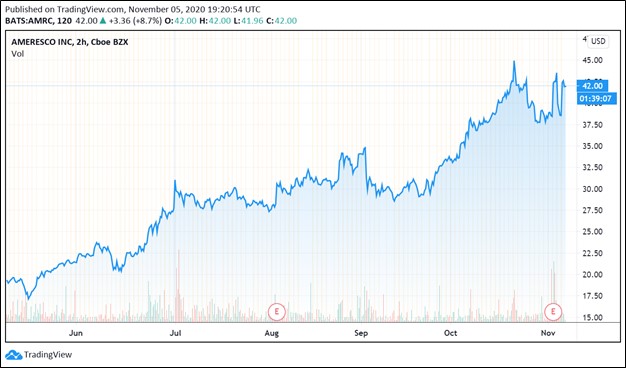 Image Shown: Since we highlighted Ameresco Inc back in August, shares of AMRC have continued to surge higher. We caution that recent trading activity has been quite volatile, due primarily to the ongoing election count process in the US.
By Callum Turcan
Back in August 2020, we published a note on Ameresco Inc (AMRC), which provides a comprehensive slate of energy services for its clients (link here). Given that the various services Ameresco provides is quite broad, here is an overview of some of those offerings from our previous article (lightly edited):
Ameresco offers a slate of comprehensive energy services that primarily involve designing, engineering, and installing projects at its client's operations. That includes upgrading the heating, cooling, ventilation, and lighting systems of its client's major facilities to improve efficiency (with an eye towards reducing energy consumption). By adding smart metering technology, upgrading lighting with light-emitting diode ('LED') systems, developing intelligent microgrids, building water reclamation infrastructure, and adding battery storage operations to these facilities, the goal is to cut down on its client's operating and maintenance ('O&M') expenses over the long-term…
Furthermore, the company also develops small-scale renewable energy plants for its clients, particularly at or close to a client's existing operations, with most of those plants being either solar photovoltaic ('PV') or landfill gas ('LFG') facilities. Ameresco notes its largest project in this space was a renewable energy facility powered by biomass. Please note that Ameresco sometimes retains ownership and operatorship of these facilities. The electricity, thermal energy, and "processed renewable gas fuel" that are generated by these facilities are generally sold under long-term contracts with the customer.
The company also helps its clients secure funding for these various projects. In general, these endeavors are ultimately about improving the cost structure of its client's operations over the long haul by putting downward pressure on their operating and maintenance ('O&M') expenses. Please keep in mind that Ameresco is also involved in the power plant management business given that it retains ownership and operatorship of some of the facilities it installs for its clients, though the financials of these operations are supported by long-term contracts.
On a final note here, Ameresco's cash flow statements can be a messy ready, which we covered in great detail back in August. We are going to focus primarily on Ameresco's recent updates and encourage our members to check out that article for additional information and financial analysis.
Earnings Update
On November 2, Ameresco reported third quarter 2020 earnings that beat both consensus top- and bottom-line estimates. Management also raised Ameresco's full-year guidance during the report. Now the firm is targeting $960 million - $1.0 billion in revenues (up from $910 million - $960 million previously), $107 million - $115 million in adjusted EBITDA (up from $102 million - $112 million previously), and $0.94 - $1.00 in non-GAAP EPS (up from $0.86 - $0.96 previously) in 2020. During Ameresco's latest earnings call, management noted:
"The midpoint of our revised guidance now represents a very robust 13% growth in revenue, 22% growth in adjusted EBITDA and 17% growth in non-GAAP EPS. This assumes we will have the same level of access to our work sites and does not account for discrete items. We will be providing a more detailed 2021 outlook during our Q4 earnings report." --- Doran Hole, CFO of Ameresco
We appreciate Ameresco's strong performance of late, especially given the significant headwinds created by the ongoing coronavirus ('COVID-19') pandemic. Ameresco's GAAP revenues were up 33% year-over-year and its GAAP operating income more than doubled year-over-year last quarter. The company's contracted O&M backlog increased by 23% year-over-year last quarter, and its total project backlog stood at $2.2 billion at the end of September 2020 (flat sequentially and on a year-over-year basis). What makes the contracted O&M backlog growth so important is that these are, according to management, high-margin recurring revenue streams.
Ameresco's total project backlog is represented by "$1.0 billion in contracted backlog representing signed customer contracts for installation or construction of projects, which we expect to convert into revenue over the next one to three years, on average" and "$1.2 billion of awarded projects representing projects in development for which we do not have signed customer contracts." When headwinds from the COVID-19 pandemic subside, that will likely support Ameresco's ability to start growing tis total project backlog again.
Part of Ameresco's strong financial performance last quarter had to do with its cost containment efforts, such as keeping a lid on discretionary activities like travel-related expenses, according to recent management commentary. Economies of scale were also at play, especially given that Ameresco is a medium-sized company (compared to an enormous tech behemoth or industrial giant). Management also noted that "higher utilization" rates assisted its financial performance last quarter, which appears to indicate that its utility operations were experiencing greater usage relatively speaking. Here is some additional management commentary from Ameresco's latest earnings call (emphasis added):
"Our high margin recurring revenue businesses, which accounted for 70% of our year-to-date EBITDA, have approximately $2 billion in long-term contracted revenue and incentives between O&M and renewable assets. These businesses will provide us with annuity quality revenue streams for years to come. Ameresco's cash flows and liquidity remains strong with ample cash and available credit to execute on our asset development pipeline." --- CFO of Ameresco
It seems that Ameresco is continuing to fire on all cylinders, and it appears the firm has the liquidity and access to liquidity it needs to continue with its growth trajectory. Ameresco has various revolving credit facilities to meet its liquidity needs going forward, along with ~$45 million in cash and cash equivalents on hand at the end of September 2020 (not including restricted cash). The firm entered several new revolving credit facilities in 2020 to maintain its access to liquidity and fund various developments (such as its June 2020 construction revolver and July 2020 construction revolver, though the former was short-term in nature and matures this month while the latter matures in July 2022).
Regulatory Consideration
Ameresco noted in its earnings press release that the SEC was looking for information on some of its revenue recognition practices, but please note this inquiry covers just a marginal amount of its annual revenues:
On October 2, 2020, the staff of the United States Securities and Exchange Commission (SEC) requested that we provide information with respect to the timing of our revenue recognition for our software-as-a-service business during the period January 1, 2014 through September 30, 2020.
During this period, our software-as-a-service revenue averaged no more than $8 million per year. We are fully cooperating with the SEC; and the Audit Committee of our Board of Directors is overseeing a review by our outside counsel of our software-as-a-service revenue recognition, including review procedures with respect to the revenue recognized during the period from 2018 to the present. The review to date has not identified material misstatements of our financial results.
This does not appear to be a major issue as things stand today. However, this is something we are going to keep on our radar going forward just in case.
Concluding Thoughts
Ameresco appears uniquely well-positioned to capitalize on rising demand from enterprises, government agencies, and other entities to appear "green" without breaking the bank. Given that the company's core offerings involve reducing its customers' long-term operating costs (particularly O&M expenses) and improving its clients' cost structure, it appears Ameresco's offerings should be quite appealing to a large range of customers. We will continue keeping an eye on Ameresco going forward.
-----
Related: AMRC, PBW, PBD, PZD, ACES, DWMC, QCLN, URTY
-----
Valuentum members have access to our 16-page stock reports, Valuentum Buying Index ratings, Dividend Cushion ratios, fair value estimates and ranges, dividend reports and more. Not a member? Subscribe today. The first 14 days are free.
Callum Turcan does not own shares in any of the securities mentioned above. Some of the companies written about in this article may be included in Valuentum's simulated newsletter portfolios. Contact Valuentum for more information about its editorial policies.