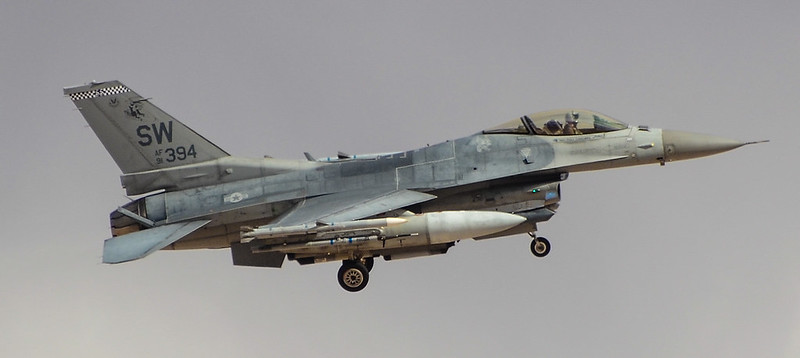 Image: Lockheed Martin F-16CM 55th Fighter Squadron. Image Source: Tomas Del Coro
By Brian Nelson, CFA
Lockheed Martin (LMT) was added to the simulated Dividend Growth Newsletter portfolio in January 2020, a couple months before the worst of the COVID-19 crisis, and while its share price hasn't kept pace with a broad market index since then, the stock has held up quite well since the beginning of this year. Lockheed Martin put up decent third-quarter 2022 results October 18.
There were a number of things that we liked about the defense giant's quarter. For starters, revenue nudged up on a year-over-year basis, reversing weakness witnessed through the first nine months of this year, while backlog advanced to $139.7 billion from $135.4 billion at the end of December. Strength in backlog was witnessed across its 'Rotary and Mission Systems' as well as its 'Space' divisions.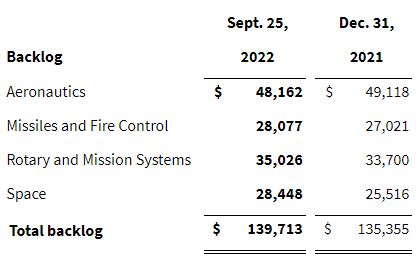 Image Source: Lockheed Martin
Lockheed's consolidated operating profit continues to face pressure, but free cash flow surged in the period, to $2.7 billion, up from $1.6 billion in the year-ago period. The company continues to invest in its business, too, with most of the strength coming from strong cash flow from operations growth. Here is what management had to say about the quarter in the press release:
Lockheed Martin delivered a solid quarter, highlighted by strength in free cash flow, orders, and operating margins, that positions us well to achieve our full-year commitments. Our continuing ability to deliver strong financial performance in turn enables further investments in the 21st Century Security technologies essential to support our customers in conducting effective Joint All-Domain Operations. These technologies include hypersonics, directed energy, and autonomy, as well as cutting edge digital capabilities in our evolving 5G.MIL® open standards-based architecture. In addition, we are investing in production and sustainment capacity for the solutions needed now to defend our allies and our nation, including F-35, Javelin and HIMARS. Moreover, we today announced an additional $14 billion in share repurchase authority to go with our recently increased, industry-leading dividend for the benefit of our investors.
Lockheed Martin recently raised its quarterly dividend rate to $3 per share, and the stock now boasts a ~3% dividend yield, which we like a lot. As it relates to all of 2022, Lockheed Martin is targeting an impressive $6+ billion in free cash flow, which helps support our fair value estimate range of $313-$495 per share (with emphasis on the high end) and its resilient Dividend Cushion ratio of 1.4. We're sticking with shares of Lockheed Martin in the simulated Dividend Growth Newsletter portfolio at this time.
-----
Tickerized for several defense contractors.
Brian Nelson owns shares in SPY, SCHG, QQQ, DIA, VOT, BITO, and IWM. Valuentum owns SPY, SCHG, QQQ, VOO, and DIA. Brian Nelson's household owns shares in HON, DIS, HAS, NKE. Some of the other securities written about in this article may be included in Valuentum's simulated newsletter portfolios. Contact Valuentum for more information about its editorial policies.
Valuentum members have access to our 16-page stock reports, Valuentum Buying Index ratings, Dividend Cushion ratios, fair value estimates and ranges, dividend reports and more. Not a member? Subscribe today. The first 14 days are free.