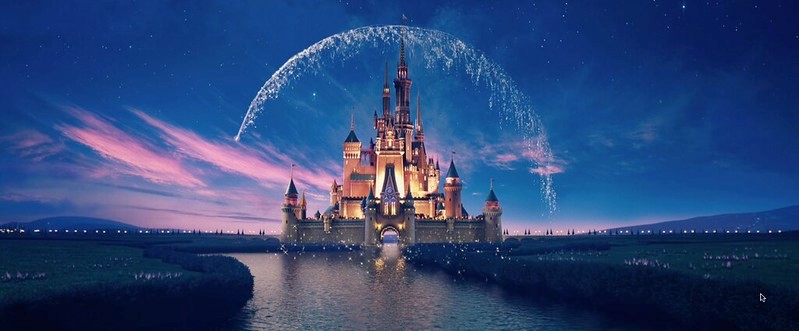 Image Source: Marc Levin and Valuentum added a solid line black border to the image.
By Callum Turcan
Shares of The Walt Disney Company (DIS) are trading near our fair value estimate of $111 per share, as of this writing, after recovering sharply from their March 2020 lows. Disney's stock price came under intense pressure from the ongoing coronavirus ('COVID-19') pandemic, though the firm's outlook has improved materially as various economies around the world have started opening back up. We include shares of DIS as a holding in our Best Ideas Newsletter at a modest weighting.
Reopening Theme Parks and Resorts
On May 27, Disney provided an update on the reopening process for its US theme parks in California and Florida after its Shanghai Disney Resort (home to the Toy Story Hotel and Shanghai Disneyland Hotel, the Shanghai Disneyland Park, and other facilities in China) and Disney Springs at Walt Disney World Resort (an outdoor shopping, dining, and entertainment complex at the Walt Disney World Resort in Florida) reopened successfully. Please note Disney owns a 43% interest in the Shanghai Disney Resort and Shanghai Shendi Group owns the remaining interest (according to Disney's fiscal 2019 Annual Report). Additionally, Disney owns a 70% interest in the management company that operates the resort and Shanghai Shendi Group owns the remaining interest.
By July 11, Disney aims to reopen two of the Walt Disney World Resort's theme parks (Magic Kingdom Park and Disney's Animal Kingdom). A few days later, Disney aims to reopen the EPCOT and Disney's Hollywood Studios theme parks at the Walt Disney World Resort on July 15. This plan is contingent on approval from Orange County, Florida, which Disney reportedly received in late-May.
Please note that as part of the reopening process, Disney's theme parks and resorts are making masks mandatory and the operations at these facilities have changed to encourage, maintain, and enforce social distancing rules. Though customers will not need to wear a mask while swimming or dining.
Several of Disney's other facilities at the Walt Disney World Resort are set to open up soon, including Disney's Fort Wilderness Resort & Campground which is set for a June 22 reopening. By June 15, Disney Vacation Club resorts in Vero Beach, Florida, and Hilton Head, South Carolina, are set to reopen. Various shopping venues associated with Disney's resorts and theme parks are also in the process of reopening or have already recommenced operations. In California, Disney is positioning itself to reopen Disneyland in mid-July (possibly by July 17). These plans are all contingent on government approval (particularly state and local governments).
Disney is also working towards opening its Hong Kong Disneyland Resort, which reportedly may reopen soon. As an aside, please note Disney owns a 47% interest in Hong Kong Disneyland Resort and the Government of the Hong Kong Special Administrative Region owns the remaining interest.
In fiscal 2019 (period ended September 28, 2019), Disney's 'Parks, Experiences and Products' segment generated $26.2 billion in sales (~38% of Disney's GAAP revenues) and $6.8 billion in segment operating income (~45% of 'total segment operating income'). Theme parks, resorts, and the related offerings are a huge part of Disney's business and bottom-line. Reopening these facilities, in a safe and reasonable manner, should do a lot to improve Disney's near- and medium-term outlook.
Reportedly, when Shanghai Disneyland Resort reopened customers came back in a meaningful way. While the resort and its facilities had to operate at reduced capacity, create ways to encourage, maintain, and enforce social distancing, and everyone had to wear face masks, customers seemed happy to go back to major entertainment attractions and hospitality offerings.
Dividend Considerations
On May 5, Disney announced it was forgoing its semi-annual dividend for the first half of fiscal 2020 due to the pandemic to save roughly $1.6 billion in cash (assuming a common dividend payout of $0.88 per share). Given the severity of the situation caused by the pandemic, it was a prudent move, and we like Disney as a holding in the Best Ideas Newsletter portfolio more so for its capital appreciation potential than its yield. Once things improve, and that appears to be the case, Disney will likely resume its semi-annual dividend payouts.
Concluding Thoughts
We covered Disney's latest earnings report in great detail in this article here, and encourage our members to check out that piece if you have not already done so. Disney's streaming strategy (Hulu, Disney+, ESPN+) is going well and its total paid subscriber base has grown materially. As an aside, Disney owns a 67% interest in Hulu and Comcast Corporation (CMCSA) owns the remaining interest. A combination of the reopening of Disney's theme parks and resorts combined with its growing video streaming services business should help put Disney's financials back on the right track. If/when a vaccine or cure for COVID-19 is discovered and becomes available, Disney's outlook would improvement materially overnight.
-----
Media Entertainment Industry – CNK DIS IMAX ISCA LYV MSG NFLX NWSA SIRI
Related: CMCSA, IEME, PBS, XLC
-----
Valuentum members have access to our 16-page stock reports, Valuentum Buying Index ratings, Dividend Cushion ratios, fair value estimates and ranges, dividend reports and more. Not a member? Subscribe today. The first 14 days are free.
Callum Turcan does not own shares in any of the securities mentioned above. The Walt Disney Company (DIS) is included in Valuentum's simulated Best Ideas Newsletter portfolio. Some of the other companies written about in this article may be included in Valuentum's simulated newsletter portfolios. Contact Valuentum for more information about its editorial policies.