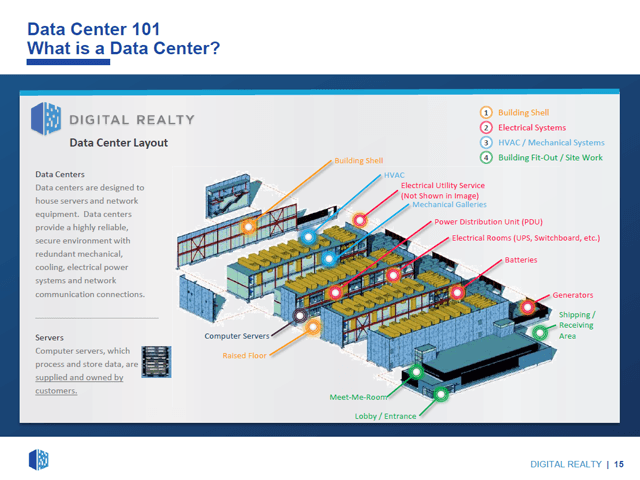 Image Source: Digital Realty Trust Inc – March 2020 IR Presentation
By Callum Turcan
Digital Realty Trust Inc (DLR) is a holding in both the Dividend Growth Newsletter portfolio and High Yield Dividend Growth Newsletter portfolio (order here), and its shares have performed quite well of late with DLR trading near all-time highs as of this writing. Year-to-date, DLR is up ~26% while the S&P 500 (SPY) is down ~13% as of this writing. Demand for data centers is surging as the ongoing coronavirus ('COVID-19') pandemic is forcing households to stay indoors, which in turn is increasing demand for video streaming services, telecommunications offerings, and other activities that are voracious consumers of data. During these harrowing times, we hope members and their loved ones are staying safe as we ride out the pandemic. Shares of DLR yield roughly 3.0% as of this writing.
Data Demand
Anecdotally, there's a lot of signs out there that data demand has exploded over the past several weeks. For instance, Microsoft Corporation (MSFT) reported a near eight-fold surge in demand for its cloud-based Teams offering in Italy during the month of March. Facebook Inc's (FB) WhatsApp messaging service saw a double-digit increase in its usage in March according to a study conducted by Kantar, a consulting and research firm. Additionally, Kantar reported that usage of Facebook's namesake social media site and Instagram (owned by Facebook) also appeared to have surged in March as the pandemic spread across the world, forcing households and individuals to stay inside (and thus turn to apps and social media to stay connected with friends, family, loved ones, and the world at-large).
A Growing Global Footprint
With that in mind, let's pivot now to one of Digital Realty's big acquisitions. The real estate investment trust ('REIT') recently moved deeper into Europe in a big way with the completion of its acquisition of InterXion in March 2020. Digital Realty's CEO, A. William Stein, had this to say in the press release:
"We are pleased to have closed our combination with InterXion… This powerful combination builds upon Digital Realty's established foundation of serving market demand for colocation, scale and hyperscale requirements in the Americas, EMEA and Asia Pacific and leverages InterXion's European colocation and interconnection expertise, enhancing the combined company's capabilities to enable customers to solve for the full spectrum of data center requirements across a global platform. The combination of our two organizations establishes a global platform that we believe will significantly enhance our ability to create long-term value for customers, shareholders and employees of both companies."
When the deal was announced in October 2019, it was valued at $8.4 billion by enterprise value. What we like about the deal is Digital Realty's new position in 13 major European metropolitan markets (including Frankfurt, Amsterdam, Paris, and Marseille) across 11 countries. Digital Realty had a material presence in London, UK, and Dublin, Ireland, before the deal closed and moving deeper into Europe allows for the REIT to tie those operations in with the operations of its recently acquired assets. As part of Digital Realty's European strategy, the REIT opened another data center in Dublin on March 5, 2020, to capitalize on what the company described as a coming European tech boom (from the press release):
"[Digital Realty] announced today the official opening of its Clonshaugh data centre, the latest facility in its portfolio of data centres in Dublin, Ireland.
The data centre, which represents a €70 million investment, follows the company's previous €200 million investment in the Dublin data centre market, culminating in the opening of its Profile Park campus last May. The new Clonshaugh facility supports the growth of Dublin's technology ecosystem, which is predicted to experience a multibillion euro technology boom over the next decade, according to a new study commissioned by Digital Realty and conducted by Development Economics."
The upcoming graphic down below highlights Digital Realty's growing global footprint. On April 7, 2020, Digital Realty announced it had commenced operations at its third data center in Singapore, the city-state. Furthermore, please note the REIT is also working towards establishing a presence in India to extend its growth runway, as Asia represents another prime growth opportunity.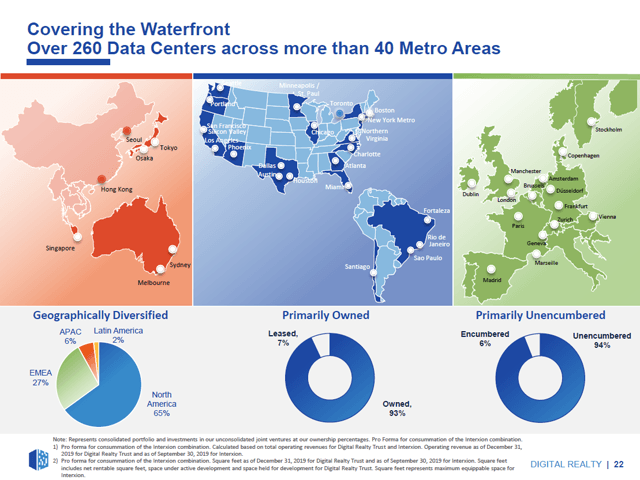 Image Shown: A look at Digital Realty's growing global footprint. Image Source: Digital Realty – March 2020 IR Presentation
Underpinning Digital Realty's growth runway (specifically as it relates to the potential European data demand boom) is the rollout of 5G and the rise of artificial intelligence, the Internet of Things ('IoT'), and blockchain technologies (as cited in the press release). This is true for the world at-large as well. Data demand growth stemming from the "cocooning" of households aside, Digital Realty is taking the long-term view here and sees numerous secular tailwinds supporting its various data center investments. Additionally, we want to stress that the rise of semi-autonomous and more importantly, autonomous vehicles should also create a lot of incremental data demand over the coming years and decades.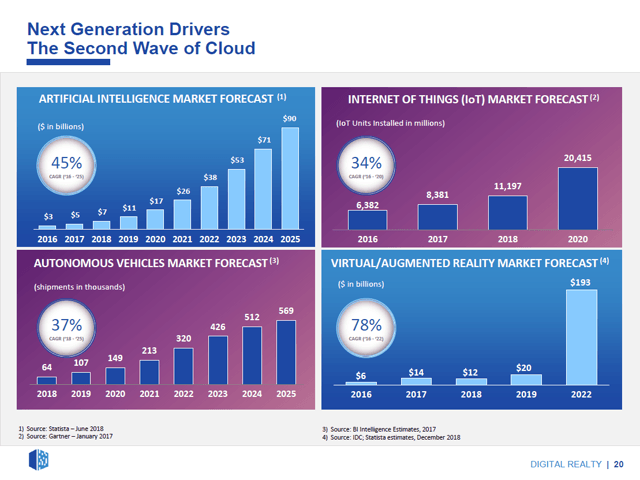 Image Shown: Secular growth tailwinds support forecasts calling for rising data demand over the coming years and decades. Image Source: Digital Realty – March 2020 IR Presentation
Financial Considerations
2019 was a relatively tough year for data center REITs, particularly Digital Realty given it had a lot of lease expirations last year (~22.5% of its annualized revenue that year), and one of the bright spots in early-2020 (according to Digital Realty's management team back in February 2020, which we covered in this note here) was that certain metropolitan areas were still seeing rental price increases (particularly those that were supply constrained). With that dynamic in mind, considering demand for data has likely skyrocketed since then, there's room for optimism as it relates to potential rental rates increases in both key metropolitan areas (which Digital Realty now has greater exposure to) and elsewhere. That's likely why shares of Digital Realty have performed so well of late, in our view.
In the graphic down below, please note that Digital Realty does have a meaningful amount of lease expirations in 2020-2022 (however, still significantly less than 2019 levels on an annual basis). While that was previously considered a burden, now it's an opportunity assuming rising global data demand translates into annual cash rental rate increases at the higher end of Digital Realty's guidance (which sits at 2%-4% on a long-term basis). Please note that Digital Realty's annual cash rental rates actually decreased in 2019, so a return to growth is a bigger positive than first appearances would suggest. The decrease in the REIT's cash rental rates last year ended up being less than management had initially forecasted (down a tad over 1% versus expectations for a high single-digit decrease), and most importantly, equities trade on future expectations not historical performance.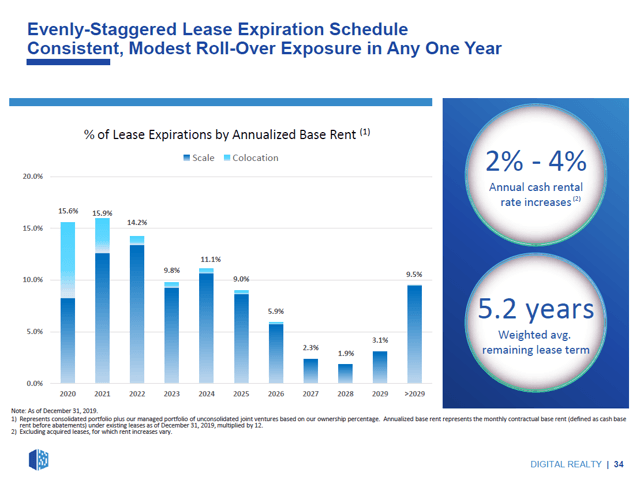 Image Shown: It's possible that Digital Realty will be able to win over meaningful annual cash rental rate increases when its current leases expire as demand for data centers is likely quite strong right now, which supports its cash flow growth outlook. Image Source: Digital Realty – March 2020 IR Presentation
Digital Realty has solid investment grade credit ratings (BBB/Baa2/BBB) and the REIT utilizes equity issuances to raise funds, a task made much easier given its strong stock price performance of late. Historically, that has included using at-the-market equity issuance programs.
Given its strong stock price performance, on top of its investment grade credit ratings, it appears Digital Realty retains access to capital markets at attractive rates (both debt and equity markets). As a capital-market dependent company (the REIT must retain access to capital markets at all times to refinance its maturing debt load, for general corporate purposes, and to fund its growth ambitions), Digital Realty needs to make sure its growth plans don't stretch its balance sheet too thin. As of the end of 2019, Digital Realty had a balanced maturity schedule which we appreciate, as you can see in the upcoming graphic down below.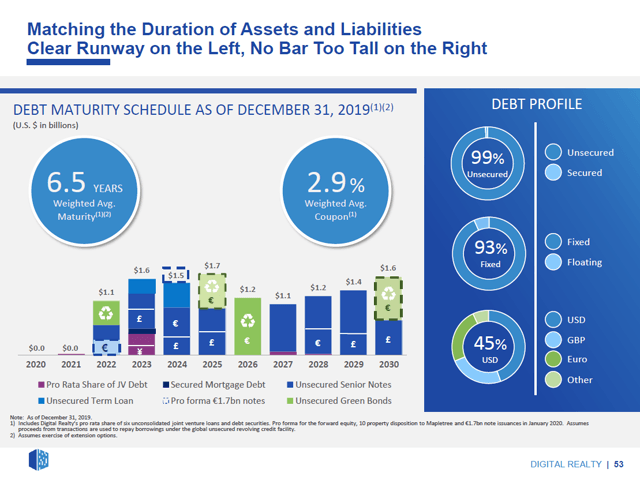 Image Shown: Digital Realty's debt maturity schedule was balanced at the end of 2019. Given that the REIT didn't have a material amount of maturities until 2022 as of the end of last year, the firm is well-positioned to ride out the current storm. Image Source: Digital Realty – March 2020 IR Presentation
Concluding Thoughts
We continue to like Digital Realty in both the Dividend Growth Newsletter and High Yield Dividend Newsletter portfolios. The REIT's strong stock price performance of late is a sign that investors are becoming increasingly optimistic of Digital Realty's growth outlook, which in part is supported by the expected return of positive cash rental rate growth (organic growth) this year. Digital Realty is set to report its first quarter earnings for 2020 after the market closes on May 7, and management will likely provide investors with some concrete information on how the ongoing pandemic is impacting its operations, financials, and global data & data center demand. We'll continue to provide our members with coverage of this interesting dividend growth play, and we expect to increase our fair value estimate of DLR materially upon the next update.
-----
Retail REIT Industry – CONE DLR FRT O REG SPG WPC
Software Industry – ADBE ADSK EBIX INTU MSFT ORCL CRM
Internet Content & Services Industry – GOOG GOOGL BIDU FB JD TECHY TWTR
Related: VNQ, SCHH, SRVR, SPY
-----
Valuentum members have access to our 16-page stock reports, Valuentum Buying Index ratings, Dividend Cushion ratios, fair value estimates and ranges, dividend reports and more. Not a member? Subscribe today. The first 14 days are free.
Callum Turcan does not own shares in any of the securities mentioned above. Realty Income Corporation (O), Digital Realty Trust Inc (DLR), and Oracle Corporation (ORCL) are all included in Valuentum's simulated Dividend Growth Newsletter portfolio. Facebook Inc (FB), Vanguard Real Estate ETF (VNQ) and Alphabet Inc (GOOGL) Class C shares are all included in Valuentum's simulated Best Ideas Newsletter portfolio. Digital Realty Trust and Vanguard Real Estate ETF are also both included in Valuentum's simulated High Yield Dividend Newsletter portfolio. Some of the other companies written about in this article may be included in Valuentum's simulated newsletter portfolios. Contact Valuentum for more information about its editorial policies.