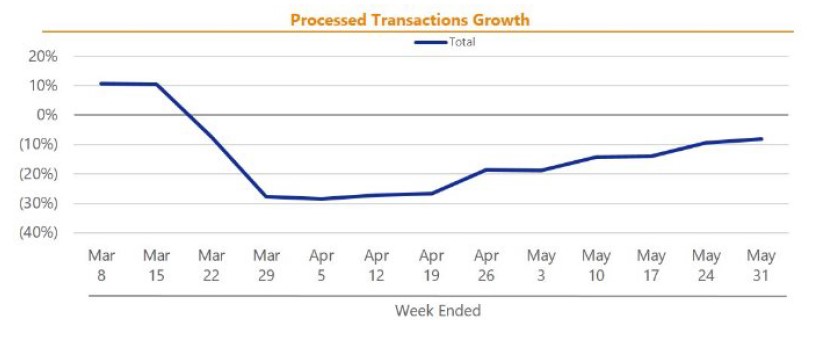 Image Shown: Visa Inc reports that US processed transactions volumes across its payment processing network improved materially on a year-over-year basis in May, relatively speaking, versus the downturn seen in the second half of March and the first half of April. Image Source: Visa Inc – 8-K SEC Filing
By Callum Turcan
One of our favorite secular growth industry tailwinds is happening in the payment processing, payment solutions, and financial technology space. The world is shifting toward a "cashless" society, and that has accelerated due to the ongoing coronavirus ('COVID-19') pandemic, in part due to the rise of e-commerce and in part due to the preference of many consumers to use contactless payment options when in physical stores.
Visa Inc (V) has been a top-weighted holding in the Best Ideas Newsletter portfolio for some time, and shares of V are up 5% year-to-date while the S&P 500 (SPY) is down 1% year-to-date as of this writing. The top end of our fair value estimate range for Visa sits at $214 per share indicating there is plenty of room for shares of V to climb higher; please note we like to let our winners run. Additionally, shares of V yield a modest ~0.6% as of this writing, offering incremental upside to its capital appreciation potential.
This article is following up on our early-May 2020 piece (link here) that highlighted how Visa's global payment processing network was indicating the outlook for economic growth was improving. Additionally, please note we went "fully invested" in both our Best Ideas Newsletter and Dividend Growth Newsletter portfolios back in April 29, 2020 (link here).
Recent Update
Visa published an 8-K filing on June 1 that provided investors with a better idea of how its operations, and consumer spending habits at-large, were progressing through the pandemic. Many countries and numerous US states have begun lifting stay-at-home orders and are well on their way to restarting "normal" economic activity, though this process will take some time before those economics return to pre-pandemic levels of economic activity. Some countries, particularly developing nations and nations heavily reliant on tourism, will likely take years to return to pre-pandemic levels of economic activity.
In its recent SEC filing, Visa noted total payment volumes declined by 5% in the US on a year-over-year basis in May on its payment processing network, which was a major improvement versus April when its total payment volumes were down by 18% year-over-year. More surprisingly, Visa noted its US debit payment volumes rebounded from a 5% year-over-year decline in April to 12% year-over-year growth in May across its network, while its US credit volumes rebounded from a 30% year-over-year decline in April to a 21% year-over-year decline in May. It is likely the decline in credit payment volumes across Visa's network is largely due to US households continuing to hold back on vacations and traveling in general, with Visa noting that its US travel-related payment processing volumes dropped by more than 70% year-over-year in May.
On a global basis, total processed transactions declined by 12% year-over-year in May across Visa's payment processing network, a big improvement from a 24% year-over-year decline in April. Visa noted that in Chile, Denmark, and New Zealand, process transactions on its network experienced "positive year-over-year constant dollar growth in May" though the firm also noted that "India and Singapore are slowly reopening" reinforcing macroeconomic data that the pandemic has had an uneven impact on economic activity across different regions and nations (though when the pandemic first started spreading is an important factor as it relates to the timing of what became the inevitable economic downturn in almost every nation across the globe). Visa also mentioned that the trajectory of the rebound in total payment volumes in "most of Europe, as well as Australia, Canada and Japan" was "comparable" to the trajectory seen in the US.
Cross-border transactions remain very subdued across Visa's network however, though volumes improved somewhat as you can see in the upcoming graphic down below.

Image Shown: Total payment processing volumes are recovering in the US and elsewhere, though cross-border volumes remain heavily subdued as households are shunning travel and vacations. Image Source: Visa – 8-K SEC Filing
In the US, Visa reported that its year-over-year payment processing volumes grew nicely in May in the 'food & drugstores' category likely due to the pandemic induced shift in US household budgets that has seen greater consumer staples purchases as consumer discretionary spending is curtailed. Additionally, the 'home improvement' and 'retail services' categories saw nice year-over-year payment processing growth in May across Visa's network. In part articles, we covered how Lowe's Companies Inc (LOW) [link here] and Home Depot Inc (HD) [link here] posted very strong same-store sales growth in the wake of COVID-19 as households (particularly US households) have turned to do-it-yourself ('DIY') projects to pass the time and catch up on maintenance work for their home. For the retail services category, that improvement is likely due to the reopening of the US economy in various US states combined with rising consumer staples purchases at locations not covered in the food & drugstores category.
Pivoting to categories that experienced a moderate level of year-over-year payment volume growth across Visa's network in the US, that included the 'automotive,' 'retail goods,' and 'telecom & utilities' categories. For telecom & utilities, generally speaking it appears most US households have continued paying the bills, assisted by the Coronavirus Aid, Relief, and Economic Security Act ('CARES Act'). The growth in retail goods payment volume on Visa's network is also a promising sign. Additionally, the need to maintain and repair automobiles does not go away because there is a pandemic.
As an aside, please note a considerable amount of consumers use credit cards to fund the down payment on automobiles in the US (though the bulk of the funds used to purchase most new and used car purchases in the US are provided by auto loans). Many companies such as General Motors Company (GM) have pivoted to offering home delivery services in states that allow such a thing. Carvana Co (CVNA) allows consumers to purchase used cars online and offers home delivery services. Tesla Inc (TSLA) has long offered home delivery services. While using a credit card to place a down payment on a new automobile may seem unconventional to some, many dealers and automakers have pivoted to very generous terms to prop up their sales (more on that here).
Finally, looking at the spaces hit hardest by the pandemic, Visa notes that US payment processing volumes across its network in the 'entertainment,' 'fuel,' and especially 'travel' categories all fell by over 40% year-over-year in May. The working-from-home trend has negatively impacted demand for gasoline, even as various US states have started reopening, as has the decline in travel demand. Many entertainment offerings still are not permitted due to quarantine efforts in numerous US states, such as movie theaters, live music events, and live sporting events. Visa also notes the 'quick-service restaurant' ('QSR') and 'restaurant' categories both saw between a 20%-40% year-over-year drop in payment processing volumes in the US across its network in May. Restaurants that have opened back up often have had to reduce in-store capacity by moving tables farther apart, reducing their revenue generation and (as it relates to Visa) total transaction volume potential.

Image Shown: Visa provides an overview of what industries are performing well and what industries are feeling the pressure from the (both positive and negative) dynamic impacts of COVID-19 as it relates to consumer spending habits, based off the payment processing volumes seen across its network. Image Source: Visa – 8-K SEC Filing
In the upcoming graphic down below, Visa provides a trend line of how its US payment processing volumes have improved (relatively speaking) from March 2020 lows over the past couple of months (especially in May).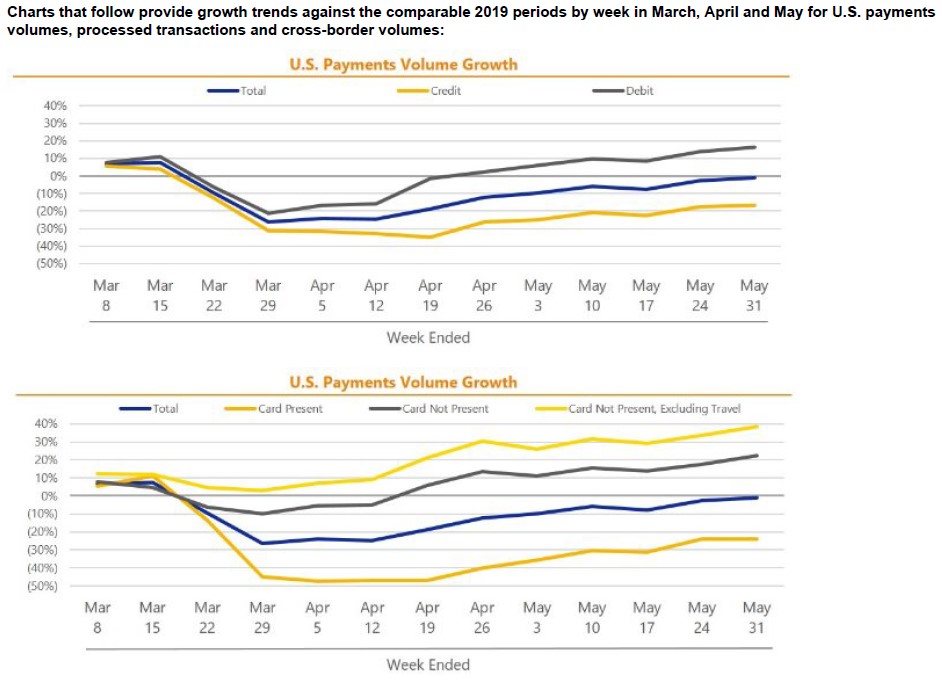 Image Shown: Data seen across Visa's payment processing network indicates US economic activity is rebounding since contracting sharply in March and April which was the result of containment efforts to stop the spread of COVID-19. Image Source: Visa – 8-K SEC Filing
International travel remains heavily subdued, as mentioned previously and as highlighted in the upcoming graphic down below.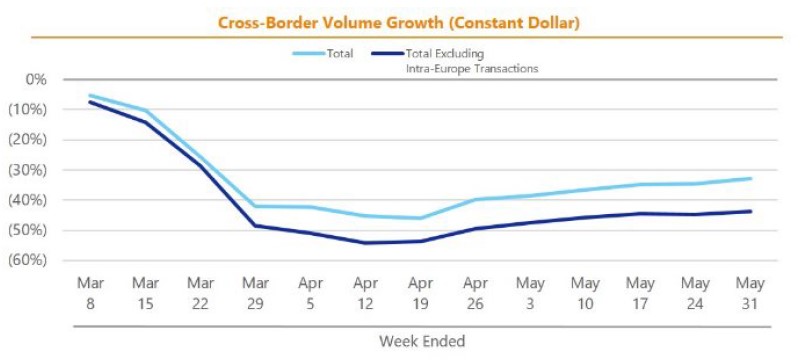 Image Shown: The sharp contraction in Visa's cross-border volume growth across its global payment processing and solutions network indicates global demand for travel and vacation-related services remains heavily subdued, though things have improved somewhat since April. Image Source: Visa – 8-K SEC Filing
Concluding Thoughts
While it will take time for things to return to normal and longer still for economic activity in many nations to return to pre-pandemic levels, we continue to be very excited about the numerous vaccines and cures in the works for COVID-19 that we covered in this article here. Should a cure or even better a vaccine materialize, that could help return economic activities back to pre-pandemic levels at a significantly faster rate, enhancing Visa's near- and medium-term outlook. Beyond that dynamic, we continue to like Visa due to its low net debt load (at the end of March 2020), high quality cash flow profile, very promising long-term growth trajectory, and ability to capitalize on powerful secular growth tailwinds.
-----
Auto Making Industry – F GM HMC HOG TM TSLA
Auto Parts Supplier Industry – ALSN APTV JCI LEA MGA
Dollar Store and Department Store Industries – KSS M JWN BIG DG DLTR PSMT
Financial Tech Services Industry – MA MELI PYPL VRSK V
Food Retailing Industry – CASY COST CVS KR SYY TGT WBA WMT
Restaurants (Fast Casual & Full Service Industry) – BJRI EAT CAKE CMG CBRL DRI DENN DIN RRGB RUTH TXRH
Restaurants (Fast Food & Coffee/Snacks Industry) – ARCO DPZ DNKN JACK MCD PZZA SBUX WEN YUM
Specialty Retailers Industry – AAN BBBY BBY GME HD LOW LL ODP SHW TSCO WSM
Related: AMZN, CVNA, IPAY, IYF, IYG, MZDAY, NSANY, SPY, VLKAF, VLKPF, VWAGY
-----
Valuentum members have access to our 16-page stock reports, Valuentum Buying Index ratings, Dividend Cushion ratios, fair value estimates and ranges, dividend reports and more. Not a member? Subscribe today. The first 14 days are free.
Callum Turcan does not own shares in any of the securities mentioned above. Visa Inc (V) and PayPal Holdings Inc (PYPL) are both included in Valuentum's simulated Best Ideas Newsletter portfolio. Cracker Barrel Old Country Store Inc (CBRL) is included in Valuentum's simulated Dividend Growth Newsletter portfolio. Some of the other companies written about in this article may be included in Valuentum's simulated newsletter portfolios. Contact Valuentum for more information about its editorial policies.