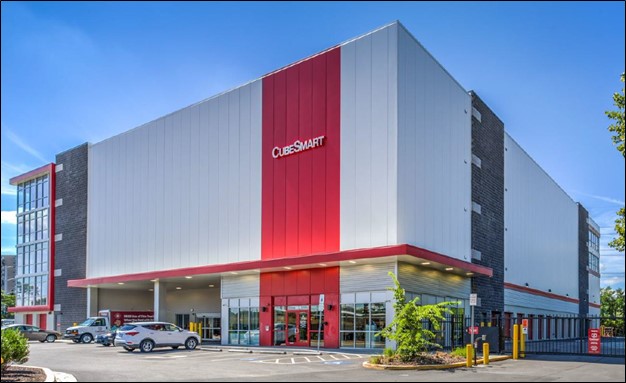 Image Source: CubeSmart – June 2021 IR Presentation
By Callum Turcan
We are big fans of the self-storage real estate investment trust ('REIT') industry given the ability for firms operating in this arena to generate meaningful free cash flows, a difficult task for most REITs considering their hefty capital expenditure requirements. CubeSmart (CUBE) is one of our favorites in the space and we include shares of CUBE as an idea in the High Yield Dividend Newsletter portfolio.
Shares of CUBE are up 38% year-to-date as of the end of normal trading hours on June 10, easily outpacing the 12% gain seen in the S&P 500 (SPY) during this period before taking dividend considerations into account. As of this writing, shares of CUBE yield ~2.9%.
Earnings Update
In late April, CubeSmart published its first quarter 2021 earnings and we liked what we saw. Its same-store occupancy rate stood at 94.4% at the end of March 2021, up from 93.4% at the end of December 2020. Meaningful rental rate increases enabled CubeSmart to grow its same-store net operating income ('NOI') by 9% year-over-year in the first quarter of 2021 as strong revenue growth offset modest operating expense increases. CubeSmart added 31 stores to its third-party self-storage management platform in the first quarter and we appreciate its sustained strength on this front given how the REIT can use this platform to identify potential acquisitions and other growth opportunities (on top of the management fees it receives in the meantime).
The company raised its full-year guidance for 2021 during its first quarter earnings report. Now CubeSmart is guiding to generate $0.75-$0.81 in diluted EPS, up from $0.71-$0.77 previously, and $1.80-$1.83 in diluted funds from operations ('FFO') per share, which is up from $1.77-$1.83 previously. Please note that FFO is an imperfect industry metric used to gauge the trajectory of a REIT's cash flow performance. This guidance boost was primarily made possible by CubeSmart revising its expected same-store NOI growth up to 5.25%-6.25% in 2021, from 3.75%-5.00% previously.
As of its latest guidance, CubeSmart forecasts that its same-store revenue growth (in percentage terms) will come in stronger than previously expected this year at the midpoint, while its same-store operating expense growth (in percentage terms) is expected to come in a bit lighter than previously expected at the midpoint. We appreciate CubeSmart's confidence in its near-term performance and continue to view the REIT's long-term cash flow growth outlook quite favorably.
CubeSmart exited March 2021 with a large net debt load, highlighting its dependence on capital markets. Historically, CubeSmart has been able to tap debt and equity markets at attractive rates for funds and we expect that will continue being the case going forward. The REIT has an investment grade credit rating (Baa2/BBB). Its revolving credit line due June 2024 provides it with ample access to liquidity to meet its near-term funding needs. CubeSmart generated $79 million in free cash flow in the first quarter of this year while spending $68 million covering its payout obligations during this period as you can see in the upcoming graphic down below.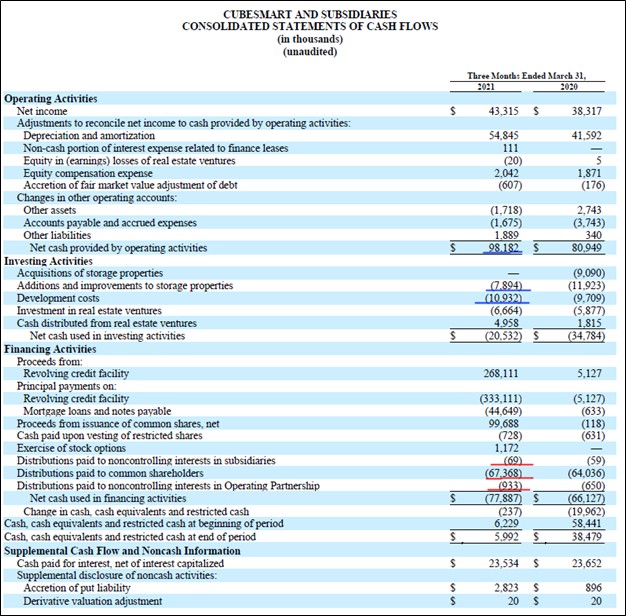 Image Shown: Line-items concerning CubeSmart's free cash flow performance are underlined in blue and line-items concerning the REIT's payout obligations are underlined in red. Image Source: CubeSmart – 10-Q SEC filing covering the first quarter of 2021
Concluding Thoughts
We continue to be huge fans of CubeSmart and like the self-storage REIT as an idea in the High Yield Dividend Newsletter portfolio. A greater percentage of US households have been turning to self-storage offerings over the past several decades in order to maximize their living space in an economical manner according to data cited by Public Storage (PSA), another idea included in the High Yield Dividend Newsletter portfolio, and Extra Space Storage Inc (EXR). Secular tailwinds support CubeSmart's promising growth outlook. Members interested in reading why we are big fans of Public Storage are encouraged to check out this article here.
-----
Tickerized for PSA, CUBE, EXR, SPY, VNQ
Valuentum members have access to our 16-page stock reports, Valuentum Buying Index ratings, Dividend Cushion ratios, fair value estimates and ranges, dividend reports and more. Not a member? Subscribe today. The first 14 days are free.
Callum Turcan does not own shares in any of the securities mentioned above. Public Storage (PSA), CubeSmart (CUBE), and Vanguard Real Estate Index Fund ETF (VNQ) are all included in Valuentum's simulated High Yield Dividend Newsletter portfolio. Some of the other companies written about in this article may be included in Valuentum's simulated newsletter portfolios. Contact Valuentum for more information about its editorial policies.