Image Source: Cisco Systems Inc – Third Quarter of Fiscal 2020 Earnings IR Presentation
By Callum Turcan
On May 13, Cisco Systems Inc (CSCO) reported earnings for the third quarter of its fiscal 2020 (period ended April 25, 2020) that beat consensus estimates on both the top- and bottom-lines. Within the report, management provided guidance for the fiscal fourth quarter that wasn't as bad as the market had feared. Though the firm's revenues are still expected to decline by high single-digits to low double-digits on a year-over-year basis in the fiscal fourth quarter, the market was expecting a significantly worse impact from the ongoing coronavirus ('COVID-19') pandemic as it relates to Cisco Systems' financial performance. Shares of CSCO yield ~3.3% as of this writing, and we continue to like the network infrastructure hardware and software company as a holding in both our Best Ideas Newsletter and Dividend Growth Newsletter portfolios.
Strong Cash Flows and Balance Sheet
At the end of Cisco Systems' fiscal third quarter, the company had $10.4 billion in cash and cash equivalents along with $18.2 billion in short-term investments on the books. Stacked up against $4.5 billion in short-term debt and $11.6 billion in long-term debt, Cisco Systems' net cash position of ~$12.5 billion as of April 25, 2020, is an immense source of strength during these harrowing times. Having a net cash position provides Cisco Systems the ability to keep making good on its dividend obligations and provides a cushion should exogenous headwinds stymie its ability to generate cash flow.
During the first nine months of fiscal 2020, Cisco Systems generated almost $11.1 billion in free cash flow, assisted by its very low capital expenditure requirements (the firm spent just $0.6 billion on 'acquisition of property and equipment' during this period). Its dividend obligations of $4.5 billion were easily covered by its free cash flows, as were its $2.7 billion in share repurchases under its buyback program.
Cisco Systems reduced its outstanding total debt load (inclusive of short-term debt) by $8.6 billion during the first nine months of fiscal 2020 versus year-end fiscal 2019 levels (period ended July 27, 2019) while its cash-like pile ('cash and cash equivalents' plus 'investments') was reduced by just $4.8 billion during this timeframe. That means the firm's net cash position has been growing in fiscal 2020, which we appreciate, improving from $8.7 billion at the end of fiscal 2019 to $12.5 billion at the end of the third quarter of fiscal 2020.
Operational Update
Subscription revenues as a percentage of Cisco Systems' total software revenues continued to grow last fiscal quarter as you can see in the upcoming graphic down below, which we appreciate as reoccurring revenue streams generally result in higher quality cash flow profiles.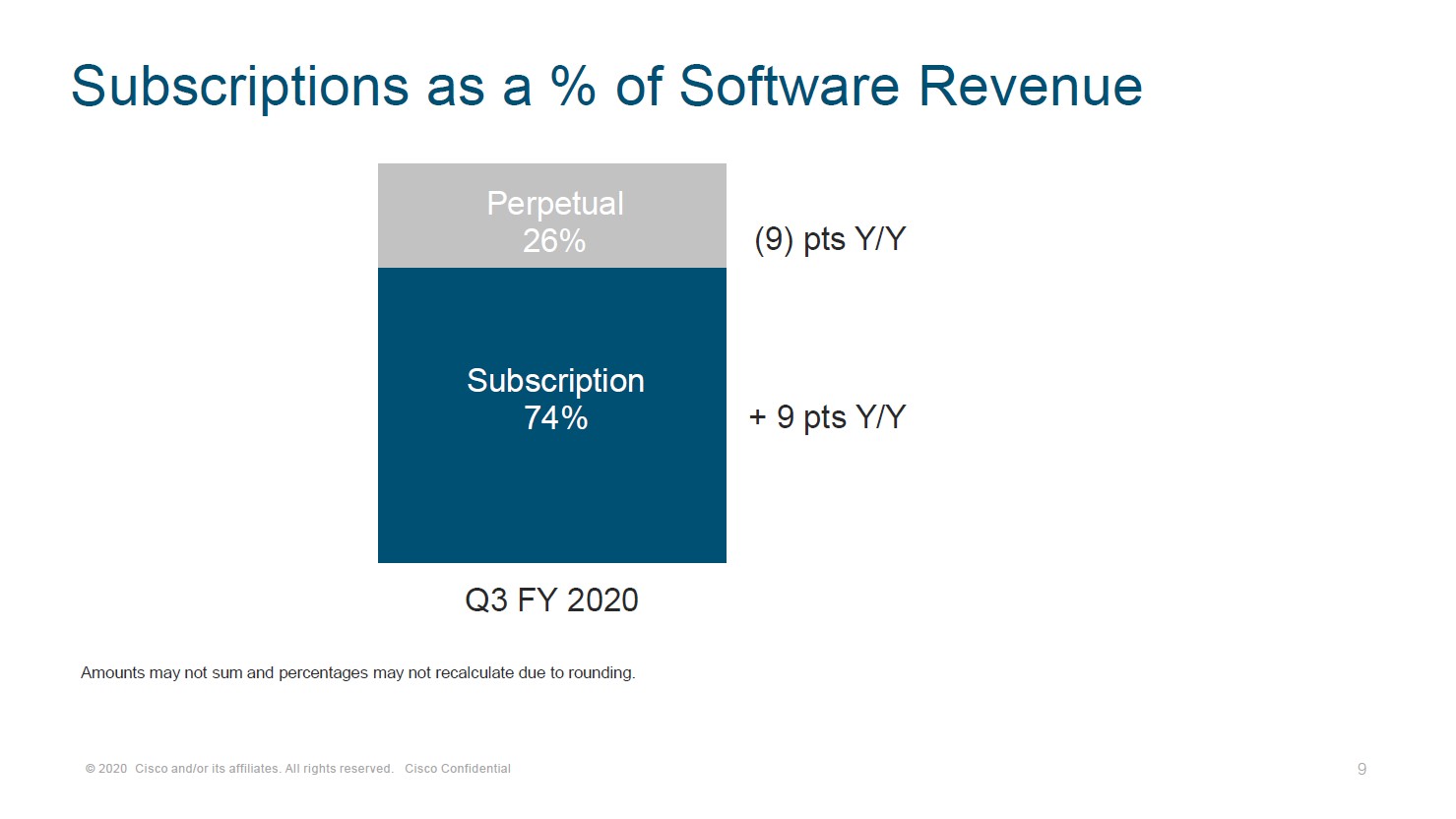 Image Shown: Cisco Systems is pivoting towards a subscription-based business model to grow its reoccurring revenue streams from its software sales, which we strongly appreciate as that usually improves the quality of cash flow profiles over time. Image Source: Cisco Systems Inc – Third Quarter of Fiscal 2020 Earnings IR Presentation
Pivoting now to Cisco Systems' 'Security' sales (part of its 'Product' division), while this segment represents a modest portion of the firm's total revenues (~6.5% of fiscal third quarter revenues), security is a core part of the company's business. The firm reported 12% year-over-year sales growth at the segment during the first nine months of 2020, and 6% year-over-year sales growth during the fiscal third quarter. Here's what management had to say about Cisco Systems' Security segment within the firm's prepared remarks:
"Moving on to Security, which is always at the heart of everything we do. In Q3, we saw solid growth reflecting increased demand for our robust solutions to secure the rapid growth in remote workers and their devices. Being the largest enterprise security company in the world, we are uniquely positioned to safeguard our customers wherever they work. We have the most comprehensive and integrated end-to-end portfolio in the industry across the network, cloud, applications, and endpoints.
[Cisco Systems] provided extended free licenses for key security technologies that are designed to protect remote workers, including Cisco Umbrella, zero trust security from Duo, industry-leading secure network access from Cisco AnyConnect, and endpoint protection from our AMP technology.
We're also supporting our customers on their multi-cloud journey by enabling them to secure direct Internet access, cloud application usage, and roaming users. We're only two quarters into our secure Internet gateway transition, and we are already seeing strong adoption from existing and new customers. Building on the investments we made in innovation partnerships and acquisitions, we also introduced SecureX. This is the industry's broadest cloud-based security platform, connecting the breadth of our portfolio and our customer security infrastructure by providing unified visibility, automation, and simplified security across applications, the network, endpoints, and the cloud."
Additionally, management highlighted strong demand for Cisco Systems' cloud security portfolio supported by its Duo and Umbrella offerings. In response to an analyst's question during Cisco Systems' latest quarter conference call regarding the rising work-at-home trend, largely a result of the ongoing pandemic, management noted that "there is clearly more security that needs to be deployed" in order to adjust to the new work arrangements.
Concluding Thoughts
We continue to like Cisco Systems in both our Best Ideas Newsletter and Dividend Growth Newsletter portfolios due to its high quality cash flow profile (aided by the firm's relatively low capital expenditure requirements) and net cash position. There are several promising structural changes in its operations and financials currently underway (i.e. greater subscription revenues from its software business and a heavier focus on growing its Security product sales) which supports its medium- and long-term outlook. Cisco Systems should be able to emerge on the other side of this pandemic with its financials and dividend payouts intact.
-----
Communications Equipment Industry – CSCO JNPR KN NOK SMCI
Related: MXL
-----
Valuentum members have access to our 16-page stock reports, Valuentum Buying Index ratings, Dividend Cushion ratios, fair value estimates and ranges, dividend reports and more. Not a member? Subscribe today. The first 14 days are free.
Callum Turcan does not own shares in any of the securities mentioned above. Cisco Systems Inc (CSCO) is included in both Valuentum's simulated Best Ideas Newsletter portfolio and Dividend Growth Newsletter portfolio. Some of the other companies written about in this article may be included in Valuentum's simulated newsletter portfolios. Contact Valuentum for more information about its editorial policies.