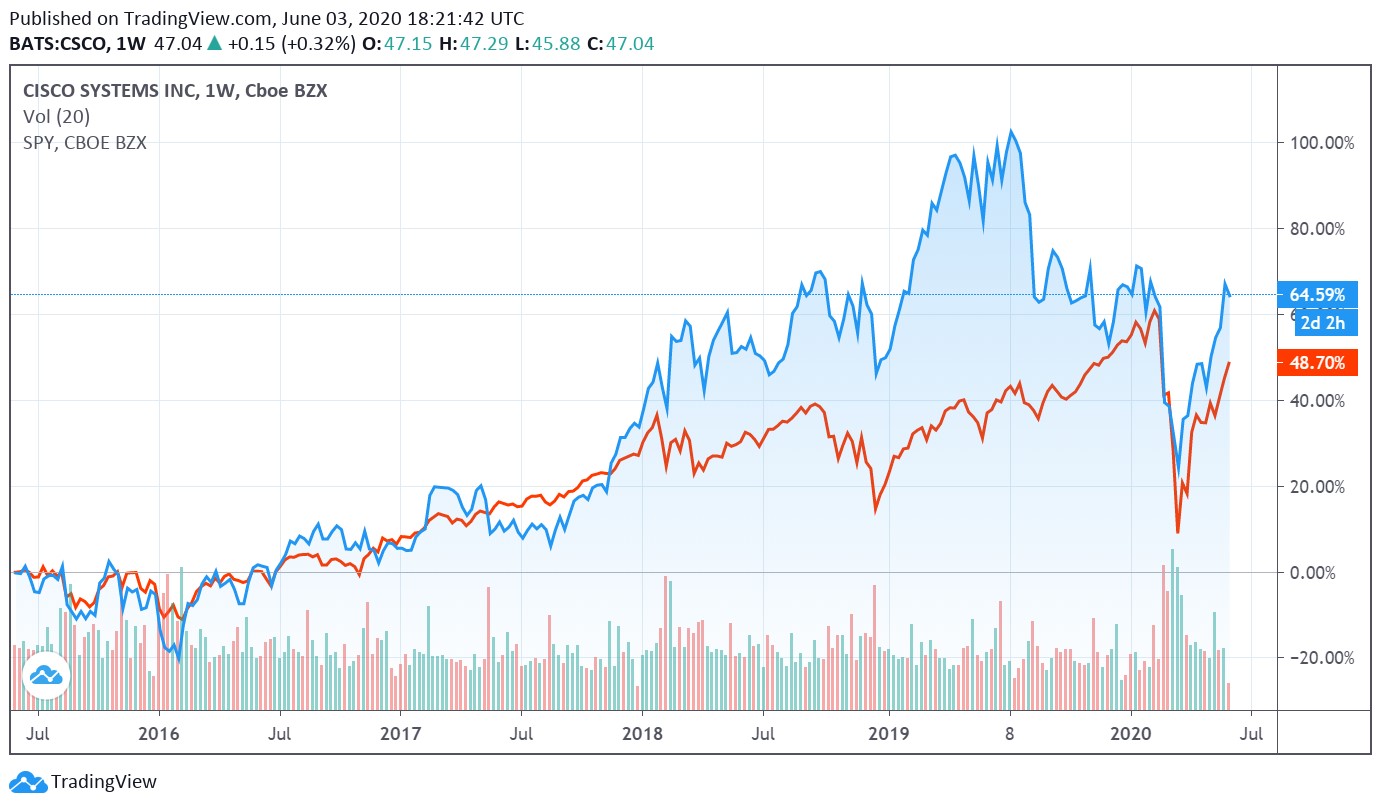 Image Shown: Over the past five years, shares of Cisco Systems have significantly outperformed the S&P 500 (SPY), before taking dividend considerations into account. When including dividend considerations, Cisco's outperformance would likely grow even further given shares of CSCO carry a juicy yield.
By Callum Turcan
We include shares of the networking infrastructure giant Cisco Systems (CSCO) as a holding in both the Best Ideas Newsletter and Dividend Growth Newsletter portfolios. Its high quality cash flow profile, pristine balance sheet, and growing subscription-based revenue streams make Cisco quite appealing. As of this writing, shares of CSCO yield ~3.1% and our Dividend Cushion ratio sits at 2.7, earning the firm a "GOOD" Dividend Safety rating. Should that Dividend Cushion ratio climb a tad higher, Cisco would be in a position to earn an "EXCELLENT" Dividend Safety rating. Our fair value estimate of $54 per share indicates Cisco has room to move higher from current levels (~$47 per share as of this writing), supported by its technical strength of late. We want to draw attention to a recent acquisition that could have major implications for Cisco's medium- and long-term growth trajectory.
Expanding Performance Monitoring Capabilities
On May 28, Cisco put out a press release noting it intended to acquire privately-held ThousandEyes Inc, though the financial terms weren't disclosed (potentially for competitive reasons). ThousandEyes is a performance monitoring provider and network intelligence company headquartered in San Francisco, California.
In the press release, Cisco noted that ThousandEyes' "Internet and Cloud intelligence platform delivers deep visibility and insights into the digital delivery of applications and services over the Internet." Cisco intends on integrating ThousandEyes with its "core Enterprise Networking and Cloud, and AppDynamics portfolios" and ThousandEyes "will join Cisco's newly-formed Networking Services business unit."
Cisco wants to better allow its customers to locate and fix problems in real time across their networks, specifically cloud and enterprise networks, and all the way down to the end user. Better digital delivery and maintenance systems for applications and services would improve the performance of its customers' operations, and in turn that should (in theory) drive up demand for Cisco's products and services (including its networking and routing hardware, along with the related software offerings). ThousandEyes is best known as a company that can measures the performance of internet connections anywhere in the world and over the past several years has expanded into providing insights into those digital connections.
Please note that Cisco, as things stand today, is somewhat limited in what it can monitor. While the performance of internal operations can be closely monitored on Cisco's networking infrastructure offerings, the performance outside of that realm cannot. ThousandEyes on the other hand would allow Cisco, and its customers, to monitor the performance of the digital delivery of services and applications from the enterprise all the way down to the end user in a far more comprehensive way than what Cisco's offerings can handle currently.
An Illustrative Example
A recent article on eWeek provided a solid illustrative example of how Cisco can integrate ThousandEye's performance monitoring services with its networking and router hardware. The ongoing coronavirus ('COVID-19') pandemic is forcing many employees to work remotely, generally from home (instead of a satellite office or other centralized location). Instead of having enterprise-level internet connections from one internet service provider in a centralized location (meaning there is a level of standardization here), remote employees working at home have their own internet connections with varying degrees of quality (different internet service providers, different internet packages, different regions).
Take customer service operations, for example (as the eWeek article did). When a customer service representative is working at a central corporate location, the quality of the experience (specifically, the quality of the phone call if WiFi calling is enabled, the quality of the video conference, or the quality of any sort of internet-related support) will vary greatly from employee to employee. What ThousandEyes can do is locate regions with congested internet connections and route that traffic towards other areas (meaning that instead of having the customer reach Employee A whose internet connection is slower, the customer reaches Employee B whose internet connection is functioning properly).
Though the COVID-19 pandemic will eventually pass (we covered the numerous vaccines and therapeutics currently being developed in this article here), the shift in employee preferences towards working remotely (whether from home or satellite offices) will likely be permanent (at least for some employees). Beyond customer services operations, the digital delivery of enterprise/productivity-oriented applications to the households and/or satellite offices of those remote employees will be very important to manage. That is where the beauty of Cisco's acquisition comes in as there are many ways for the firm to capitalize on this acquisition (this deal will help differentiate its networking and routing hardware and software offerings from its competitors), and why we see this deal as favorably augmenting Cisco's growth trajectory.
We see the ThousandEyes deal as being quite transformative to Cisco's hardware and software offerings. As the digital world gets increasingly complex, smarter solutions are needed to say ahead of the curve. Noticing performance issues in real time puts Cisco, and its clients, ahead of that curve and allows for its clients to mitigate issues before they become very real problems. Beyond noticing problems in the quality of internet connections, ThousandEyes can monitor the performance of the application or service being delivered to the end user as we mentioned previously. That allows the firm to notice if the application or service is not functioning properly and adjust accordingly. For a remote working situation, that means Cisco's client could notice if the productivity service being digitally delivered to an employee (or employees) is having problems before a serious amount of time and cash are wasted (potentially saving the client a lot of money).
Brief Deal Overview
Cisco expects the deal will close by the end of the first quarter of its fiscal 2021, keeping in mind its third quarter of fiscal 2020 ended on April 25, 2020. Bloomberg reports that Cisco is paying around $1.0 billion to acquire ThousandEyes, and furthermore, that ThousandEyes' last known valuation was $670 million (as of last year) according to data from Morningstar Pitchbook's service. As we have noted in past articles (link here), Cisco carries a pristine balance sheet and exited the fiscal third quarter with a net cash position of ~$12.5 billion. The networking giant can easily afford to add ThousandEyes to its portfolio while still maintaining its financial war chest.
Concluding Thoughts
We continue to like shares of Cisco as a holding in both the Best Ideas Newsletter and Dividend Growth Newsletter portfolios and see its recent technical strength as a reflection that the market is beginning to warm back up to the name. Once the ThousandEyes deal closes and the integration process begins, we will have more to say on this topic and will provide our members with any relevant updates going forward.
-----
Communications Equipment Industry – CSCO JNPR KN NOK SMCI
Related ETFs: IGN, TDIV, CIBR, WBIF, WBIE, WBIG, PXQ, WBIL, IYZ, PKW
-----
Valuentum members have access to our 16-page stock reports, Valuentum Buying Index ratings, Dividend Cushion ratios, fair value estimates and ranges, dividend reports and more. Not a member? Subscribe today. The first 14 days are free.
Callum Turcan does not own shares in any of the securities mentioned above. Cisco Systems Inc (CSCO) is included in both Valuentum's simulated Best Ideas Newsletter portfolio and Dividend Growth Newsletter portfolio. Some of the other companies written about in this article may be included in Valuentum's simulated newsletter portfolios. Contact Valuentum for more information about its editorial policies.