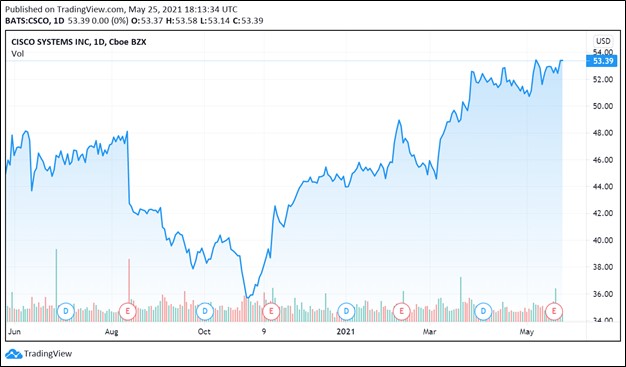 Image Shown: Shares of Cisco Systems Inc initially moved lower after the firm reported its latest earnings update and management provided near-term guidance that disappointed investors. However, shares of Cisco Systems quickly resumed their upward climb as the tech giant's financials remain rock-solid. We continue to be huge fans of Cisco Systems.
By Callum Turcan
On May 19, networking hardware and enterprise software giant Cisco Systems Inc (CSCO) reported third quarter fiscal 2021 earnings (period ended May 1, 2021) that beat consensus top- and bottom-line estimates. The firm's GAAP revenues grew by 7% year-over-year and its GAAP operating income moved higher by a little over 1% year-over-year, with its 'Security' offerings leading the way as that segment's revenues grew by 13% year-over-year last fiscal quarter.
Though investors were initially underwhelmed by Cisco Systems' near-term guidance covering the current fiscal quarter, the company remains a free cash flow generating machine with a fortress-like balance sheet. Shares of CSCO quickly resumed their upward climb after initially falling when Cisco Systems' latest earnings report was published.
We include Cisco Systems as an idea in both the Best Ideas Newsletter and Dividend Growth Newsletter portfolios. The trajectory of the company's financial performance is beginning to turn around after Cisco Systems faced enormous headwinds in the recent past due to the coronavirus ('COVID-19') pandemic. Looking farther down the road, Cisco Systems' growth outlook is quite bright, and we are big fans of the tech giant. Shares of CSCO yield ~2.8% as of this writing.
Stellar Free Cash Flows, Fortress-Like Balance Sheet
Before covering the firm's recent operational updates, let us take a look at its rock-solid financials. Cisco Systems generated $10.4 billion in free cash flow during the first nine months of fiscal 2021 while spending $4.6 billion covering its dividend obligations and another $2.1 billion buying back its stock. In our view, Cisco Systems has ample room to significantly boost its payout over the coming fiscal years in a sustainable manner.
At the end of the third quarter of fiscal 2021, Cisco Systems had over $12.0 billion in net cash on the books (inclusive of short-term investments and short-term debt). The company's stellar free cash flows and fortress-like balance sheet supports its income growth outlook and its potential capital appreciation upside.
Guidance Update
In the current fiscal quarter, Cisco Systems expects its revenues will grow by 6%-8% year-over-year and that its non-GAAP operating margin will come in at 32%-33%. As noted previously, the COVID-19 pandemic weighed negatively on its financial and operational performance, though ongoing vaccine distribution activities and the easing of lockdown rules worldwide supports Cisco Systems' outlook. Major IT projects that got delayed by the pandemic are beginning to resume, while operations that were essential to keeping things running during the pandemic such as video conferencing, workforce collaboration, and cybersecurity offerings continue to experience strong demand growth.
Operational Update
Cisco Systems has significant exposure to the cybersecurity space via its cloud-native SecureX platform and to the video conference via its WebEx offering, two realms that have seen strong demand growth over the past several quarters in the wake of the pandemic. Within management's prepared remarks covering Cisco Systems' latest earnings call, management had this to say regarding the firm's cybersecurity operations (emphasis added):
"With nearly $6 billion in annual R&D, the investment that Cisco is making in both security and the network continues to lead to momentum across our portfolio, with 23 consecutive quarters of double-digit Umbrella cloud security growth, nearly 7,000 customers using our cloud native SecureX platform, and strong platform growth with Security Enterprise agreements.
We continue to expand our leadership with new innovations, including passwordless authentication, data loss prevention, observability, cloud-based malware detection and enhancements to SecureX.
We are also complementing our organic innovation with assets that enable greater security efficacy. Our intent to acquire Kenna Security will bring together their risk-based vulnerability management platform with SecureX's threat-management capabilities to prioritize and more effectively manage overall risk." --- Chuck Robbins, Chairman and CEO of Cisco Systems
On May 14, Cisco Systems announced it would acquire privately-held Kenna Security though the financial terms were not disclosed. The deal is expected to close in the fourth quarter of fiscal 2021 and the press release noted that "this integration will help customers prioritize vulnerabilities; speed and automate decision making with tailored information; and accelerate response time for cyber readiness." We like the deal given the various growth opportunities the cybersecurity space offers a firm like Cisco Systems, especially in the current climate in the wake of the hack of strategic Colonial Pipeline (a major supplier of refined petroleum products from the US Gulf Coast region to consumers in the East Coast).
Additionally, Cisco Systems' other offerings across the board (from networking hardware to collaboration software and more) should become more appealing as its cybersecurity suite of products and services continues to improve. Pivoting here, Cisco Systems' management team had this to say within their prepared remarks covering the firm's latest earnings call regarding its video conferencing and collaboration offerings (emphasis added):
"Our collaboration business continues to perform well. We had a record quarter in WebEx, as we execute against our strategy to power the future of hybrid work. Over the last six months we've added more than 400 new features and devices to our WebEx portfolio. We are enabling seamless experiences through our desk camera and desk hub solutions while extending the WebEx suite of devices, including digital signage, touchless calls, room capacity alerts and environmental sensors to help enable a safe return to the office.
Wellbeing is top of mind for so many right now as we face a new way of working. This is why we launched People Insights to help people monitor and manage their wellbeing. These new features, devices and capabilities combined with Cloud Calling and Cloud Contact Center provide our customers with the most comprehensive and inclusive hybrid work platform. Last week, we announced our intent to acquire Socio Labs. By integrating Slido and Socio Labs into our WebEx platform, we will also be able to provide the most comprehensive internal and external event management solution on the market." --- Chairman and CEO of Cisco Systems
On May 12, Cisco Systems announced that it would acquire privately-held Socio Labs and that the deal would close during its current fiscal quarter. Financial terms were not disclosed. This deal came on the heels of Cisco Systems' acquisition of Sildo, which closed on May 3 (financial terms were not disclosed), and the goal is to integrate the operations of Socio Labs and Sildo with WebEx to improve the event hosting, audience engagement, and collaboration capabilities of its WebEx offering.
Socio Labs "provides event organizers with everything they need to successfully host in-person, virtual or hybrid events of any size and format" according to the related press release. Enterprises, schools, workforces, governments, and other entities pivoted aggressively towards virtual events during the COVID-19 pandemic. Looking ahead, while some activities will return to the way they were before the pandemic, others have been permanently changed due to the public health crisis and lessons learned while adapting to the pandemic will have a major impact on the future of work. In our view, the trend towards virtual events and hybrid events, which combine physical and virtual components, has long legs especially as an increasingly number of workers turn to remote work as a part of their weekly routine.
According to the related press release, Cisco Systems' acquisition of Sildo will enable WebEx to "offer a best-in-class audience engagement platform that significantly heightens participant engagement before, during and after meetings and events, across in-person and virtual audiences." Making virtual and hybrid events more engaging is key given that grabbing the attention of a virtual audience is a completely different ball game as compared to an event with a physical audience. In our view, these recent acquisitions favorably augment Cisco Systems' cash flow growth trajectory and strengthen its competitive position.
Concluding Thoughts
We continue to be big fans of Cisco Systems and view the company as well-positioned to navigate the global economy as it emerges from the COVID-19 pandemic. The company's near-term guidance might have underwhelmed but its outlook over the long haul continues to improve as Cisco Systems leans towards offerings that are supported by secular growth tailwinds. We continue to like shares of CSCO as an idea in both our Best Ideas Newsletter and Dividend Growth Newsletter portfolios.
Downloads
Cisco's 16-page Stock Report (pdf) >>
Cisco's Dividend Report (pdf) >>
-----
Technology Giants Industry - FB, AAPL, GOOG, AMZN, MSFT, CSCO, V, MA, PYPL, INTC, ORCL, QCOM, TWTR, IBM, ADBE, NVDA, CRM, AMD, AVGO, BABA, BKNG, BIDU, TSM, FFIV, TXN, EBAY, ADP, PAYX, MU, KFY, MAN, KLAC, LRCX, AMAT, ADI
Tickerized for CSCO, ACIA, INFN, CIEN, FSLY, ANET, FFIV, COMM, LITE, AVYA, IIVI, JNPR, PLT, ZBRA, GLW, TRMB, ZM, PANW, PLTR, CRWD, OKTA, ZS, FEYE, FTNT, PFPT, SPLK
Valuentum members have access to our 16-page stock reports, Valuentum Buying Index ratings, Dividend Cushion ratios, fair value estimates and ranges, dividend reports and more. Not a member? Subscribe today. The first 14 days are free.
Callum Turcan does not own shares in any of the securities mentioned above. Apple Inc (AAPL), Cisco Systems Inc (CSCO), and Microsoft Corporation (MSFT) are all included in both Valuentum's simulated Best Ideas Newsletter portfolio and simulated Dividend Growth Newsletter portfolio. Alphabet Inc (GOOG) Class C shares, Facebook Inc (FB), Korn Ferry (KFY), PayPal Holdings Inc (PYPL) and Visa Inc (V) are all included in Valuentum's simulated Best Ideas Newsletter portfolio. Oracle Corporation (ORCL) and Qualcomm Inc (QCOM) are both included in Valuentum's simulated Dividend Growth Newsletter portfolio. Some of the other companies written about in this article may be included in Valuentum's simulated newsletter portfolios. Contact Valuentum for more information about its editorial policies.