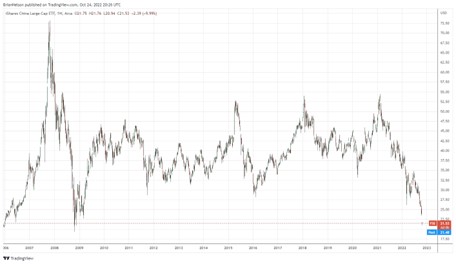 Image: Large cap Chinese equities are now back to levels first reached more than 15 years ago on a price-only basis, to levels first attained in early 2006.
By Brian Nelson, CFA
Successful investing is as much about selecting big winners such as Exxon Mobil (XOM) and Chevron (CVX) as it is about avoiding big losers – and wow have Chinese stocks been bludgeoned! The iShares China Large-Cap ETF (FXI) traded down nearly 10% on October 24, 2022, putting its 5-year declines at a whopping 50%+, on a price-only basis. The FXI is now back to levels, on a price-only basis, first reached at the beginning of 2006, more than 15 years ago. We don't include any Chinese ADRs in any simulated newsletter portfolio at this time, and we don't plan to do so anytime soon.
Geopolitical uncertainty between the U.S. and China continues to escalate, with the U.S. putting export controls on certain semiconductor technology, and Chinese President Xi Jinping winning his third five-year term, and many believing the 69-year old ruler, which continues to wield significant power, will stay in office for the rest of his life -- having promoted key allies to gain a tighter control over private business in the country. Could Xi change the game with respect to variable interest entities (VIE) and seek to delist Chinese ADRs? That's what everyone is worried about. U.S.-listed ADRs such as Alibaba (BABA), JD.com (JD) and Baidu (BIDU) were shellacked during the trading session October 24, each down at least 12%.
If geopolitical uncertainty weren't enough, China's GDP growth, data released October 23, came in at 3.9% during the third quarter of 2022, too, well below the country's target of 5.5%. Many have been caught in several Chinese ADR value traps, not the least of which is famed Charlie Munger via Daily Journal (DJCO), which loaded up on more than 300,000 shares of Alibaba at the beginning of this year, to bring its stake at the time to 600,000+ shares at the time. Munger has since sold more than half of BABA shares in April of this year.
Concluding Thoughts
The stakes have never been higher on the world stage as geopolitical uncertainty between the U.S. and China continues to escalate. Shares of Chinese equites have been bludgeoned, now back to levels first reached in early 2006, some 15 years ago. The fallout has taken some of the best investors with it, legends such as Charlie Munger, whose shares in BABA hover near all-time lows. We don't see Chinese equities as "investable" these days, and we're steering clear of direct exposure in the simulated newsletter portfolios at this time.
----------
Related: KWEB, MCHI, ASHR, GXC, CQQQ, CXSE, KBA, CNYA, YINN, CHIQ, PGJ, CWEB, RAYC, WB, PDD, NTES, BILI, TCEHY, YUMC, SBUX, NKE, NIO, TCOM, TSLA, LI, BGNE, BEKE, HTHT, HKD, XTSLA, XPEV, VIPS, DQ, TME, BZ, ZLAB, LEGN, ATHM, TAL, QFIN, LU, YY, HCM, IQ, RLX, CNY, SFTBY, ZNH, GDS, CEA, DIDI
About Our Name
But how, you will ask, does one decide what [stocks are] "attractive"? Most analysts feel they must choose between two approaches customarily thought to be in opposition: "value" and "growth,"...We view that as fuzzy thinking...Growth is always a component of value [and] the very term "value investing" is redundant.
-- Warren Buffett, Berkshire Hathaway annual report, 1992
At Valuentum, we take Buffett's thoughts one step further. We think the best opportunities arise from an understanding of a variety of investing disciplines in order to identify the most attractive stocks at any given time. Valuentum therefore analyzes each stock across a wide spectrum of philosophies, from deep value through momentum investing. And a combination of the two approaches found on each side of the spectrum (value/momentum) in a name couldn't be more representative of what our analysts do here; hence, we're called Valuentum.