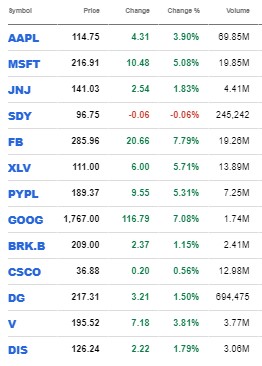 Image: The holdings in the Best Ideas Newsletter during the trading session November 4. We continue to pound the table on our best ideas.
By Brian Nelson, CFA
If you were like me, you stayed up as long as you could last night watching the U.S. election coverage before it became too difficult to keep your eyes open. When I went to sleep, it seemed as though Donald Trump would be re-elected. The only state that appeared to flip to the Democrats from the 2016 election was Arizona, meaning Trump would still retain greater than the 270 electoral votes required to gain re-election. Well, that was last night, and this is today.
As more and more votes came in last night and into the morning, it became evident that the races in Wisconsin and Michigan were much tighter than the news coverage last night led to believe. In fact, with just a small percentage of the votes left outstanding to count in those states, Joe Biden appears to be running ahead of Donald Trump in those states, if only ever so slightly (~20,000-30,000 votes). Donald Trump's huge gap in Pennsylvania--about 8.7 percentage points at the time of this writing--may also narrow when it is all said and done. The bottom line is that this election is just too early to call!
In any case, our best ideas are surging today. Facebook (FB) and Alphabet (GOOG) are both up over 7% during the trading session November 4 at the time of this writing. PayPal (PYPL) and Microsoft (MSFT) are both up over 5%, while the Healthcare Sector SPDR (XLV) and Apple (AAPL) are putting up above-market performance, too. We continue to like the areas of large cap growth, big cap tech, and the NASDAQ (QQQ). An ETF tracking large cap growth is up nearly 5% at the time of this writing, while an ETF tracking small cap value is down 0.8%. Read Value Trap. The NASDAQ is up over 4%.
We continue to pound the table on our best ideas. It may not matter whether it's Trump or Biden in the White House for the next four years, net cash rich, free cash flow generating powerhouses with competitively advantaged business models that are tied to secular growth tailwinds will continue to thrive, in our view--and that's how the Best Ideas Newsletter portfolio is positioned [Facebook, Alphabet and Visa (V) remain our top-weighted ideas in that portfolio.] No matter which candidate eventually wins though, the U.S. Presidential Election of 2020 looks like it will be a drawn-out, highly-contested battle with possible recounts in key battleground states. It's going to be a close one.
We will continue to follow the election coverage closely and update members accordingly. Stay tuned!
Related: SCHG, IWN
---
Valuentum members have access to our 16-page stock reports, Valuentum Buying Index ratings, Dividend Cushion ratios, fair value estimates and ranges, dividend reports and more. Not a member? Subscribe today. The first 14 days are free.
Brian Nelson owns shares in SPY, SCHG, DIA, VOT, and QQQ. Some of the other securities written about in this article may be included in Valuentum's simulated newsletter portfolios. Contact Valuentum for more information about its editorial policies.