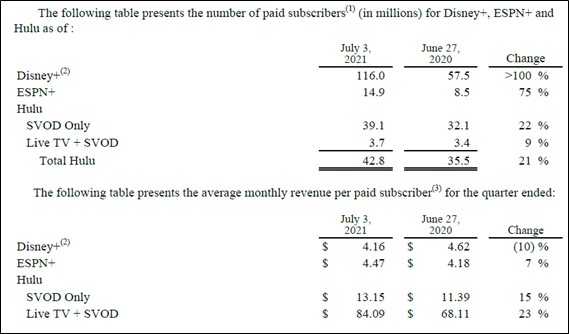 Image Shown: The Walt Disney Company's video streaming growth ambitions showed signs of significant progress last fiscal quarter. Image Source: The Walt Disney Company – Third Quarter of Fiscal 2021 Earnings Press Release
By Callum Turcan
On August 12, The Walt Disney Company (DIS) reported third quarter earnings for fiscal 2021 (period ended July 3, 2021) that beat both consensus top- and bottom-line estimates. Disney's video streaming services reported a sharp uptick in paid subscribers while the financial performance of the segment that includes its theme park and resort operations staged an immense rebound. We continue to be huge fans of Disney's capital appreciation upside and include shares of DIS as an idea in the Best Ideas Newsletter portfolio.
Operations and Video Streaming Update
Its 'Disney Parks, Experiences and Products' segment reported a roughly four-fold year-over-year increase in its revenues last fiscal quarter as the world economy emerged from the worst of the coronavirus ('COVID-19') pandemic. That, in turn, saw this segment go from running at a $1.9 billion operating loss in the same quarter last fiscal year to a $0.4 billion operating profit in the third quarter of fiscal 2021. The company's 'Disney Media and Entertainment Distribution' segment reported an 18% year-over-year jump in revenues last fiscal quarter, though this segment's operating income fell by 32% year-over-year as Disney ramped up its investments in original content.
Disney reported stellar paid subscriber growth across its video streaming services, indicating its original content spend is generating concrete results. On a sequential basis, Disney+ added 12.4 million paid subscribers, ESPN+ added 1.1 million paid subscribers, and Hulu added 1.2 million paid subscribers (in total across all services). For reference, Disney owns 67% of Hulu and by January 2024, has the option to acquire the remaining 33% stake owned by Comcast Corporation (CMCSA). Additionally, Star represents another video streaming service Disney is rolling out. Here is what Disney's management team had to say regarding the firm's video streaming business during the company's latest earnings call (emphasis added):
"On the direct-to-consumer side, we are extremely pleased with the continuing success of our portfolio of streaming services. Disney+, ESPN+ and Hulu have performed incredibly well with 116 million 14.9 million and 42.8 million subscribers, respectively, for a total of nearly 174 million subscriptions.
Numerous breakout hits from our beloved brands, including Pixar's Luca and Marvel's Loki and the Falcon and the Winter Soldier have contributed to strong engagement and new subscriber growth in core Disney+ markets. And we have continued to launch Disney+ in new markets around the world, including Disney+ Hotstar in Malaysia and Thailand in Q3. Disney+ is also currently available in a limited capacity in Japan and will expand to the full market in late October, followed by additional APAC markets, including South Korea, Taiwan and Hong Kong in mid-November.
The launch of Disney+ in Eastern Europe has moved from late 2021 to summer of 2022, primarily to allow for an expanded footprint that will include parts of the Middle East and South Africa. Additionally, we're excited about the launch of Star+ throughout Latin America later this month. As we've said, our direct-to-consumer business is the Company's top priority." --- Bob Chapek, CEO of Disney
As Disney continues to bulk up its slate of original content while expanding its various video streaming services into new markets, the company should be able to maintain its impressive paid subscriber growth momentum going forward. Please note that as it concerns Disney's average monthly revenue per subscriber metric, the firm launched Disney+ Hotstar in India back in April 2020 and the service later expanded into other countries. Disney launched this service at price points that are competitive for the relevant regions.
Though the average monthly revenue per subscriber for its Hulu (at both its streaming on demand and live TV offerings) and EPSN+ services advanced on a year-over-year and sequential basis in the fiscal third quarter, this metric for its Disney+ service fell year-over-year but was up sequentially last fiscal quarter. More broadly, as Disney expands its video streaming business overseas, there is the potential for turbulence in its average monthly revenue per subscriber metric, but that should not be taken as a sign of underlying weakness or strength in its business without also taking other factors into account.
Financial Update
Disney's GAAP revenues surged 45% year-over-year to $17.0 billion and its GAAP net income from continuing operations flipped from a loss in the same period last fiscal year to a profit of $1.1 billion in the company's third quarter of fiscal 2021. The firm generated $0.5 billion in free cash flow during the first nine months of fiscal 2021 and did not spend a significant amount, or anything, buying back its stock during this period. Please note Disney suspended its dividend during the initial phases of the COVID-19 pandemic to conserve cash, and looking ahead, the firm will likely not resume its payout for some time so the company can spend more on original content for its video streaming services.
We would prefer that Disney invests as much as possible towards its video streaming services to support its long-term growth runway on this front, given that eventually, these operations should become immense cash flow cows. Our thesis for Disney rests entirely on its capital appreciation upside. Trading a modest dividend in return for a significantly brighter cash flow growth outlook is a tradeoff worth making, in our view.
Disney exited the fiscal third quarter with a net debt load of $39.8 billion (inclusive of short-term debt, exclusive of long-term investments). This burden appears manageable given the firm had $16.1 billion in cash and cash equivalents on hand at the end of this period, and we would like to see Disney pare down its net debt load over time once as its business continues to recover. Here is some management commentary on the issue provided during Disney's latest earnings call (emphasis added):
"And finally, in light of the ongoing recovery from the COVID-19 pandemic as well as our continued prioritization of investments that support our growth initiatives, the Board decided not to declare or pay a dividend for the first half of fiscal 2021. Longer term, we do anticipate that both, dividends and share repurchases will remain a part of our capital allocation strategy. However, for the time being, we don't anticipate declaring a dividend or repurchasing shares until we return to a more normalized operating environment and our leverage is back to levels more consistent with a single A credit rating." --- Christine McCarthy, CFO of Disney
Concluding Thoughts
Disney continues to recover from the worst of the COVID-19 pandemic and its outlook is quite bright. Our fair value estimate for Disney stands at $191 per share with room for upside as the top end of our fair value estimate range sits at $234 per share, well above where shares of DIS are trading at as of this writing.
The "delta" variant of the COVID-19 pandemic is creating near term headwinds for its business, though management recently noted that "theme park reservations at both of (its) domestic parks remain strong," which we appreciate. COVID-19 vaccination distribution efforts should eventually enable Disney's theme parks and resorts to return to normal operations at full capacity. Sustained growth at its various video streaming services and the ongoing, though uneven, recovery at its other divisions underpins Disney's promising free cash flow growth trajectory over the long haul. We continue to view Disney's capital appreciation upside quite favorably.
----
Telecom Services Industry - CMCSA, LUMN, DISH, T, TMUS, VZ, SBAC, AMT, CCI, VIAC
Tickerized for T, EA, NFLX, DIS, DISCA, DISH, TMUS, ROKU, FOX, FOXA, FUBO, VOX, NXTG, FCOM, IYZ, IXP, XTL, WBIF, EWCO, LTL
Valuentum members have access to our 16-page stock reports, Valuentum Buying Index ratings, Dividend Cushion ratios, fair value estimates and ranges, dividend reports and more. Not a member? Subscribe today. The first 14 days are free.
Callum Turcan does not own shares in any of the securities mentioned above. The Walt Disney Company (DIS) is included in Valuentum's simulated Best Ideas Newsletter portfolio. AT&T Inc (T) and Crown Castle International Corp (CCI) are both included in Valuentum's simulated High Yield Dividend Newsletter portfolio. Some of the other companies written about in this article may be included in Valuentum's simulated newsletter portfolios. Contact Valuentum for more information about its editorial policies.