We are putting short investors on high alert!
By Brian Nelson, CFA
In late 2018, Valuentum published Value Trap, a book that warned to all that would heed its warning that a collapse in the traditional quant value factor was coming and that excessive volatility in the markets caused by price-agnostic trading--or those that aren't paying attention to fair value estimate calculations--would only build and build to eventually reach extreme and irrational levels. The book, while hugely successful winning award after award, was largely ignored by the media, despite our best efforts to get the word out. Now, the chickens are coming home to roost.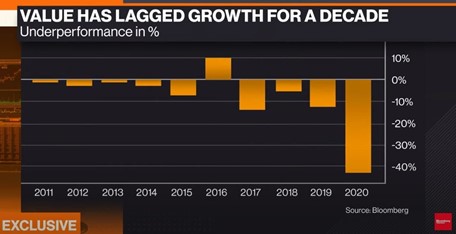 Image Shown: The book Value Trap warned about the impending collapse of the value factor, and during 2020, the value factor registered its worst performance in history. We continue to believe large cap growth is underpriced. Image Source: Bloomberg.
As you are aware (and probably tired of hearing by now), the "value factor" had its worst showing in history during 2020, as predicted, and while broader market indices continue to reflect somewhat reasonable levels of volatility (following the excessive levels during the COVID-19 crash), we're now starting to see the type of volatility on individual names that we think will only grow in number to eventually become large enough to impact broader market indices in time. Our "Call to Action" in Value Trap remains, and we encourage regulators to promote the application of active management (and enterprise valuation) via policy regulations that limit dangerous vehicles in a bid to ensure market integrity and stability for posterity. Indexing is a wolf in sheep's clothing, and its bite will leave deep scars in the financial system if not curbed.
To the layman, if you're a believer in climate change and how this generation is harming the future, it's far worse what is happening in finance today. Pollution is everywhere. With just ~10% of all trading based on discretionary fundamental fair value analysis, with indexing and quant trading increasing (momentum and trend following algorithms), with mis-education at all-time highs given the documented failures of perceived "truths" in quant finance, future generations may be left with a complete and absolute mess of a financial and market system if we don't get back to enterprise valuation. Instructors: Teach your students well – teach them enterprise valuation. Make Value Trap required reading.
Gordon Gekko is wrong: Greed is not good. Brokers selling index funds pointing to failed modern portfolio theory as justification and quants running sophisticated algorithms based on short-cut multiple analysis and impractical data will only grow to be a recipe for disaster. Were it not for the swift action of the Fed/Treasury during the depths of the COVID-19 crisis, the financial system would have already witnessed its doom. Many stocks in indexes would have gone to zero, driving underperformance of traditional indexes relative to active management of mammoth proportions, all but securing the demise of Bogle's folly. Far too many investors are not paying attention to the intrinsic worth of their assets--and counting on the Fed/Treasury to bail out indexers (not active managers) time and time again with tax-payer money is no plan for longevity. Indexing is not free or inexpensive; it has cost the tax payers hundreds of billions, maybe trillions.
We witnessed but a glimpse of irrational market activity and extreme levels of volatility earlier this year. On March 25, 2020, the SEC halted trading in shares of Zoom Technologies (ZOOM) because many were confusing its ticker symbol with a similarly named NASDAQ-listed company, Zoom Video Communications (ZM). More recently, a January 7th tweet by Tesla CEO Elon Musk saying nothing more than "Use Signal" sent shares of the stock Signal Advance (SIGL) over 400%+ higher. The only problem is that Musk was talking about a messaging app called Signal that rivals Facebook's (FB) Messenger and Apple's (AAPL) messaging service, not the company listed under the ticker SIGL. Traders may have been engaging in pump-and-dump schemes using misinformation as the tool, as Signal Advance now trades for ~$5.50, down from its irrational high of ~$38 per share.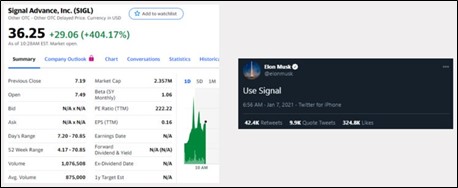 Image Shown: Shares of Signal Advance (SIGL), a company that uses signal technologies in biomedicine and other areas, shot up aggressively on a tweet from Elon Musk saying to use a completely unrelated messaging app called Signal. Image Source: Yahoo, Twitter.
These are not one-off events. In the early months of 2020, irrational speculation also reached a precipice in the stocks of bankrupt and near-bankrupt companies, as speculators in the popular Robinhood app whipsawed prices of Hertz (HTZ), Whiting Petroleum (WLL), GNC (GNC), and Chesapeake Energy (CHKAQ) around. On June 8, 2020, for example, Hertz's and Whiting Petroleum's shares, while still lower significantly on the year, closed approximately 10-fold higher from prices around the time of their respective bankruptcy filings during this mania.
Then there was Hong-Kong listed ArtGo Holdings. The marble-stone miner's share price ran up 3,800%, nearly 40-fold, during 2019, with the majority coming on news that MSCI would add the stock to its suite of indexes. However, just a couple weeks after the announcement, on November 21, 2019, MSCI pulled a U-turn, saying it would not add the stock to its indexes. The news sent shares of ArtGo Holdings tumbling 98% that Thursday morning, wiping clean an incredible $5.7 billion of market value. The markets are showing signs that the price-discovery mechanism is breaking down, and indexing is not an innocent bystander.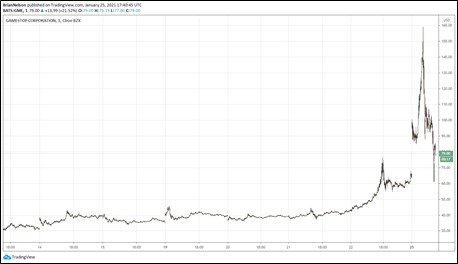 Image Shown: Shares of GameStop have been on an irrationally wild ride recently driven by what looks to have been an orchestrated and highly unethical (and perhaps illegal) short squeeze on the stock. According to some reports, during the pre-market session January 25, GameStop's shares were up ~80%, and turned red during the trading session, with no fundamental news.
Recent "bull raids," or aggressive and orchestrated "short squeezes" on stocks, have been the most prominent evidence of excessive volatility and irrational market behavior driven by Reddit WallStreetBets users and Robinhood traders, only exacerbated by price-agnostic trading from traditional quant algorithms. With a short interest of ~150%, GameStop's (GME) shares, for example, went from a 52-week low of $2.57 in March 2020 to a 52-week high of $159.18 in January, and are now trading at ~$70-$80 per share at the time of this writing--still far above what may be considered to be a fair value estimate of the equity.
There are other instances, too. Other heavily shorted stocks including Express (EXPR), Macerich (MAC), Bed Bath & Beyond (BBBY), and AMC Entertainment (AMC) have been tools of trading madness in recent weeks. At the time of this writing, Express' shares are up over 90%, Macerich's are up 16%, Bed Bath & Beyond are up over 8%, and AMC's are up over 28% -- all on no news other than they are companies with heavy short interest. As with the "fad" of investing in bankrupt companies earlier in 2020, it seems like the trading sharks are circling heavily-shorted names to drive aggressive short-squeezes, often in conjunction with the application of deep out of the money call options.
We're paying close attention to these dynamics as we monitor our short idea considerations in the Exclusive publication. We've put up some tremendous success rates when it comes to short ideas—through October 2020, the success rate for short idea considerations was 92.3% over 52 ideas spanning 52 months--but we're writing today in part to put our readers on high alert when it comes to short investing. Though we still like our latest two short idea considerations, DoorDash (DASH) and Palantir (PLTR), they have moved against us since we highlighted them. Palantir was up 25% on nothing more than news of a Demo Day. Our thesis on these ideas hasn't changed, but the market's behavior certainly has. For short investors, caution is the order of today.
Concluding Thoughts
We believe a fair value estimate on the S&P 500 (SPY) is 3,530-3,920, and with the S&P 500 trading at ~3,825 at the time of this writing, the markets are fairly valued based on common-sense metrics. You can read about how we value the market in our 2020 recap here. We maintain our view that the areas of big cap tech, large cap growth, and the NASDAQ are attractive, and we continue to point to Facebook (FB) and Alphabet (GOOG) as two of the most undervalued stocks on the market. Large cap growth (SCHG) has outperformed small cap value (IWN) roughly 60 percentage points since the beginning of 2019, or about the time that Value Trap was published. Best Ideas Newsletter holding Korn/Ferry (KFY) is one of the biggest fundamental mispricings we see at the moment.
That said, even though markets are fairly priced and we think certain areas offer bargains, systemic risks are increasing as price-agnostic trading in the likes of quant and indexing has now been augmented by trading from Reddit platforms such as WallStreetBets and Robinhood traders looking to make a big score in the market. We're still playing it cool, and nothing should be surprising to our readers. We called almost every step of the way in 2020, and extreme and irrational levels of volatility are the next chapter in the book Value Trap. The markets won't get completely out of whack for years yet, however, and we hope Value Trap, in raising awareness of the pitfalls of the ways of indexing and quant investors, will make it so the path to financial destruction will never materialize.
We're available for any questions.
Most Shorted Stocks, short interest as a % of float: GME, FIZZ, DDS, MAC, BBBY, LGND, AMCX, SRG, GOGO, SPWR, AXDX
Other: SPCE, FUBO, KOSS, BB, VLDR, CLVS, OXBR, VIR, PRTS, WKHS, BZUN, BLNK, OSTK, NKLA, YQ, UUU, BYND, PROG, TR, NOK, IRBT, SIRI, PETS, GSX, FOSL, M, APRN, KODK, ANGI, SHLDQ, BLIAQ, DDD, NVAX, IRM.
----
Valuentum members have access to our 16-page stock reports, Valuentum Buying Index ratings, Dividend Cushion ratios, fair value estimates and ranges, dividend reports and more. Not a member? Subscribe today. The first 14 days are free.
Brian Nelson owns the SPY, SCHG, DIA, QQQ, VOT, and IWM. Some of the other companies written about in this article may be included in Valuentum's simulated newsletter portfolios. Contact Valuentum for more information about its editorial policies.