Hi everyone,
I wanted to cover a few topics about our website navigation.
Some of you have been asking about where to find the newsletter portfolios. In addition to their being published in the monthly newsletters, we added links to them back on the left column of the website under the Newsletters/Portfolios section:
Dividend Growth Newsletter portfolio: https://www.valuentum.com/articles/20120809_4
Best Ideas Newsletter portfolio: https://www.valuentum.com/articles/20120809_3
Don't forget to ask about the new High Yield Dividend Newsletter and the Nelson Exclusive publication.
Others have emailed about the images of the screens on our website. Those screens are always included in the newsletters that we deliver each month, and now the data can be conveniently downloaded in a weekly Excel file download and sorted as desired:
https://www.valuentum.com/downloads/20170816_1/download
If you don't know how to use Excel to take advantage of this screener, just contact us. You're getting more, not less.
Some have asked about why we have moved to "weighting ranges" in the newsletter portfolios. It has to do with the fact that every member is different, with different goals and risk tolerances, so precision is not our goal. The simulated newsletter portfolios continue to perform very well, with meaningful cash allocations during this market swoon.
We're working on two white papers for the Best Ideas Newsletter portfolio and Dividend Growth Newsletter portfolio, respectively, and we think you are going to be mighty impressed.
Many have asked about the Valuentum Buying Index rating system. Since its inception, stocks registering a 9 and 10 have done quite well, and the latest example of Michael Kors (KORS) was yet another big homerun. It should not be surprising that there are fewer 9s and 10s today than there were 3-5 years ago, however. We're 9 years into a bull market, and 2018 has had a difficult start. Our process is working!
We've been working hard to make the stock pages more valuable, but we also want to remain true to our goal of having as conflict-free of research and analysis as possible. Other websites may include commentary from just about anywhere, but we only include Valuentum commentary and the company's press releases on the stock pages. This is by design.
To access a company's stock page on our website, where you can download the company's stock and dividend report and easily find key data from the table, please use the Symbol 'Search' box in the website header. To access Boeing's stock page, for example, you'd enter in the ticker symbol 'BA' and then select the button "Search."
Here is an image of the box at the top of the website header, and an image of Boeing's stock landing page. The charting information on that stock page is real-time, and you have all the key data in a table for each company we cover right there on that page for you.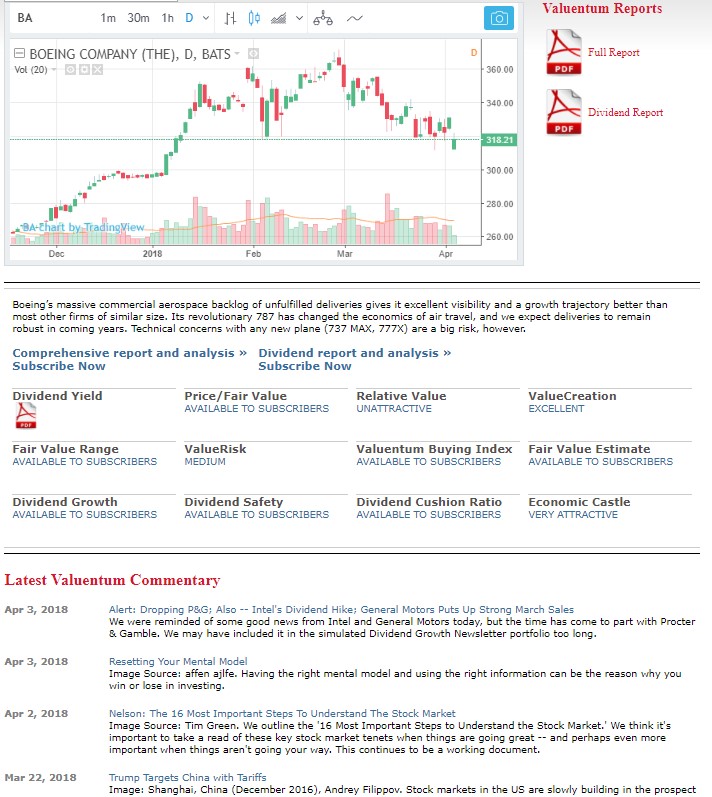 We'll keep sending information on how to best navigate the website, but the best way to find your way around is to get lost at www.valuentum.com. We have tons of helpful information!
Now dig into the Learning Center: https://www.valuentum.com/articles/20121028
-----
Valuentum members have access to our 16-page stock reports, Valuentum Buying Index ratings, Dividend Cushion ratios, fair value estimates and ranges, dividend reports and more. Not a member? Subscribe today. The first 14 days are free.