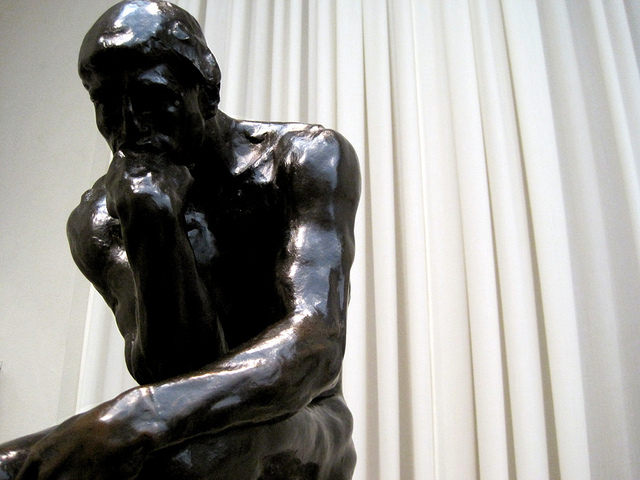 Image Source: Gaby Av
At Valuentum, we believe in the ongoing education and development of our employees, members and visitors. Lifelong learning is something our firm holds very dear, as part of our corporate mission is to serve the needs of investors of all types. Having trained and mentored hundreds of equity and credit analysts at such large research firms as Morningstar, President of Equity Research & ETF Analysis Brian Nelson has dedicated a large portion of his career to helping others achieve their professional aspirations and investing goals. This dedication to investment education has continued at Valuentum.
President Brian Nelson's Letter to Members
My personal journey in finance started in the aggressive-growth money-management industry, where I learned to "live" the markets. From my 5am morning coffee and crisp Wall Street Journal to anticipating firms "breaking out" in the early afternoon, little did I know that my buy-side experience at Driehaus Capital Management was preparing me for this Valuentum journey. After earning an MBA and the Chartered Financial Analyst designation, I then pursued the great satisfaction of helping others achieve their dreams. In my role as Director of Global Equity and Credit Research at Morningstar, I dedicated my time to training and mentoring equity and credit analysts on the intricacies of discounted cash-flow and competitive-advantage analysis. These colleagues are now the heads of department at the company. At Morningstar, I truly learned to "live" valuation and competitive analysis in ways others may never come to know.
In early 2011, I finally realized what my experience at Driehaus and Morningstar was all about, my life's calling: Valuentum Securities. It dawned on me that very few investors have ever had the opportunity to use technical and momentum indicators in a money-management setting and also build an extensive discounted cash-flow valuation infrastructure and methodology for one of the largest independent research firms in the world. And on that fateful day in January 2011, I finally knew what I had to do: share with others the tremendous benefits of Valuentum investing – the combination of two investment frameworks seemingly in complete opposition: value and momentum. I am honored to introduce you to the Valuentum Style of Investing, but don't forget about the many other features of our website, not the least of which is the Dividend Cushion ratio and our forward-looking dividend analysis, too!
Valuentum Methodology Papers
Valuentum's 3 Breakthroughs in the Field of Finance and More, Valuentum Editorial Staff
Why Valuentum Buying Index Ratings Matter, Brian Nelson
Valuentum's Methodology Document (pdf), Valuentum Analysts
The Valuentum Buying Index, Brian Nelson
The Case for the Valuentum Style of Investing, Brian Nelson
Investing's Odd Couple: Value and Momentum (pdf), AAII
Valuentum's Dividend Cushion, Brian Nelson
Introducing the Economic Castle™ Rating, Brian Nelson
The Price-to-Earnings Ratio Demystified, Brian Nelson
Valuentum Glossary of Terms, The Valuentum Team
The Seven Most Important Considerations of the Valuentum Buying Index
The 16 Most Important Steps to Understand the Stock Market
Important Academic Studies
Value and Momentum Everywhere, Asness, et al
Fact, Fiction and Momentum, Asness, et al
A Better Bet, Tobias J. Moskowitz
Do Industries Explain Momentum, Moskowitz, Grinblatt
Measuring the Moat, 2002, Michael J. Mauboussin
Measuring the Moat, 2013, Michael J. Mauboussin
Measuring the Moat, 2016, Michael J. Mauboussin
Valuentum's Member Orientation Videos
A Guide to Using Valuentum's Stock Reports (pdf)
Valuentum's Orientation & Methodology Seminar, YouTube
Valuentum's 16-page Equity Research Reports Video (Flash required)
Miscellaneous
Discounted Cash Flow (DCF) Valuation, Brian Nelson, CFA
Investing's Odd Couple: Value and Momentum, AAII
Keynes's 'beauty contest,' Richard Thaler
The Crash of 1929 (documentary), PBS
Valuentum Slide Deck Presentations
March 8, 2017: Trust the Numbers, Not Just Management, CFA Society Houston, Kris Rosemann and Brian Nelson, CFA
--> Handout 1: Pitfalls of Distribution Yield Analysis (pdf)
--> Handout 2: Linking P/DCF to Enterprise Free Cash Flow Valuation (pdf)
October 22, 2016: Trust the Numbers, Not Just Management, Chicago AAII Chapter, Kris Rosemann and Brian Nelson, CFA
May 12, 2016: Trust the Numbers, Not Just Management, Naples, Florida, Brian Nelson, CFA
March 8, 2016: Dividend Growth Investing (note-taking slides), St. Louis Chapter, Brian Nelson, CFA
January 2, 2016: Value-Focused, Momentum-Based Dividend Growth Investing, Phoenix AAII, Brian Nelson, CFA
September 16/17, 2015: Value-Focused, Momentum-Based Dividend Growth Investing, Milwaukee/Madison AAII, Kris Rosemann and Brian Nelson, CFA
September 9, 2015: Value-Focused, Momentum-Based Dividend Growth Investing, Silicon Valley, Brian Nelson, CFA
July 15, 2015: Value-Focused, Momentum-Based Dividend Growth Investing, Cleveland AAII, Brian Nelson, CFA
January 17, 2015: The Ultimate Dividend Growth Investing Tool, Milwaukee AAII, Brian Nelson, CFA
November 15, 2014: The Ultimate Dividend Growth Investing Tool; DePaul University AAII, Brian Nelson, CFA
May 13, 2014: The Ultimate Dividend Growth Investing Tool; Las Vegas Money Show, Brian Nelson, CFA
September 6, 2013: Introduction to Valuentum Securities, Inc; Brian Nelson, CFA
May 14, 2013: 12 Steps to Understand the Stock Market; Las Vegas Money Show, RJ Towner & Brian Nelson, CFA
October 13, 2012: Why Our Methodology Works; DePaul University AAII, Brian Nelson, CFA
June 17, 2012: Why Our Methodology Works; "From Value Through Momentum Investing," Brian Nelson, CFA