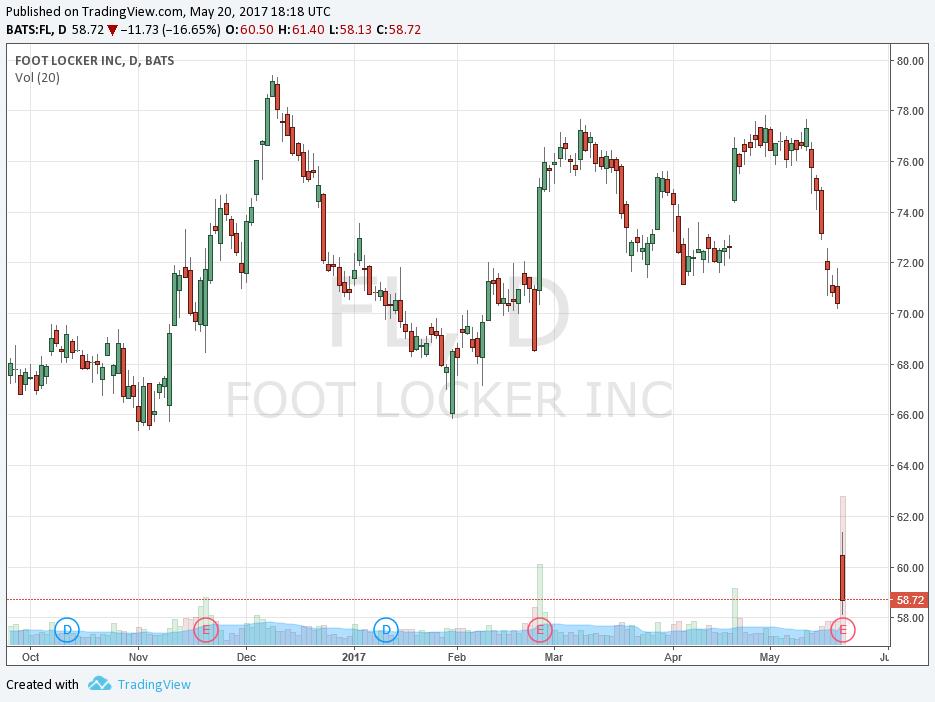 The market didn't like the smell of Foot Locker's first-quarter report, released May 19. Finish Line and Dick's Sporting Goods likely forewarned of trouble.
By Brian Nelson, CFA
Shoe stocks have been stinking up the market lately.
The writing may have been on the wall a couple months ago when Finish Line (FINL) released a weak fiscal fourth-quarter report for the period ending February 25 that showed consolidated sales falling 0.4% and (Finish Line) comparable sales dropping 4.5%. CEO of Finish Line Sam Sato said at the time that the company's fiscal fourth quarter had finished off a "challenging year financially" for the company, and we can't really disagree. It was tough fiscal year for the retailer. Here's more of what Finish Line said in late March, the most concerning about the market environment, which remains highly promotional:
As elements of our footwear offering did not resonate with our customers as we expected and the overall retail environment in February became increasingly difficult, we made the decision to get more aggressive on pricing to be competitive and clear slow moving product. While this allowed us to end fiscal 2017 with clean inventory levels, it put significant pressure on fourth quarter product margins. We know we must improve the execution of our merchandise strategies to drive increased full price selling and fuel sustained comparable sales growth.
Shares of Finish Line have fallen from highs north of $30 in late 2015 to the low-teens at the time of this writing, as market participants continue to worry it is losing share in a variety of sales channels, even as it prices aggressively. The company's disappointment was followed by a weaker-than-expected outlook from Dick's Sporting Goods (DKS), which we highlighted in a recent write-up, and we're starting to believe that an industry--once believed to be resistant to the Amazon-effect (given the need to try on new shoes in a store, for example)--may finally be experiencing some pressure. Dick's adding resources from personalization to direct marketing in its e-commerce initiatives, but on its quarterly conference call, it also noted that it will be marketing more aggressively than in the past. Amazon (AMZN) will not let up with price, and gross margins across the group may continue to suffer.
Foot Locker's (FL) first-quarter report, released May 19, may have been the most concerning of all. During the quarter ending April 29, the company's gross margin fell 100 basis points, to 34%, on meager first-quarter comparable store sales growth of just 0.5% for the period (not quite what we'd describe as the guided low-single digit percentage rate), and despite decent performance in March and April, where comps improved noticeably. Management blamed the weak performance on a slow start in February "largely due to the delay in income tax refunds," but in light of the other data points we've witnessed from Finish Line and Dick's, we're not sure that Foot Locker's problems are entirely timing-related (mostly because March and April didn't make up for the shortfall in February, too). During the trading session May 19, Foot Locker's shares sold off nearly 17%. Its shares yield ~2% following a 12%+ dividend hike in April, but we're not biting in light of what looks to be a fast-deteriorating industry backdrop.
Retail - Shoes: CROX, DECK, DSW, FINL, FL, SCVL, SHOO, SKX, WWW
Retail - Sporting Goods: BGFV, CAB, DKS, ESCA, HIBB, VSTO
Related: GOLF, JOUT, UAA, UA, NKE, COLM, GPS, CAL, RCKY, GCO