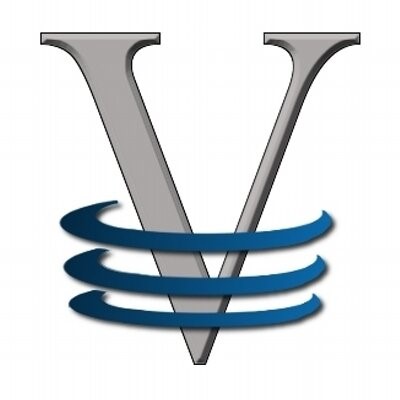 SMART Global is an interesting idea in the memory space, but obsolescence risk and overcapacity will always be two primary concerns. This one is still worth having on your radar.
By Kris Rosemann
SMART Global Holdings (SGH) is a global leader in specialty memory solutions. The company is the largest in-country manufacturer in Brazil of memory for desktops, notebooks, and servers, as well as mobile memory for smartphones. It also has a global specialty memory business, in which it works with OEMs to develop memory solutions with customer-specific requirements. The firm has strong tier 1 OEM relationships across its blue-chip customer base that spans industries and includes the likes of Dell, HP (HPQ), Lenovo, Samsung (SSNLF), Cisco (CSCO), General Electric (GE), and IBM (IBM), among others.

SMART Global's revenue is roughly evenly split between its Brazil and Specialty Memory segments. It is the top DRAM supplier in Brazil, and mobile memory accounts for nearly 70% of its revenue in the country. Recent economic turmoil in Brazil has brought increased risks, but strong momentum driven in the memory market, structural growth drivers in enhancing an established market presence, new vectors for growth in the country, and continued leadership in specialty memory and flash are expected to be key drivers of sustainable expansion for SMART Global. As it relates to growth potential in its Brazil segment in particular, SMART expects a 26% CAGR from 2016-2019 in its Brazil mobile TAM, while new growth areas (including wireless, camera module, fingerprint, and automotive) represent $2+ billion incremental growth by 2020.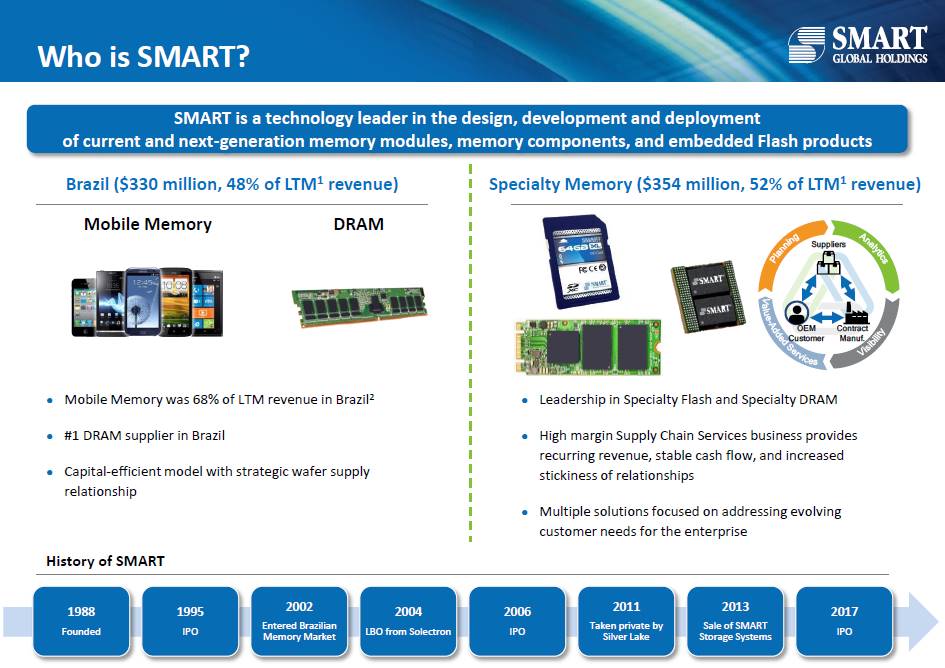 Image Source: SMART Global Solutions

Long-term secular fundamentals are expected to continue driving momentum in the memory market thanks in part to the stability brought by recent consolidation (top three players in the DRAM market held 94% market share in 2016, up from 64% in 2008). According to the IDC, DRAM bit demand is expected to advance at a 16%+ CAGR from 2016-2020, while NAND Flash bit demand is expected to increase at a 35%+ CAGR. Over the same time period, global memory spending in the areas of DRAM and NAND Flash are expected to grow at 1.5% and ~7% CAGRs, respectively, through 2021.

SMART Global's target operating model includes the following guidelines: 10%-15% revenue growth, gross margin of 20%-23%, operating margin of 10%-12%, EBITDA margin of 12%-15%, capital spending of 2%-4% of revenue, and leverage (unspecified ratio) of less than 2.0x (was 2.7x as of May 2017). Margin performance has been particularly strong of late, but we must warn of the potential for obsolescence risk and overcapacity in the global memory market, regardless of the degree of rationalization consolidation has brought in recent years.

All things considered, we find shares to be fairly valued at the moment, and we assign its valuation a somewhat wider margin of safety than we typically employ due to it being a small cap tech stock exposed to the aforementioned memory industry-specific risks coupled with its meaningful presence in Brazil. We must also note that ~67% of shares are owned by investment funds affiliated with Silver Lake Partners, giving Silver Lake meaningful control over matters related to shareholders. We still think this is one for your radar, however.

Access SMART Global's stock page >>
Related ETFs: EWZ, SOXX