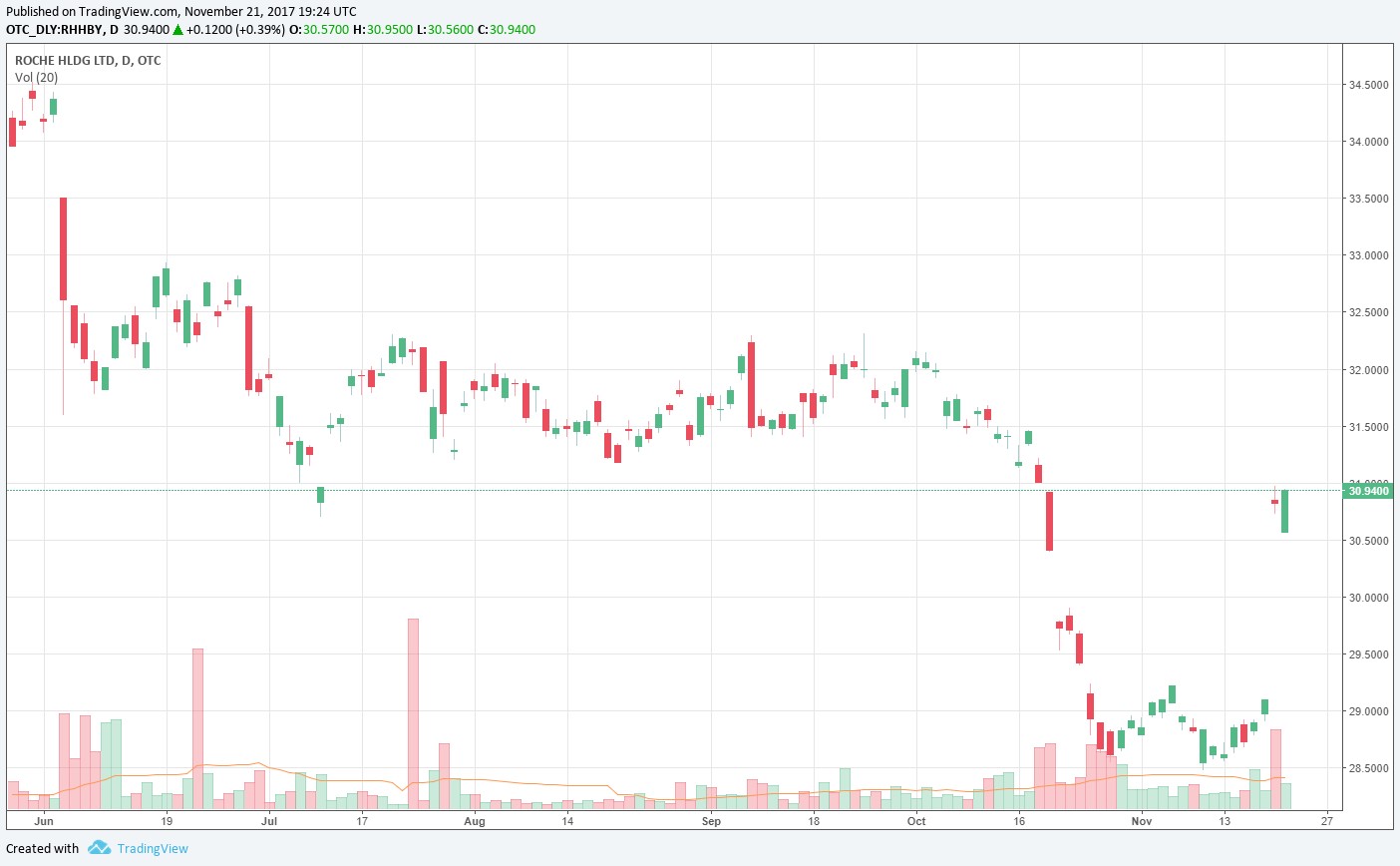 Image shown: Roche's shares caught some relief recently.
We're big fans of clinical data reads. Thus far in 2017, we've posted updates on Roche (RHHBY), Shire Plc (SHPG) and Bioverativ (BIVV)--each with extensive aspirations in the field of hemophilia. In light of recent developments, a follow-up only seems appropriate as Roche's Hemlibra is poised to disrupt the marketplace.
By Alexander J. Poulos
Hemophilia Overview
Hemophilia is a genetic disorder that negatively affects the patient's ability to clot when bleeding. Unlike other traditional genetic disorders, inheriting a defective gene is not the only cause of Hemophilia. According to the National Hemophilia Foundation, nearly one third of all cases are spontaneous, where neither parent is a carrier of the Hemophilia gene. Hemophilia is classified as a rare disease which limits the overall patient pool; it is estimated that hemophilia will occur in 1 out of every 5,000 births with nearly 20k afflicted in the US.
The more prevalent form of Hemophilia is termed Hemophilia A, which is denoted by a lack of Factor VIII (FVIII) a clotting protein. It is estimated the patient pool for Type A is four times the size of Type B which is classified as a deficiency in Factor IX. The net amount of factor found in the patient's blood will determine the overall severity of the disease. Those with less than 1% of a Factor in the blood have the more severe form of the disease.
Standard of Treatment
The standard of treatment is to replace the deficiency in Factor through the IV infusion of a concentrated amount of Factor. Factor can be sourced from human donation, but it is generally recommended that patients receive treatment via recombinant therapies. The recombinant therapies are safer as they eliminate the potential of blood-borne diseases that may be acquired from humans.
The need for constant infusions has heightened the demand for more extended acting products. The main players in Hemophilia are working feverishly to reduce the number of infusions. We feel if a product is brought to market that can be administered outside the confines of an infusion center, it has the potential to disrupt the market and steal share from the currently well-entrenched competitors.
Hemlibra
The recent approval of Roche's Hemlibra has the potential to severely disrupt the current standard of care in the Hemophilia market. Hemlibra differs from the recombinant products currently on the market as Hemlibra is a monoclonal antibody that is administered via a subcutaneous injection, thereby bypassing the cumbersome burden of having to make frequent trips to an infusion center.
Hemlibra received marketing approval for the treatment of those afflicted with Hemophilia A with inhibitors, a notoriously difficult group to treat. A patient with Hemophilia may develop inhibitors, which is the activation of the body's immune system to destroy the recently-infused clotting factors. Patients with inhibitors will require more frequent infusions, thus reducing the overall quality of life. We have found the following testimony as particularly moving as it highlights the burden placed on caregivers.
"Before Hemlibra, my 7-year-old son needed intravenous infusions that could take up to two hours at least three times a week, so our lives revolved around his treatment," said Amber Hill, mother of a young boy with hemophilia A with inhibitors. "With Hemlibra, he now has an injection once a week that he has proudly learned to administer himself to help prevent bleeds. Not only has he had fewer bleeds compared to his prior treatment, he has more time to be a kid and we have more quality time as a family because of the new treatment schedule."
Quote Source: Hemlibra Press Release
By bypassing the need for IV infusion, a 7-year-old afflicted with Hemophilia A, for example, can be treated at home by the primary caregiver via a series subcutaneous injection. The initial starting dose is once weekly for four weeks (dose adjusted according to patients body weight the preliminary dose is 3mg/kg). After the initial four treatments, the patient is then maintained on a dose of 1.5mg/kg every week.
Hemlibra did receive a black box warning of thromboembolism and microangiopathy if Hemlibra is administered within 24 hours of treatment with Feiba (used to generate rapid thrombin formation). We believe the black box warning will not inhibit sales of Hemlibra as the data produced especially for those who develop inhibitors is robust thus ushering in a new treatment paradigm in Hemophilia.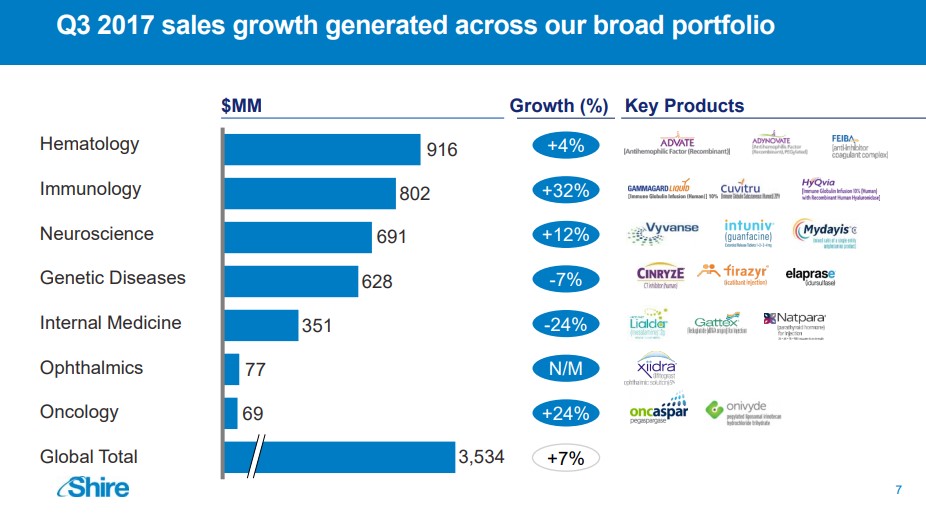 Image Source: Shire Plc
Impact on Shire
We believe Shire may be highly-exposed to the challenge posed by Hemlibra. Shire acquired its Hemophilia franchise via the acquisition of Baxalta, a spin-off of Baxter International (BAX). The Hemophilia division remains Shire's largest individual franchise accounting for nearly 26% of overall revenues. Shire is highly dependant on infusion therapies, most notably Advate which requires approximately 182 infusions per year. To Shire's credit, it has introduced pegylated versions of Advate dubbed Adynovate which lowers the infusion burden to twice a week or 104 infusions per year.
We do not expect Hemlibra to immediately take the bulk of Shire's market share as we feel the hemophilia community will slowly adopt the treatment to provide ample time to ensure additional post-marketing side-effects do not manifest themselves. We do, however, believe over the next few years Hemlibra will capture the majority of share from Advate, thus permanently impairing shire's once-vaunted Hemophilia franchise.
Impact on Bioverativ
At first glance, the bulk of Biovartiv's marketed products resides in the field of Hemophilia, but critical caveats need to be addressed to offer a more robust image of the opportunity. Biovartiv's leading product is Elocate a recombinant Factor VIII product that can be infused up to every five days--a critical differentiating factor as the Fc fusion design allows the Factor to recycle and recirculate in the bloodstream longer. Though we agree that an at home injection is a very elegant design, the decrease in net infusions per year helps to diminish the overall impact on the product somewhat. Eloctate remains firmly entrenched in its growth trajectory, but over the next few quarters we anticipate growth will slow as marketing support for Hemlibra ramps up. Bioverativ does market a treatment for Hemophilia B sold under the brand name Alprolix. Sales of Alprolix seem to have hit its zenith, however, as year over year growth is tracking for a mid-single-digit increase.
We view Bioverativ's Hemophilia franchise as a cash cow that is nearing the end of its growth trajectory due to a more convenient product entering the market. As we have detailed in a previous post, we anticipated the potential for severe market disruption if Hemlibra gained approval.
That said, the hemophilia market remains fiercely competitive with new entrants expected to limit the ongoing growth of Bioverativ's established products. Our bullish thesis on Bioverativ does not rest on continued growth in hemophilia; instead, we fully expect the company to utilize its balance sheet and free cash flow to enter into partnerships or make an outright purchase of a promising molecule. Depending on how the company executes will determine the long-term viability of the enterprise.
Quote Source: Bioverativ: A Profitable Rare Drug Company
Unlike its peer Shire, Bioverativ has the potential to replace the expected revenue decline via its promising treatment for Cold Agglutinin Disease (CAG). Bioverativ is in the process of designing the protocol for its pivotal phase 3 trials, which will determine the commercial viability of the product. A win in CAD would, in our view, more than offset the decline in Hemophilia as CAD market is devoid of competition. There are no guarantees Bioverativ will score a win in CAD, and we will continue to monitor events closely as they unfold.
Conclusion
We applaud Roche for bringing forth a very innovative product in the Hemophilia market. Aside from highlighting the merits of the new product, we would like to underscore the disruptive nature of Hemlibra and the entire biotech sector. The biotech space remains prone to creative disruption as multiple companies' angle to bring forth new and innovative products to market. Outside of the tech sector, the biotech sector remains one of the most creative corners of the market. We aim to continue to provide broad, comprehensive coverage of the biotech sector in conjunction with our overall healthcare coverage.
Related: XBI, IBB