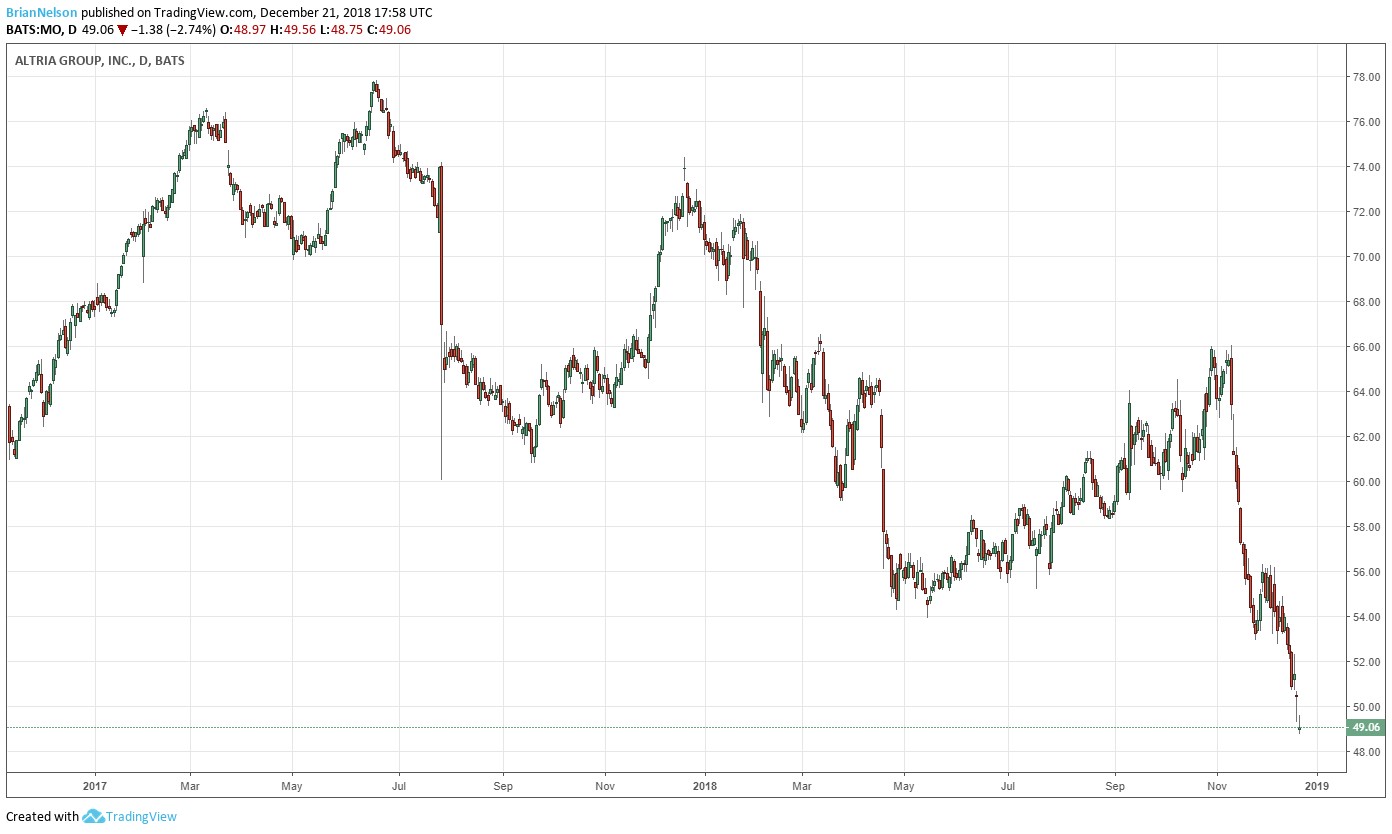 Image shown: Altria's performance during the past couple years.
Tobacco giant Altria is working to expand its long-term growth potential away from the secular decline in cigarette volumes via an investment in the leading US e-cigarette company. Unfortunately, we think its large investment in JUUL has put the pace of its dividend growth at risk, and we're parting with this long-term winner in both simulated newsletter portfolios. We're also putting Altria's fair value estimate under review, and we expect to lower it materially in an updated report to be published after the holidays. Technical weakness has also put a damper on our excitement.
By Kris Rosemann and Brian Nelson, CFA
We're parting ways in both the simulated Best Ideas Newsletter portfolio and simulated Dividend Growth Newsletter portfolio with one of the best-performing companies in history, Altria (MO). We're not unhappy with the performance of the company, but as soon as we said we were okay with some of its share-price weakness, it seemingly rushed out and deployed capital that would have been better used to support the dividend. We think Altria's operating assets are starting to make for a convoluted company with ownership stakes in entities that may now only cloud the view of other analysts measuring value. GE fell into the same trap a few years ago. We're out and not looking back.
On December 20, Altria announced a $12.8 billion investment in JUUL Labs, the US leader in e-cigarettes, or a 35% economic interest, which values the company at ~$38 billion, December 20. The deal should accelerate JUUL's success rates in switching adult smokers to e-vapor products, and it provides Altria access to notable growth potential in the face of ongoing cigarette volume declines. JUUL currently holds roughly 30% of the total US e-vapor category, according to Altria, and it operates in eight countries with significant international growth plans in place. Altria will now participate in the e-vapor category only through JUUL.
The service agreements of the deal include Altria providing JUUL access to premier retail shelf space alongside combustible cigarettes, direct communications with traditional smokers via cigarette pack inserts and mailings via Altria's databases, and the use of Altria's logistics and distribution expertise with the option to utilize its sales organization. JUUL will remain fully independent, but access to this top-notch infrastructure and other areas of expertise, such as regulatory and legislative dealings, should prove to be a significant benefit for JUUL's growth. JUUL may be taking a bit of a trade off in terms of public perception in this regard as it had previously positioned itself as directly opposed to big tobacco.
Under the terms of the transaction, Altria has signed and closed an agreement to invest $12.8 billion in cash for non-voting convertible shares of JUUL, which will convert to 35% of the privately-held company's voting shares upon antitrust clearance. Altria receives a pre-emptive right to purchase shares to maintain its ownership percentage, but it will be subject to a standstill agreement in which its stake in JUUL may not exceed 35% in addition to agreeing not to sell or transfer any JUUL common shares for six years after closing. Altria is committed to supply JUUL services for at least six years, and it will only participate in the e-vapor business through JUUL as long as this is the case.
We think the strategic rationale of the deal for both parties is undeniable, but whether or not Altria is reaching for growth may take some time to be revealed. The tobacco giant announced a cost reduction program in tandem with its JUUL investment announcement that is designed to deliver $500-$600 million in annualized cost savings by the end of 2019 via workforce reductions and cutting back on third-party spending. The program is expected to offset most of the interest expense associated with the $14.6 billion in debt it added to finance the investment in JUUL and its recent $1.8 billion investment (45% stake) in Canadian marijuana company Cronos Group (CRON).
We're not particularly fond of Altria more than doubling its debt load--total debt was $11.9 billion at the end of the third quarter of 2018 compared to cash of $2.4 billion and a ~$17.8 billion investment in AB-InBev (BUD)--but we do like the strategic rationale behind the investments. The financial flexibility that comes from the company's investment in the world's largest brewer often flies under the radar, and the company's free cash flow generation has bounced back nicely through three quarters of 2018 after disappointing in 2016 and 2017.
Beyond the growth potential of JUUL as a standalone e-vapor company is the consideration of Altria's two most recent moves in tandem. The company may be setting up for a significant splash in the marijuana market should recreational use eventually be legalized in the US, and it now holds a notable stake in an up and coming marijuana company as well as a next-generation smoking alternative company.
Nevertheless, the investment in JUUL is not without its fair share of risks. The company was the focus of an FDA crackdown earlier this year on flavored e-cigarette liquids that have become increasingly popular among teenagers, and this may only be the tip of the iceberg in terms of regulatory battles the e-vapor space will face in coming years. The partnership with Altria becomes even more valuable for JUUL if this is the case as the company has spent decades dealing with very similar issues.
The deal may also complicate Altria's relationship with Philip Morris (PM), which it spun-off in 2008 to operate independently in international markets, as it has an agreement to commercialize Philip Morris' heated tobacco products in the US if the FDA approved. JUUL's international growth aspirations also raise some questions about the relationship moving forward. Altria does not believe its e-vapor investment will interfere with its agreement in smokeless and heat-not-burn IQOS sales in tandem with Philip Morris, but the two products can largely be viewed as close substitutes.
We think Altria may have thrown in the towel on harvesting its core smoking demographic and may now be entering into a long rebuilding period, as it repositions for the future. This means that we could see even more value-destroying deals, which could further threaten dividend growth. Unfortunately, it looks like the time has come to part with one of the best performing stocks in history. We'll publish our updated fair value estimate after the holidays, but the downward revision will be material.
-----
Valuentum members have access to our 16-page stock reports, Valuentum Buying Index ratings, Dividend Cushion ratios, fair value estimates and ranges, dividend reports and more. Not a member? Subscribe today. The first 14 days are free.
Kris Rosemann and Brian Nelson do not own shares in any of the securities mentioned above. Some of the companies written about in this article may be included in Valuentum's simulated newsletter portfolios. Contact Valuentum for more information about its editorial policies.