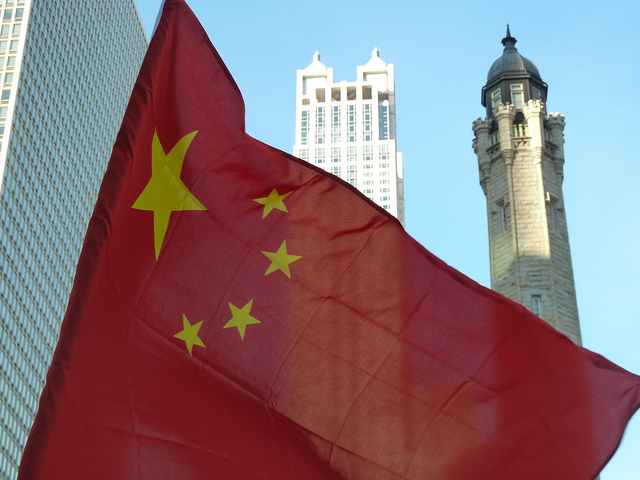 Image Source: Fuzzy Gerdes
By Brian Nelson, CFA
"(Trump's) tough rhetoric may just be setting the negotiations table with China (and Mexico, too), and Negotiations 101 says you start far away from the middle, and then you compromise to get what you truly want."
Nobody wins from a trade war, and business tycoon and President-elect Donald Trump knows this. It's Business 101. Many believe, including us, that imposing steep tariffs on imports from China (MCHI, EWH, FXI) had been merely campaign rhetoric to win over votes, but many market participants are still positioning themselves for some degree of fallout nonetheless.
China itself is not taking chances either. The country's state-backed newspaper Global Times fired a shot across the bow November 13, alerting the soon-to-be-President Trump that slapping outsize tariffs on Chinese imports would be met in kind:
China will take a tit-for-tat approach… A batch of Boeing (BA) orders will be replaced by Airbus (EADSY). US auto (F, GM) and iPhone (AAPL) sales in China will suffer a setback, and US soybean and maize imports will be halted. China can also limit the number of Chinese students studying in the US.
But let's be reasonable.
To make it as far as Trump has in business, life, and politics, a student of history he must be, and if history is any guide, he'll do what he can to work with China for the best interests of all, even as he puts America's interests first. For example, the Chinese newspaper pointed out that just a few years ago when the Obama administration announced a rather sizable tariff on the importation of tires made in China, the country responded by imposing tariffs on chicken and automotive products from the US, with neither country truly benefiting. Certainly it takes harsh talk to win an election, especially in this day and age when most (not all) have become desensitized, but it takes a deal-maker with charisma to achieve goals and win, and that's what Donald Trump has. The voters voted.
In some ways, we believe that China-US trade relations will be augmented under a Trump administration, not paralyzed. An individual cannot attend such a prestigious business school as University of Pennsylvania's Wharton and not have heavily debated the pros and cons of trade, for example. His tough rhetoric may just be setting the negotiations table with China (and Mexico, too), and Negotiations 101 says you start far away from the middle, and then you compromise to get what you truly want. His tactics are clear to us -- and the very idea that he will launch an all-out trade war with China continues to be a far-fetched one, in our view. Mr. Trump knows that China's ~1.4 billion people dwarf that of the ~320 million in the States, and that over the long haul, the US needs China much more than China needs the US. It's just math.
Furthermore, the very idea that a Sino-US trade war may impair the order books of three of the greatest manufacturers in US history—Boeing, General Motors, and Ford—means that Trump's stance to promote US manufacturing simply doesn't jive with aggressive trade tactics, but rather more cooperative trade policies. If Boeing, General Motors and Ford lose business as a result of a trade war with China, surely Mr. Trump knows that layoffs at these companies are to come, and that wouldn't help American manufacturing jobs at all. As Abraham Lincoln's Lyceum Address in 1838 outlined, "If destruction be our lot, we must ourselves be its author and finisher." A student of history and perhaps Abraham Lincoln himself (as his victory speech conveyed in "binding up the wounds of division"), Trump will not be our author and finisher of destruction.
When the political dust finally settles and we look back on the Trump Presidency, it is my view that many will eventually say that "The Donald" was one of the best things ever to happen to Sino-US relations.
Related ETFs: EWW, MXN