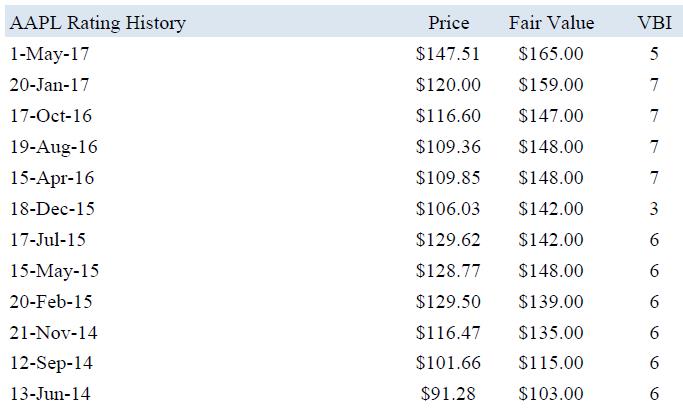 Sometimes we talk way too much about the incremental, the periphery, and the tactical tweaks, and not enough about our favorite ideas included in the newsletter portfolios. Let's cover four of our favorites.
By Brian Nelson, CFA
Apple
The market has seemingly always had Apple's (AAPL) shares mispriced. Our fair value estimate of the iPhone giant has been above its trading price for years, and we've included the company in both newsletter portfolios since inception. It's been a win-win for Valuentum investors and dividend growth investors alike. A look at Apple's rating history (newest to oldest) showcases just how much conviction we've had in the idea, and shares have now almost converged to our present $165 per share fair value estimate. Berkshire Hathaway (BRK.A, BRK.B) doubled its stake during the first quarter of 2017, and we're witnessing some pretty impressive price targets from the sell side. BofA Merrill Lynch recently upped its target to $180, and some are even saying shares of Apple could catapult to $200, even higher than the upper bound of our fair value range. We like Apple--it deserves more attention.
Altria
Shares of Altria (MO) have been on fire for several years now, and we've let the company run and run and run. We like its stake in Anheuser-Busch-Inbev (BUD), as it offers diversification across two recession-resistant industries, tobacco and alcohol. Remember as a holder of Altria's shares, you're not providing the company with 'new' money, so technically you're not supporting tobacco or alcohol consumption if that may offend you. As an investor in Altria's shares, you benefit from the market's mispricing of its valuation and reap the rewards of a dividend that's already embedded within the valuation context. That said, shares of Altria are trading above our estimate of its intrinsic value, but this is nothing new. A dividend that continues to expand at the pace of non-GAAP earnings is one reason why we're not parting with shares completely. We may take profits, trimming our position, but we think Altria is one for the long haul. Jeremy Siegel thinks so, too.
Microsoft
Certainly we didn't like that Microsoft (MSFT) acquired LinkedIn. We thought it was a foolish use of capital, but we forgive the company. How couldn't we? Its net cash position is massive. Microsoft continues to impress fundamentally, too, and we were among the few research shops that had been pounding the table for years on its equity. With almost every trip to American Association of Individual Investor (AAII) meetings, our team used Microsoft to explain the strength of a company's dividend, and boy has Microsoft not disappointed. Shares have run past our fair value estimate, but its dividend is rock-solid, and we expect the company to continue to impress. In case you're looking for our old presentation slide decks, they can be found in the Valuentum Learning Center. Think about how excited the market would have been, however, if Microsoft had used those billions it spent on LinkedIn for a one-time dividend, or plans to make even bigger hikes to the payout for years! We're not complaining though.
Facebook
This is the company that may change the world. We think Facebook (FB) has the potential to become the new Internet if it plays its cards right. Where else do people need to go--if it can integrate payment functionality seamlessly, why couldn't e-commerce move exclusively to Facebook. The social media giant has been "forcing" companies to communicate on its platform for years. Do these companies even need websites anymore if Facebook can deliver for them technologically? In some ways, in the future, Facebook may be competing more with the likes of Amazon (AMZN) and eBay (EBAY) than anyone else. Until then, Facebook will continue to reap the benefits of significant advertising growth. Even small businesses need a footprint on Facebook for "social proof," and that costs money. The company has been a solid performer since it was added to the Best Ideas Newsletter portfolio.
If you haven't considered one of these newsletter portfolio stalwarts, please do!