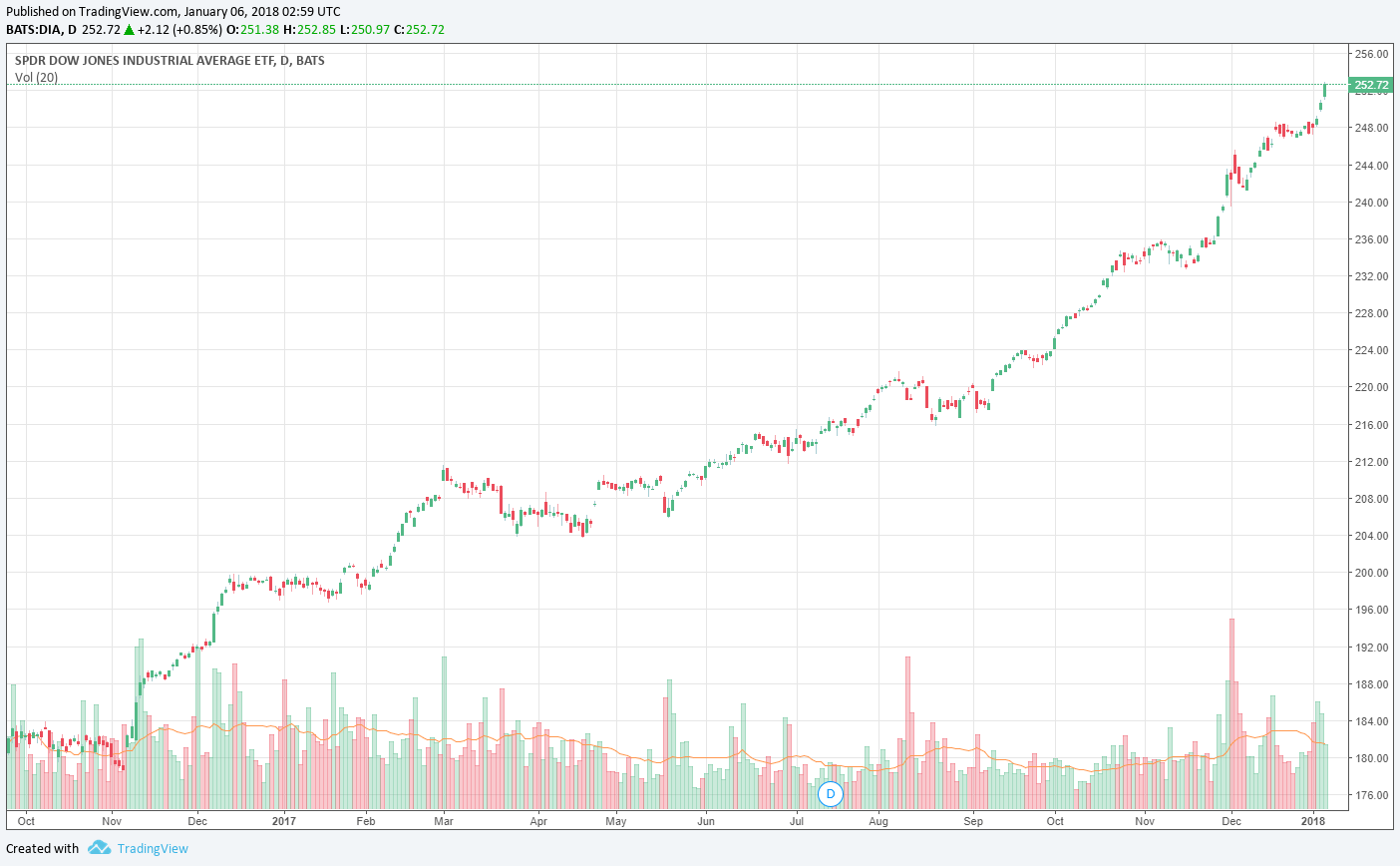 Image shown: The Dow Jones Industrial Average has performed incredibly since the news of the election of Donald Trump.
We're off to a great start in the New Year. Let's see how a few newsletter portfolio ideas are performing.
By Brian Nelson, CFA
We're off to the races in the new year, and thus far, the markets are 4 for 4 in terms of up-days, with the Dow Jones Industrial Average (DIA) adding on another 220+ points at the close Friday, January 5. I've been jokingly saying that for some reason it seems possible that the broader equity markets could trade up every single day this year. It's strange to feel like this could happen, but with what happened in 2017, the markets almost seem rigged to the upside with the "Bernie-Madoff-type" risk-return profile we are witnessing. It's good the markets are going higher, no doubt, but we still think readers should keep their guards up.
There are a few things I wanted to make you aware of. We received some good news from CVS Health (CVS), and we're still looking for an "exit" point for this idea. It hasn't worked out as planned, but its financial outlook for 2018, released January 4, wasn't that bad. "For full-year 2018, the company expects to deliver consolidated net revenue growth of 0.75% to 2.5% and adjusted consolidated operating profit growth of 1% to 4%...the company expects its effective tax rate to be approximately 27% in 2018. This reduction in the tax rate represents an increase in cash flow of approximately $1.2 billion." We can't complain, and frankly, we're viewing this as an upside surprise, as is the market. Shares of CVS Health have climbed all the way back to $78+.
Boeing (BA) is now nearly a $310+ stock! Incredible for a company of its size, Boeing's shares finished up more than 4% during the trading session Friday, January 5. According to the Wall Street Journal, Boeing and regional-jet maker Embraer (ERJ) have agreed to preliminary merger terms. We'll see how all of it shakes out, and if the Brazilian (EWZ) government steps in to block the deal. The synergies from this transaction might be tremendous, however, and the combined jet-making know-how between these two entities could create the next-generation regional jet that dominates sales in the coming decades. We're liking the action in Boeing's shares, but please be cognizant that its price is now beyond the upper bound of its fair value range at the time of this writing.
We're not overlooking the good news at General Motors (GM) either, with shares now re-approaching new highs in the mid-$40s. On January 3, the auto maker released a better-than-expected US sales report for the month of December. The press release had a lot of good things to say: "General Motors delivered 3,002,241 vehicles in the United States in 2017, including more than 1.3 million trucks and 965,090 crossovers. In the process, GM set new annual sales records for pickup and crossover deliveries, electric vehicles sales, average transaction prices and more. GM also reduced year-end inventories more than its target. Inventories were 752,554 units, down 90,000 from a year ago. Days supply was 63 days." We continue to believe GM represents one of the few "value gem dividend payers" left on the market.
Of note, the Energy Select Sector SPDR (XLE) has been recovering nicely the past few weeks. Shares of the ETF are now in the mid-$70s on the heels of recovering crude oil prices (USO, OIL) thanks to unrest in Iran, geopolitical tensions in the heated exchanges between the US and North Korea, and optimism about global economic expansion, which would fuel incremental petroleum demand. On January 3, US crude oil prices rose to a multi-year high. Though we remain very cautious on the business models of midstream energy MLPs (AMLP), the group also has broken through a multi-year downtrend. We maintain our cautious stance on these vehicles and reiterate that such entities have complex tax treatments as well. They are certainly not for everybody, as many have recently learned, but the positive technicals are worth watching.
Technology equities have also caught a nice bid during this latest market updraft. Facebook (FB) hit a new all-time high, with shares now trading at nearly $187 each. Cisco (CSCO) is now nearly a $40 stock, Google (GOOG, GOOGL) has not looked back since passing $1,100 per share, and PayPal's (PYPL) shares are now nearly $80 each. Even Intel's (INTC) shares have rallied back after a recent security issue. Everything seems to be working in today's stock market, but that's no reason to let your guard down. Don't be lured into complacency. Keep your guard up! Let's hope these good times continue.
Related: WBA, ESRX, EADSY, BDRAF, BDRBF, F, KMI, ETE, ETP