Dividend Growth and Best Ideas Newsletter idea Intel is facing pressure after reports of a chip flaw surfaced. We're not overreacting to what may be a transient issue, but we're monitoring developments like a hawk.
By Kris Rosemann
Reports surfaced on the morning of January 4 of an alleged Intel (INTC) processor chip security flaw that forced a significant redesign of Linux and Windows kernels (core of a computer's operating system). We're not ready to change our thesis on the company as the long-term outlook of its product suite appears more attractive than the negative impact we're seeing from what may very well be a transient issue.
Shares of Intel have since faced material selling pressure as the report raises concerns of the security of operating systems running on Intel chips and what the kernel redesigns could mean for the performance of those chips. Intel responded by claiming that such security flaws, nicknamed Spectre and Meltdown, are not unique to its products. Here's what the firm had to say about the chip flaw: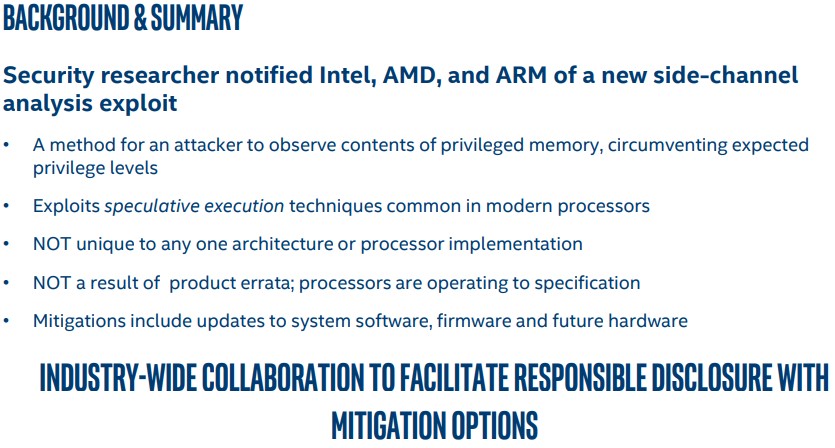 Image source: Intel
Intel has also stated that it has not observed active deployment of this exploit, and it believes a combination of operating system and firware updates that are being developed in collaboration with industry partners, operating system vendors and OEMs should be effective in mitigating the risks related to the flaw. The chip giant expects this to become available to users within a few days.
Multiple tech firms have since commented on the developments. Intel rival AMD (AMD), which has seen a nice boost in its share price from the security issue, has stated that its chips are at a "near-zero risk," a key driver of its benefit from the situation. Alphabet (GOOG, GOOGL) has said that users of the Android OS that have installed most recent security fixes do not need to take further action, Chrome browser users may need to take some action, and its cloud customers must implement a patch made available. Amazon (AMZN) is currently working on a patch for its data center customers.
Though Intel may be correct in its statement that the security issues are not related to a specific architecture, processor implementation, or product malfunction, the fact remains that additional steps from customers and consumers are necessary in creating a fully secure product. Adding fuel to the selling fire is Intel CEO Brian Krzanich's sale of a significant portion of his stake in Intel last year after the security issue was detected but before it was publicly disclosed on January 4. Krzanich now holds the minimum number of shares the CEO is required to own, and while the timing of such a sale may be suspect, this is nothing more than speculative coincidence at this point.
All things considered, we do not think the new developments materially impact our thesis on Intel. The company remains tied to a number of growth drivers in next-generation technology, and we are fans of the virtuous cycle of demand it boasts as we head into the next Industrial Revolution--as its products that speed up the connectivity of devices to data centers and the cloud while enabling larger amounts of storage are adopted, demand for the same technology should increase on the data center end, and vice versa.
The chip giant's recent acquisitive nature (Altera for nearly $17 billion in 2015 and Mobileye for more than $15 billion in 2017) has weakened the flexibility of its balance sheet, but we continue to have confidence in its robust free cash flow generation, which should remain sufficient in covering financial obligations as well as quarterly dividend payments. CEO Krzanich has suggested the company will start taking on more risk, but we read this as a greater commitment to high-growth areas, which will inevitable come with a higher degree of risk. Intel's revenue split is nearly even between PCs and other growth areas, suggesting its participation in next-generation technologies, an inherently risky endeavor, is what the CEO is pointing to.
The security issue is undoubtedly one worth keeping an eye on, especially as it relates to Intel's presence in an increasingly data-rich society, but we are not overreacting to the news. We still like Intel.