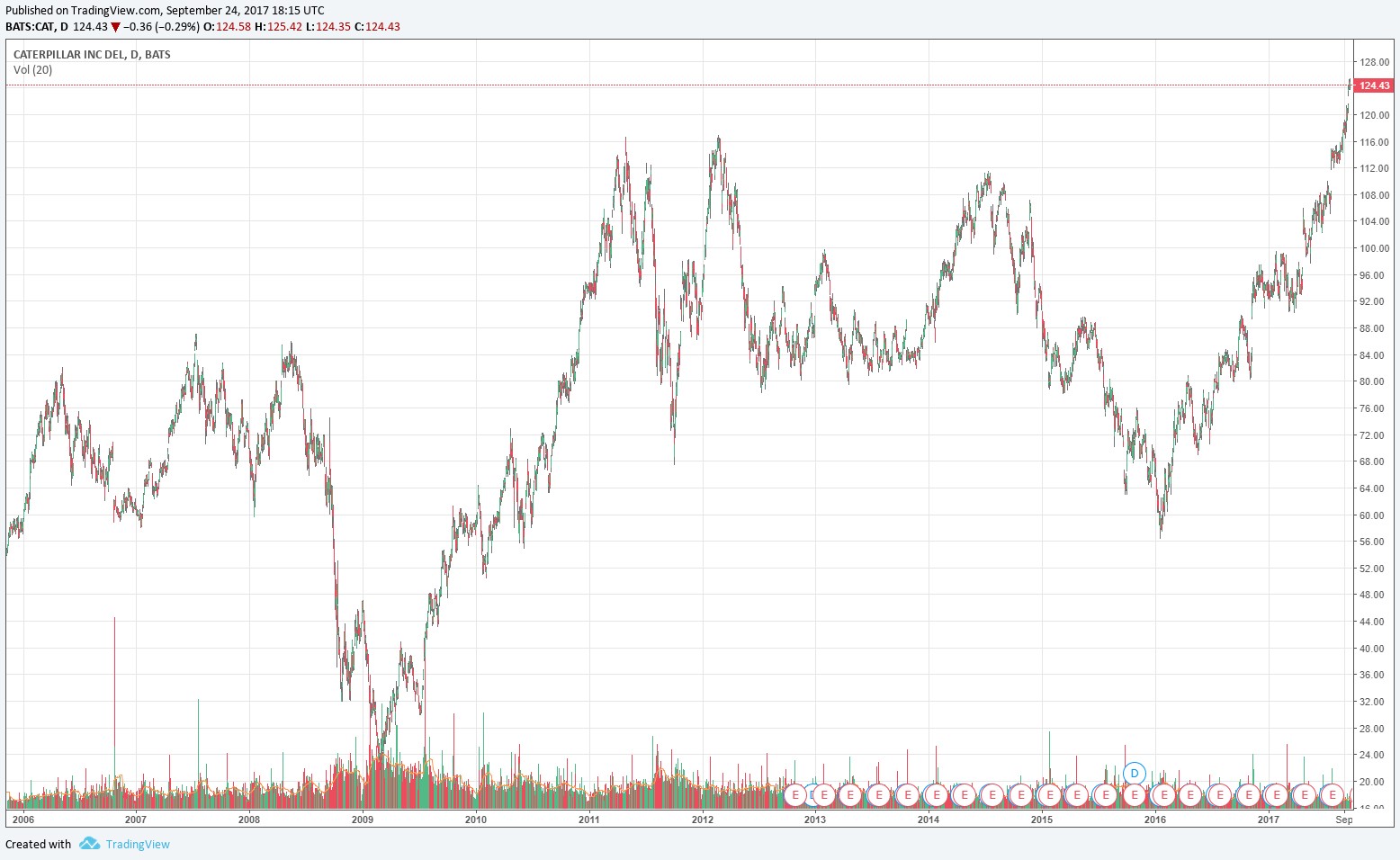 Image Shown: A 10+ year share-price chart of Caterpillar. The stock has recently set new all-time highs.
Caterpillar's stock has reached new all-time highs! How excited should income investors be?
By Brian Nelson, CFA
Caterpillar (CAT) is one of our favorite companies from a fundamental perspective, if we look past the cyclicality of its operations and exposure to potential weak credits at its captive finance arm. No matter how you slice it or dice it though, the company's dealer network is a significant competitive advantage, and the executive team's ability to manage costs through the course of the economic cycle continues to be impressive. That its shares have now surged past $120+ to all-time highs, levels that it had only come close to reaching during 2011-2012, speak to the resilience of Cat's equity, especially given the myriad global economic growth concerns during the past decade. But should investors be celebrating the recent rise, or be more cautious because of it?
We think they should be doing both, of course! What a wild ride Caterpillar's share price has experienced during the past 10 years, and those that held on through the ups and downs have been handsomely rewarded. They should be happy – and popping the champagne! That said, however, our ~$100 per-share fair value estimate suggests that the company's stock price is starting to get a little bit ahead of itself, especially considering the cyclical dynamics of its operations, which always seem to rear their ugly head at the worst possible time. We had picked up on Caterpillar's optimistic commentary in April of this year, "S&P 500 Poised to Make New Highs…Again?: "for the first time in more than two years, same quarter sales and revenues increased," and we continue to like its recent performance. During Caterpillar's second-quarter report, released in July, it raised its fiscal year 2017 guidance thanks in part to "increased demand across many end markets and disciplined cost control." Here are the details, per the second-quarter release:
In April 2017, Caterpillar provided an outlook range for full-year 2017 sales and revenues of $38 billion to $41 billion with a midpoint of $39.5 billion. The company is raising its full-year 2017 expectations for sales and revenues to a range of $42 billion to $44 billion with a midpoint of $43 billion.
For the full year of 2017, Caterpillar expects profit per share of about $3.50 at the midpoint of the sales and revenues outlook range, or adjusted profit per share of about $5.00. The previous outlook for 2017 profit was about $2.10 per share at the midpoint of the sales and revenues outlook, or adjusted profit per share of about $3.75.
Caterpillar is performing fantastically of late, but we still have some concerns worth mentioning. The executive team has noted "weakness in the Middle East and Latin America, as well as geopolitical and commodity risk," but it also spoke positively about construction in China and the mining and oil-and-gas markets coming off the lows. It seems like Cat is riding the strength in certain markets, while benefiting from the recovery in others, but we caution that conditions could always reverse (and all at once), especially given the widely-documented cyclical behavior of its operations. Investors shouldn't forget that revenue, for example, was nearly $66 billion in 2012 and has fallen below $39 billion in fiscal 2016, as the image below shows.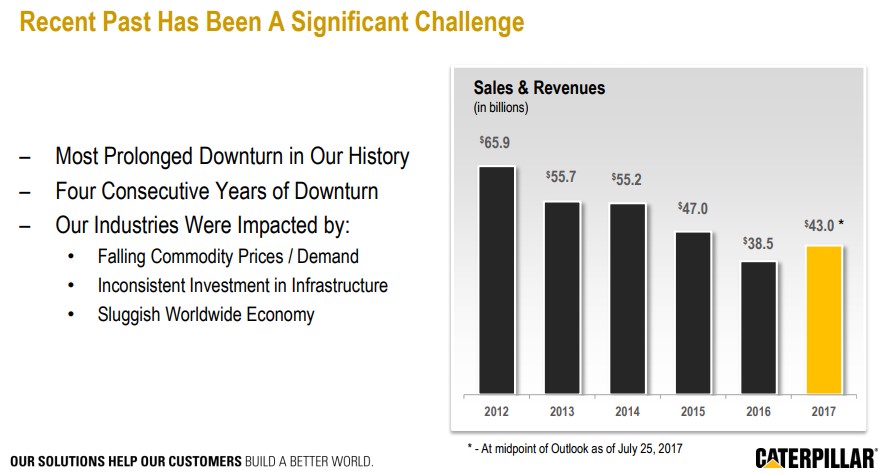 Image Source: Caterpillar Investor Day Presentation
Caterpillar's Dividend Cushion ratio of 1.1 is still above parity at the time of this writing, but we note that our forecasts could be optimistic given the recovery we are anticipating. Things are certainly looking a lot better since the doldrums of early 2015, but flawless cash-management, cost containment, and operating proficiency will be par for the course, and demand drivers (many of them out of its control) will ultimately determine if its fundamentals keep moving in the right direction. It may be years before things turn for the worse again for Cat, and we liked the modest dividend increase in June, but income investors should not fall into the trap of thinking that there will only be good times ahead. The dividend is not likely to be challenged under current benign conditions, but there are stronger dividend payers with similar yields out there for more conservative ideas--Microsoft being one.
Agricultural Machinery: AGCO, CAT, CNHI, DE, HEES, JOY, MTW, RBA, TEX