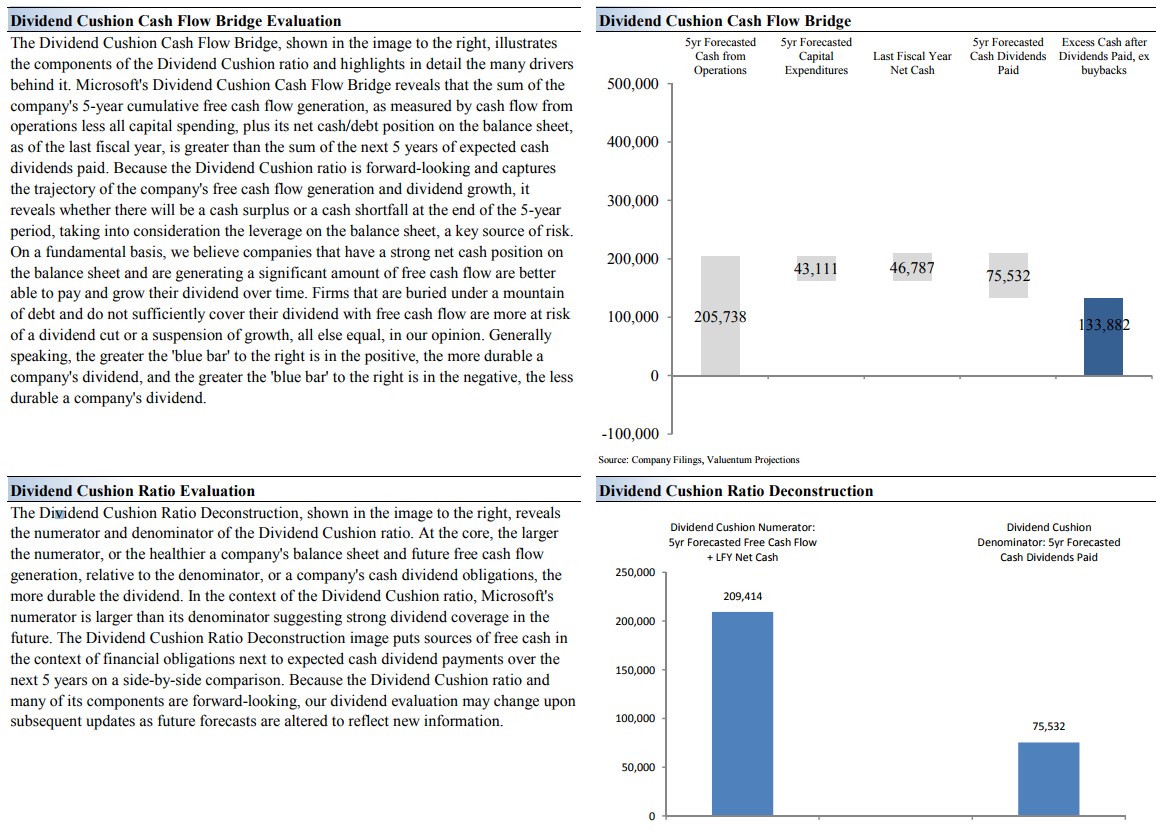 Image Source: Valuentum
By Brian Nelson, CFA
We've been talking Microsoft (MSFT) for years. Those that know anything about our Dividend Cushion ratio know that we've used the software giant as one of the key examples for what constitutes an entity with a strong dividend growth profile. From Microsoft's tremendous free cash flow generation and fortress balance sheet (strong net cash position) to its moaty business model and beyond, it's hard to paint anything about its dividend in a negative light. Here's what we had to say about the company in July when it reported fiscal fourth-quarter results:
Dividend Growth Newsletter portfolio holding Microsoft reported solid fiscal fourth quarter results July 20. The company that recently acquired LinkedIn remains a compelling long-term dividend growth idea, in our view, and we continue to be huge fans of both its balance-sheet strength and free cash flow generation, two dynamics that only serve to strengthen its dividend profile. On a GAAP basis, revenue advanced 13%, while net income more than doubled in the period. On a non-GAAP basis, diluted earnings per share increased more than 40%, to $0.98 per share, up from $0.69 per share in the year-ago period. CEO Satya Nadella was very pleased with the company's "innovation across (its) cloud platforms," and impressively, the company noted that it delivered "30% growth in commercial bookings" in the most recently-reported quarter.
At the end of June 2017, Microsoft's total cash and short-term investments totaled ~$133 billion against a long-term debt load of ~$86.2 billion, revealing a significant net cash position on the books. Free cash flow generation during the 12-months ending June 20, 2017, was $31.4 billion versus $25 billion during the same period last year. All the improvement in free cash flow performance was a result of higher operating cash flow generation, music to our ears as it speaks of high quality and continued investment in the business. All in, we continue to like the fundamental strength of Microsoft's business model, the company's fortress-like balance sheet, and its ability to drive high quality free cash flow generation via improved operating performance. Microsoft's free cash flow generation during fiscal 2017 covered cash dividends paid 2.65 times.
On September 19, 2017, Microsoft announced that it had declared a quarterly dividend of $0.42 per share, a 7.6% increase versus the previous quarter's dividend. Though we think Microsoft can raise its dividend at a low double-digit clip in the coming years, we think the high-single-digit increase is a reflection of the company's decision to pursue acquisitions to augment top-line performance (e.g. LinkedIn). In any case, we were mighty pleased with the pace of the dividend hike on one of the highest profile dividend payers in our coverage. Microsoft's forward dividend yield is ~2.3% at the time of this writing.
Microsoft's stock page: https://www.valuentum.com/search2?searchtext=msft&searchtype=symbol