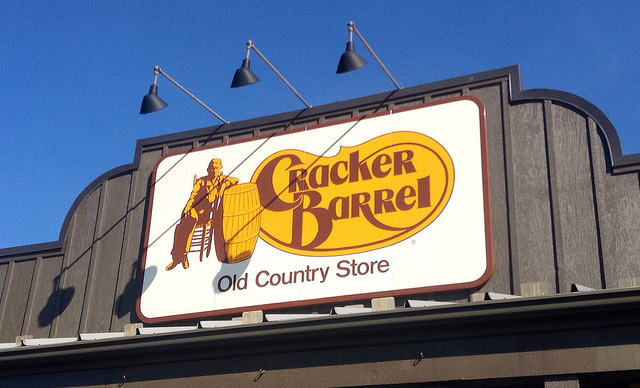 Image Source: Mike Mozart
Cracker Barrel increased its full-year earnings guidance, raised its regular dividend, and issued a special payout. The market was pleased.
By Brian Nelson, CFA
Dividend Growth Newsletter portfolio holding Cracker Barrel (CBRL) released fiscal third-quarter results May 23 that came in above the company's internal expectations, leading the unique restaurant concept to raise its full-year profit target. It now expects earnings per share for fiscal 2017 to be in the range of $8.25-$8.35, above its previous target of $8.10-$8.25 and ahead of consensus expectations. Of course we liked this news, and we continue to believe Cracker Barrel is one of the best dividend growth ideas in all of the restaurant space, from quick service to fast casual to full service dining and beyond. Cracker Barrel also announced it raised its quarterly dividend to $1.20 per share (was $1.15), a modest 4.3% increase, but it also declared a special dividend of $3.50 per share--payable on July 28 to shareholders of record July 14.
What are we doing with shares? Well, we're keeping them in the Dividend Growth Newsletter portfolio. Cracker Barrel's store-within-a-restaurant concept is one of the best revenue-generators per square foot around, and it is run by a management team that knows the importance of the dividend to income investors. We continue to believe it is a great fit for the Dividend Growth Newsletter portfolio and an often overlooked one in light of its preponderance of special dividends that often fly under the radar. The Cracker Barrel 'story' continues to be one of pricing expansion and margin strength, as the company's average check increased 1.7% in the fiscal third quarter, helping to drive its operating margin to 10.2% of revenue from 9.6% in the prior-year period. We can't wait to see the leverage inherent to Cracker Barrel's business model when total revenue trends turn upward.
Part of our thesis with Cracker Barrel had been a return to meaningful traffic expansion, but that hasn't happened as broader traffic pressures continue to impact the entire restaurant space as new concepts continue to pop up with seemingly every imaginable theme. Cracker Barrel has staying power, however, and its ability to achieve pricing growth to drive operating income expansion in the face of overall top-line pressure is admirable (food commodity deflation is also helping). Total revenue was flat in the fiscal third quarter, but operating income came in at $71.5 million, up from $67 million in the year-ago period. Weakness in overall comparable store sales is worth watching closely (they declined 4.7% during the fiscal third quarter), but all-in we couldn't help but like the news out of Cracker Barrel May 23. On a forward yield basis, annualizing the new quarterly dividend run-rate and including the pending $3.50 per share special dividend, shares are yielding north of 5%.
Many investors don't know this!
<< View Our Dividend Growth Newsletter Archive
<< About Our Dividend Growth Newsletter