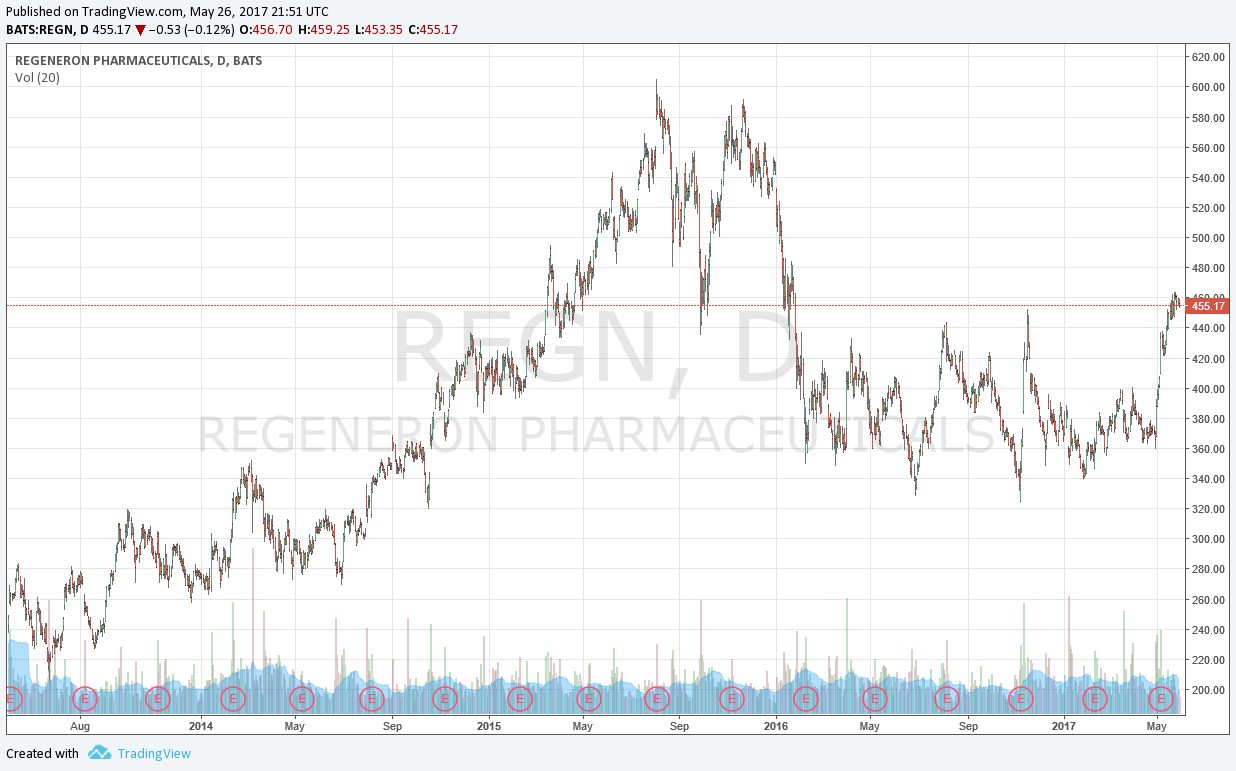 Image shown above: Performance of Regeneron since the summer of 2013.
An executive scandal continues to mar the performance of Alexion Pharmaceuticals. The CFO has resigned his position effective the end of August, but there is more to this story. Let's also talk Regeneron.
By Alexander J. Poulos
We continue to admire innovative companies in industries that can have a meaningful impact on our everyday lives. Valuentum's Best Ideas Newsletter portfolio, for example, houses a number of technology firms that have become ubiquitous in our daily lives. We admire such companies, but while also innovative, entities in the mid- to large-cap biotech industry (IBB, XLF) can be considered much more risky on a fundamental basis than any newsletter portfolio holding, in our view.
We recently composed a piece on the mid-cap biotech sector, "Which Mid-Stage Biotech Can Grow into the Next Large Cap Biotech Behemoth?" Our overview led to a discussion on the prospects of Alexion Pharmaceuticals (ALXN), a biotech outfit that focuses on treatments for rare diseases. Alexion's primary product is Soliris, which is used to treat paroxysmal nocturnal hemoglobinuria (PNH) and atypical hemolytic uremic syndrome (aHUS). We continue to be skeptical that Alexion will be able to develop a follow-up to Soliris (eculizumab), which will soon lose patent protection.
With respect to Soliris, we own an issued U.S. patent that covers the eculizumab composition of matter and will expire in 2021, taking into account patent term extension. Soliris is also protected in the U.S. by regulatory data exclusivity until 2019 and by orphan drug exclusivity for treating aHUS until 2018. In Europe, we have supplementary protection certificates that extend rights associated with a composition of matter patent until 2020 in certain countries. Soliris is also protected in Europe by orphan drug exclusivity until 2019 for PNH and until 2023 for aHUS. In addition to the foregoing patent and regulatory protections, we own other patents and pending patent applications that are directed to various aspects of eculizumab and which may provide additional protection for Soliris.
Source: Alexion 10-K February 2017
From our perspective, it remains imperative that the company devote its resources to develop additional products to make up for the expected loss of revenue once patent exclusivity lapses. As is often the case for fast-moving companies, the need for leadership has become critical, making the recent round of executive "musical chairs" all the more concerning.
Leadership Turmoil Continues
The latest round of executive departures at Alexion was announced May 23. Dave Anderson, the current CFO, accepted the position last year upon the announcement of an accounting scandal that led to the departure of the previous CEO David Hallal and CFO Vikas Sinha. Hallal and Sinha allegedly utilized some aggressive sales techniques to theoretically "pad" quarterly numbers based on the timing of the shipment of product. While the move is technically legal, the board may have felt it was time to move on, even though in the press release it states the duo left for personal reasons and to pursue other opportunities.
The announcement of the departure of Anderson May 23 was not the most surprising move that day, in our view. Anderson has more of an industrial background, having served as the CFO for Honeywell (HON), not exactly the best fit for this struggling biotech, from our perspective. Anderson accepting the CFO position could largely have been viewed as a placeholder to "right the ship" before a permanent solution is found. We're not worried too much about Anderson leaving the company.
The real shock that happened May 23, however, is the pending departure of Martin Mackay, the head of the research and development division. Alexion is at a critical juncture--the near-term pipeline needs to develop additional compounds to make up for the eventual loss of revenue from Soliris. We are baffled the executive team decided to replace the head of R&D. From how we see it, the department may be in "turmoil" as it waits for a replacement. Valuable time will be lost as crucial decisions are delayed until a new leader is named.
We value shares of Alexion in the mid-$160s, but we apply a large fair value range. Both Morgan Stanley and Leerink also see value in shares, but we're mighty cautious on them and won't be adding them to the newsletter portfolios in light of the uncertainty. The low end of our fair value estimate range is near $100, but there may be more pressure in shares ahead. Alexion closed under $100 Friday May 26 heading into the Memorial Day holiday in the US.
The Good News Continues for Regeneron
On the other hand, the news at Regeneron Pharmaceuticals (REGN) is far better with the recent approval of two key near-term pipeline compounds. We remain bullish on the fundamental prospects for Regeneron as we identified them as the most likely candidate to morph into the next large-cap biotech behemoth. The key catalyst remains the approval of Dupixent, a new treatment for Atopic Dermatitis. The product has gotten off to a torrid start, which has galvanized the recent leg up in the share price.
We are more optimistic than most on the revenue potential for Kevzara. Kevzara is the newest entrant into the uber competitive field of inflammatory disease, the most lucrative of the fast-growing specialty drug spend in the US. Our optimism is two-fold: Regeneron accumulated head-to-head data versus the industry standard Humira, which may demonstrate superior outcomes for Kevzara. We feel Regeneron will use the outcomes data to gain a prominent seat at the negotiating table, but more may be needed to drive sales meaningfully. The winning move, in our view, may be the decision to price Kevzara well below the industry standard. Regeneron is looking to take share, and this effort may prove fruitful.
All in, we remain constructive on the share price of Regeneron with a possible move up to all-time highs if sales of Dupixent and Kevzara exceed expectations and the broader market continues to roar higher. That said, we want to make sure that readers are mindful of Regeneron's wide valuation range, with only the high end of the fair value range implying upside to $500. We continue to be bearish on the outlook for Alexion as we view the biotech as overly-dependent on one product that will be facing biosimilar competition shortly. The latest round of musical chairs only adds to our concern over the future path of Alexion. We think shares of Alexion may have been beaten down too much, but we're not going to take a bite. Shares of both Regeneron and Alexion will be highly volatile.
Healthcare and biotech contributor Alexander J. Poulos is long Regeneron Pharmaceuticals.