Valuentum has two actively-managed portfolios, one is its Best Ideas portfolio (housed in its Best Ideas Newsletter) and the other is its Dividend Growth Newsletter (housed in its Dividend Growth Newsletter). Each edition of its Best Ideas Newsletter is released on the 15th of the month, while each edition of its Dividend Growth Newsletter is released on the 1st of each month. Though not all members use the newsletters, the monthly publications represent the avenues through which we deliver the respective actively-managed portfolios that ultimately are the gauge we use to measure performance.
We send out email transaction alerts to members to keep them abreast of new additions to and removals from these portfolios, as well as any weighting changes of constituents. Pasted below is an excerpt from the transaction alert email sent to members' inboxes on August 1, 2013, that showcases the addition of Baidu (BIDU) to the coveted Best Ideas portfolio at $133.60 per share.
Note: The links to the valuation model and report have been removed from the following excerpt as Baidu's valuation model has subsequently been updated. Baidu's updated fair value is $193 per share, and it still registers a 10 (the highest rating) on the Valuentum Buying Index (VBI). Contact us if you may be interested in viewing the updated fully-populated valuation model. The updated 16-page report is available for download on our website here.
August 1, 2013: We're opening a new position in Chinese Internet search giant Baidu (BIDU). Though we continue to be cautious on the economic environment in China, Baidu will benefit from the ongoing boom in China's Internet space. The country has the world's largest Internet user population--and a long way to go to reach penetration levels of developed countries. We think Baidu will remain at the forefront of such secular expansion for many years to come.
We think shares are worth $178 each (click here--link removed--to download the 16-page report), and we even expect further upside from those levels. The company was the cheapest firm in our coverage universe prior to its most recent quarterly performance (read results here), and it registers a very rare 10 on our Valuentum Buying Index.
For those interested in digging further into this valuation opportunity, please click here (link removed due to subsequent update) to download our institutional valuation model (.xls) on the firm. We make our fully-populated valuation models available for every company in our coverage universe under our membership plan for financial advisors. Contact Brian at brian@valuentum.com for additional details.
Specifically, we are purchasing 20 shares at $133.60 each for roughly a 1%-2% position.
Shares of Baidu are up considerably since then, and for many members, the performance has been a nice early present for the holidays. Since the transaction alert email, shares of Baidu have jumped an impressive 33%+ versus 6% for the S&P 500. This is since August! A 20 share position would have resulted in a $927 gain in just a short period of time, many times the annual membership dues.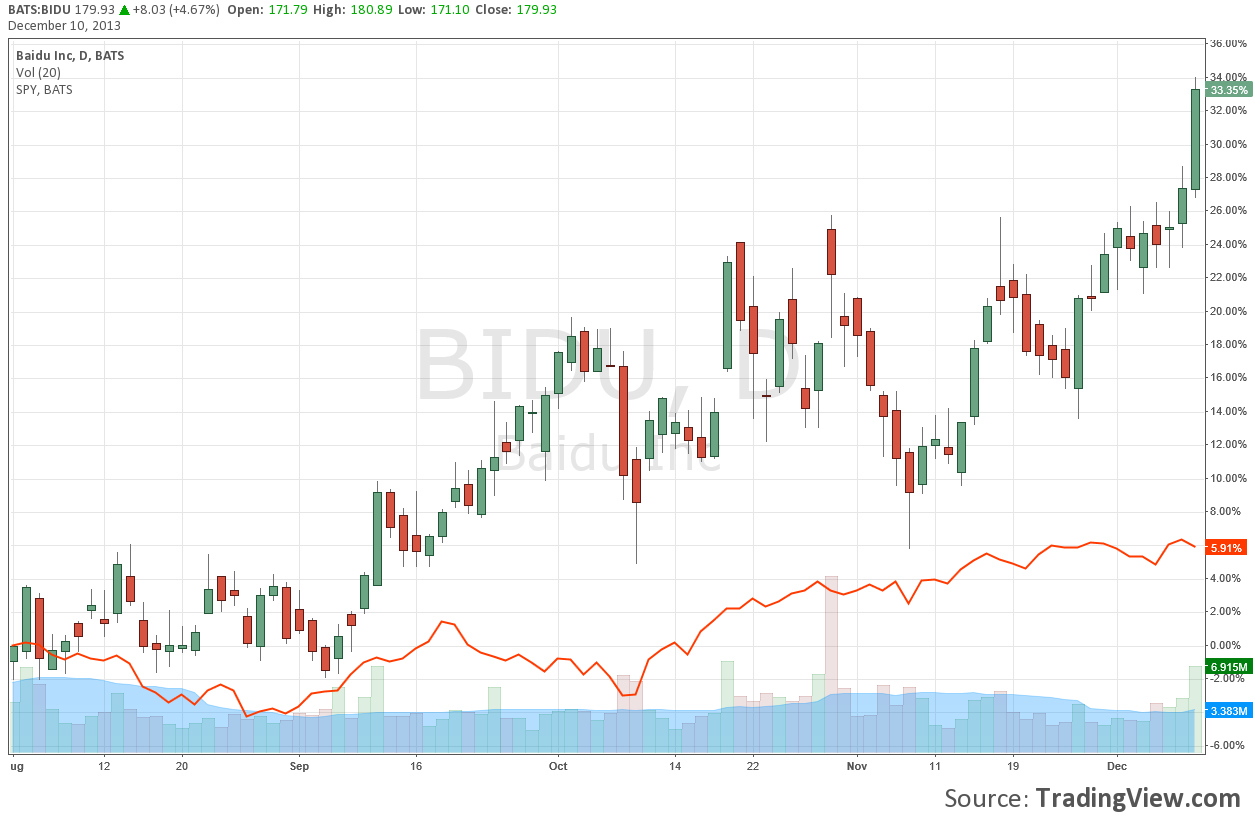 Valuentum members know that the Valuentum Buying Index, our stock-selection methodology, does not require fast-trading to be successful (in fact, the methodology seeks to capture the entire stock pricing cycle from a rating of a 9 or 10 to a rating of a 1 or 2). Still, it's nice when shares rapidly converge to our expectations in a relatively short period of time. For one, it helps build your confidence in us. And two, it works wonders on the performance of your portfolio. We recently outlined how the Valuentum Buying Index helped maximize profits in Apple (AAPL) this year—see here—but Baidu has also been a slam dunk for members during the past couple months, significantly exceeding broader market performance.
Note: Our best ideas are included in the Best Ideas portfolio and Dividend Growth portfolio, respectively. Just like a value investor doesn't add all undervalued firms to its portfolio, we don't add all firms that register a 9 or 10 on the Valuentum Buying Index to our actively-managed portfolios. Only firms that our analyst team considers to be the 'best of the best' ideas out of the 9 and 10 Valuentum Buying Index rating buckets are added to the Best Ideas portfolio and Dividend Growth portfolio. As we seek to capture the entire equity pricing cycle from a 9 or 10 to a 1 or 2, our best ideas at any time are always the ones included in the actively-managed portfolios.
What has been our best call in 2013? It may surprise you…please read about it here >> We trust you continue to do well!