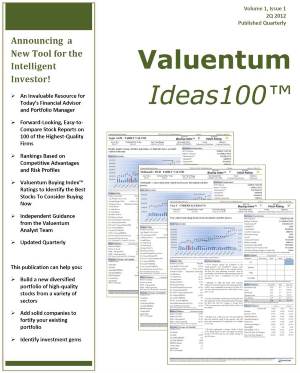 Financial advisors and investors literally have thousands of stocks—large and small, domestic and foreign--to choose from. So what are they to do, and where can they go to find the most trusted opinions on the highest-quality companies on the market today?
That's the question we seek to answer with our Valuentum Ideas100 publication. In this document, we showcase the highest-quality firms from each sector (100 in total) on the basis of our assessment of their competitive advantages (ROIC less WACC spread) and risk profiles (our ValueRisk™ rating). We believe the strength and sustainability of a firm's return on invested capital (ROIC) is the best quantitative way to assess a company's competitive advantages, and we believe a deep dive into the expected volatility of key valuation drivers (like revenue, earnings, etc.) is the best way to arrive at an appropriate risk assessment for each firm. Companies that make this publication are best-in-class within their respective sectors when it comes to their economic return and financial risk profiles.
Whether you're looking to build a diversified portfolio of the highest-quality firms on the market today or simply seeking to augment it with a few solid holdings, the Valuentum Ideas100 is an essential resource for any investor. We outline some of the key components of our Ideas100 publication below, and explain how you can get the most from each of one.
Our Stock-Selection Methodology – the Valuentum Buying Index™
Only at Valuentum can you get a systematic and rigorous discounted cash-flow (DCF) and relative-valuation process that combines the intricacies of technical and momentum analysis to offer a complete picture of a company's investment merits. In our Valuentum Ideas100, we showcase the highest quality firms and their scores on our Valuentum Buying Index™ to help you identify the best stocks at the best time to consider buying. Please view "Our Stock-Selection Methodology, the Valuentum Buying Index™" (also included in this publication)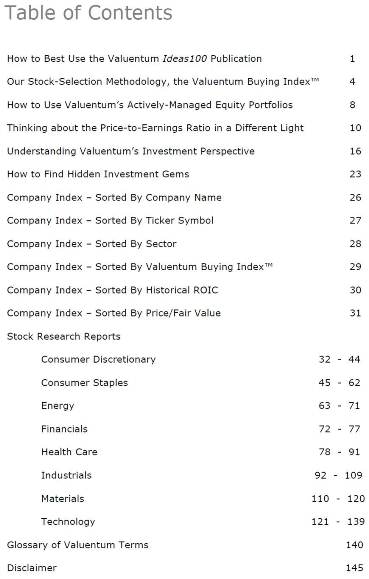 Company Index, ROIC Rank, VBI Scores, and Price/Fair Values
Before you dive into the latter pages of this expansive document, it may be useful to first start with the company index, ROIC rankings, Valuentum Buying Index™ (VBI) rankings, and Price/Fair Value ratios at the front of this publication. The company index showcases some of the most important information about the firm: its industry, investment style, etc. And the ROIC rankings showcase the firms with the greatest value-creation potential, helping you quickly identify the highest-quality firms in our coverage universe. Firms that top our Valuentum Buying Index™ scale are the most timely investment opportunities to consider, in our opinion. Our Price/Fair Value ratios also help sort out the most undervalued firms that meet our stringent criteria to make the cut for this publication.

Forward-Looking Stock Reports

In the heart of the Ideas100, we provide the front page of our forward-looking reports on the top 100 highest-quality firms within our coverage universe. In our equity reports, we offer a fair value estimate for each company, assess the attractiveness of a stock based on a firm-specific margin of safety, and provide a relative valuation comparison in the context of the company's industry and peers. A cross section of our ValueCreation™ and ValueRisk™ ratings provides a financial assessment of a company's business quality (competitive position), while our ValueTrend™ rating offers insight into the trajectory of a firm's economic profit creation (ROIC versus WACC).

Included in each report is a firm's score on our Valuentum Buying Index™ (VBI), which combines rigorous financial and valuation analysis with an evaluation of a firm's technicals and momentum indicators to derive a score between 1 and 10 for each company (10=best). We believe our methodology helps identify the most attractive stocks at the best time to buy, helping to avoid value traps and lagging performance due to the opportunity cost of holding a stock with great potential but at an inopportune time. No other equity research provider puts your interests first, and we take pride in meeting all of your stock analysis needs.

Sign Up for a Premium Advisor Subscription and Get This Quarterly Publication as Part of Your Membership!

If at any time, you need further explanation about a data point in our reports, please refer to the Glossary at the end of the publication for more information. Or contact us at

info@valuentum.com

.