By Brian Nelson, CFA
Not all REIT dividends are safe.
Many REITs remain capital-market dependent, and some office REITs, retail REITs, and healthcare REITs may be difficult places to generate dependable long-term income in the coming decades, in our view. Office REIT SL Green (SLG) recently cut its payout 13% on December 5, 2022, while another office REIT Vornado Realty Trust (VNO) cut its dividend 29% on January 18, 2023. These are just two of the latest high-profile REIT dividend cuts, and there may be more to come. Contrary to popular opinion, the REIT sector has not been a great source of dependable, reliable income, particularly during the COVID-19 crisis.
Five REITs cut their dividends in 2019: Medalist Diversified REIT Inc. (MDRR), Ashford Hospitality Trust, Inc. (AHT), Diversified Healthcare Trust (DHC), Uniti Group Inc. (UNIT), and Lexington Realty Trust (LXP). Six REITs cut their dividends in 2018: New Senior Investment Group (SNR), Farmland Partners Inc. (FPI), LaSalle Hotel Properties (LHD), Franklin Street Properties Corp. (FSP), and Colony Capital, Inc. (CLNY). Five REITs cut their payouts in 2017: Bluerock Residential Growth REIT Inc. (BRG), CBL Properties (CBL), CIM Commercial Trust (CMCT), Liberty Property Trust (LPT), and Columbia Property Trust Inc. (CXP). Five more REITs cut their payouts in 2014 and 2015 (Source: S&P Global Market Intelligence).
Dividend Cuts and Capital-Market Dependency
When COVID-19 hit bad in 2020, dozens of REITs also slashed their payouts, and according to some estimates, more than 60 equity REITs and more than 30 mortgage REITs cut their dividends by the second quarter of that year (source: Hoya Capital). Several more REITs cut their dividend payouts toward the end of 2020, too, and Industrial Logistics Properties (ILPT) was another REIT that cut its payout in 2021. As many as six more REITs cut their dividends during 2022, too. So why are the dividends of REITs so risky? Well, here's what we write in every REIT Dividend Report that we publish:
REITs pay out 90% of annual taxable income and therefore are unable to meaningfully reinvest internally-generated funds, resulting in external capital-market dependence. The weak internal cash-flow retention of most REITs translates into poor raw, unadjusted Dividend Cushion ratios, which could become severe during the depths of the real estate cycle. Even though a REIT's operating cash flow may be robust, the lack of cash accumulation on the balance sheet and the massive debt needed to purchase/develop new properties can become restrictive. The adjusted Dividend Cushion ratio accounts for expectations of continued access to the capital markets, which while "normal," cannot be guaranteed in times of tight credit.
Here are a few excerpts from Realty Income's (O) latest Form 10-K that reiterate the risks of its dependence on capital markets, both as it relates to future growth but also as it relates to the health of its dividend, per its latest filing:
Our future growth will depend, in large part, upon our ability to raise additional capital. If we were to raise additional capital through the issuance of equity securities, we could dilute the interests of holders of our common stock. The interests of our common stockholders could also be diluted by the issuance of shares of common stock pursuant to stock incentive plans. Likewise, our Board of Directors is authorized to cause us to issue preferred stock of any class or series (with dividend, voting and other rights as determined by our Board of Directors). Accordingly, our Board of Directors may authorize the issuance of preferred stock with voting, dividend and other similar rights that could dilute, or otherwise adversely affect, the interest of holders of our common stock...
...To the extent that new indebtedness is added to our current debt levels, the related risks that we now face would increase. As a result, we are and will be subject to risks associated with debt financing, including the risk that our cash flow could be insufficient to make required payments on our debt or to pay dividends on our common stock. We also face variable interest rate risk as the interest rates on our revolving credit facility and term loan are variable and could therefore increase over time. In addition, commercial paper borrowings are short-term obligations and the interest rate on newly issued commercial paper varies according to market conditions at the time of issuance. We also face the risk that we may be unable to refinance or repay our debt as it comes due. Given past disruptions in the financial markets and ongoing global financial uncertainties, including the impact of COVID-19 and of the United Kingdom's withdrawal from the European Union (referred to as Brexit), we also face the risk that one or more of the participants in our revolving credit facility may not be able to lend us money.
Structurally speaking, REITs are more at risk of dividend cuts than corporates, which can retain significant net cash on their balance sheets as they manage their payouts such that traditional free cash flow, as measured by cash flow from operations less all capital spending, can comfortably cover the dividend. This will always be the case, regardless of whether a REIT uses triple net leases or is tied to a favorable secular growth trend. In this regard, assessing the health of a REIT's dividend is much more complicated than that of a corporate because, in many cases, it relies heavily on an assessment of external capital market conditions and the REIT's credit quality.
This is why we use both an adjusted Dividend Cushion ratio and a unadusted Dividend Cushion ratio in our work--the latter considers access to the capital markets in the assessment, while the former does not. At the core, the Dividend Cushion ratio measures the financial capacity of a company to pay and grow its dividend. It sums up the existing net cash (total cash less total debt) a company has on hand (on its balance sheet) plus its expected future free cash flows (cash from operations less all capital expenditures) over the next five years and divides that sum by future expected cash dividends (including expected growth in them, where applicable) over the same time period. The adjusted Dividend Cushion ratio includes external capital to be raised in the numerator and is much more subjective than its unadjusted counterpart.
As a forward-looking free-cash-flow dividend coverage metric that considers the balance sheet, the Dividend Cushion ratio is one of a kind, in our view. An elevated ratio doesn't ensure the company or REIT will keep paying dividends, however, as management's willingness to do so is another key consideration, but the ratio acts as a logical, cash-flow based ranking of dividend health, much like a corporate credit rating, for example, ranks a company's ability to pay back debt (default risk). We view the Dividend Cushion ratio as an indispensable and unmatched feature of our service and use the ratio as a key consideration with respect to companies in the Dividend Growth Newsletter portfolio and High Yield Dividend Newsletter portfolio.
Trends Working Against REIT Fundamentals
There are a few fundamental long-term considerations working against REITs, too. For starters, the labor force is less-than-enthused about returning back to the office, and remote jobs are becoming more and more common, meaning the need for office space may, over the long run, not be as much as previously thought. We're already seeing office REITs slash their payouts. Secondly, consumers are growing more and more comfortable ordering online, making many smaller retailers or mall-based retailers and their rents obsolete in time. How we do shopping in the coming decades will continue to change, as convenience becomes a huge consideration.
These two trends, in particular, are worrisome for REIT investors, but we're not too enthused about healthcare REITs either. Though the broader healthcare area should benefit, in theory, from long-term secular demographic tailwinds supporting skilled nursing facilities and assisted living facilities, among other locations, competition remains fierce. Many healthcare REITs suffered through the pandemic, but even during normal times, there are myriad risks. We're reminded of the HCP, now Healthpeak Properties (PEAK), and HCR ManorCare debacle in 2016, and frankly, we don't like the uncertainties facing the group's tenants regarding long-term reimbursement by third-party payors.
Here is more about what we're talking about, per Omega Healthcare's 2021 Annual Report:
A significant portion of our operators' revenue is derived from government-funded reimbursement programs, consisting primarily of Medicare and Medicaid. As federal and state governments continue to focus on healthcare reform initiatives, efforts to reduce costs by government payors will likely continue. Significant limits on the scope of services reimbursed and/or reductions of reimbursement rates could therefore have a material adverse effect on our operators' results of operations and financial condition. Additionally, new and evolving payor and provider programs that are tied to quality and efficiency could adversely impact our tenants' and operators' liquidity, financial condition or results of operations, and there can be no assurance that payments under any of these government healthcare programs are currently, or will be in the future, sufficient to fully reimburse the property operators for their operating and capital expenses.
Not all REITs are created equal, of course, and those with triple net leases may be better operators than others, but COVID-19 showed that investing in REITs is not for the faint of heart. Our favorite areas within the REIT space remain the self-storage and tower operators--and we highlight a few of our favorites in the High Yield Dividend Newsletter. We like the traditional free cash flow profile of the self-storage space in how effectively the group can cover cash dividends paid, while tower operators have tremendous operating leverage in their business models that translates into strong economic returns. Again, not all REITs are the same, but in general, REITs haven't been good to investors for a long time, and we don't expect that to change anytime soon given some of the concerns outlined in this article.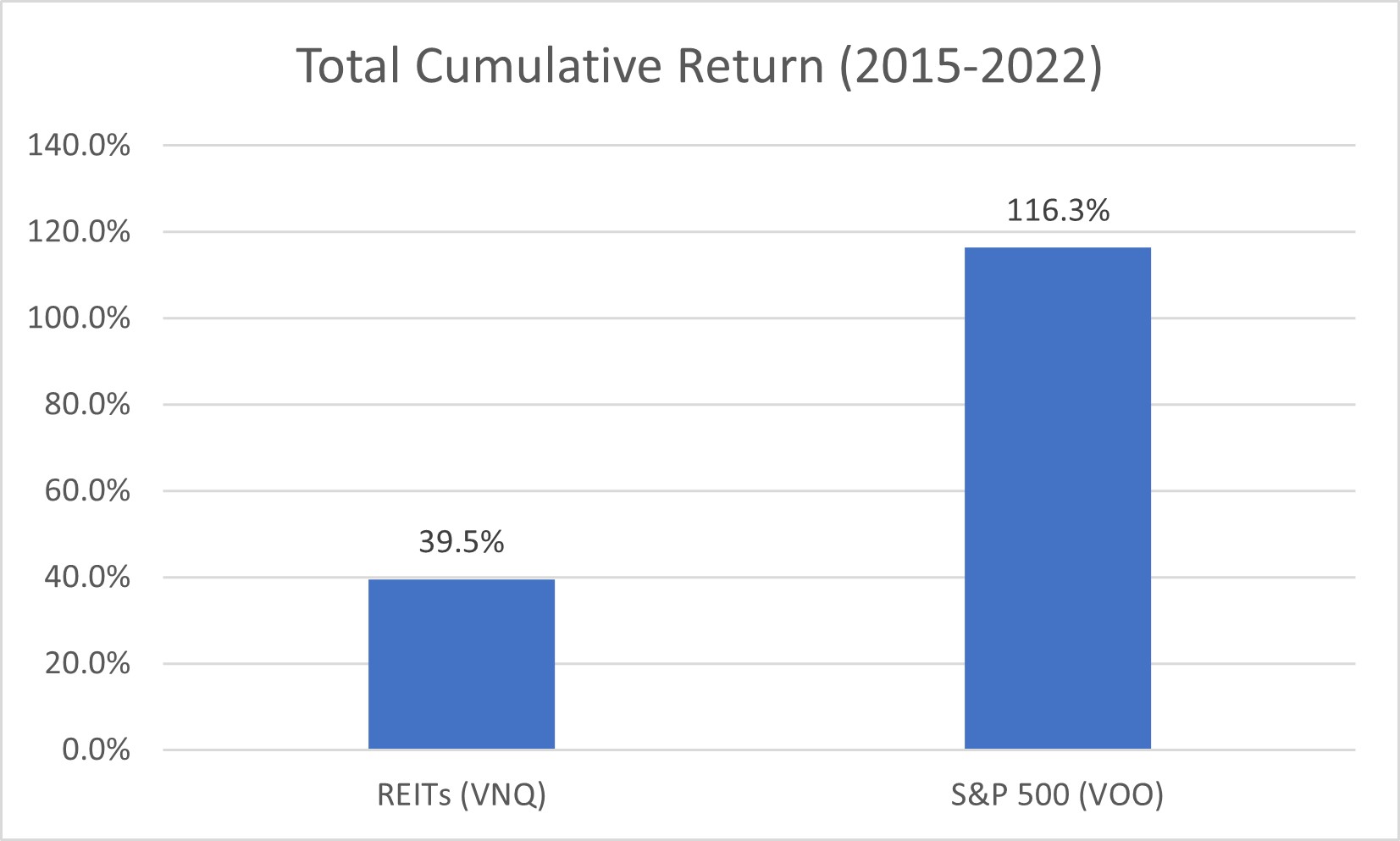 Image: REITs have not performed as well as one might have thought. Source: Vanguard
Concluding Thoughts
REITs, as measured by the Vanguard ETF (VNQ), have generated a total return of 39.5% since the beginning of 2015 through the end of 2022, an eight-year period that has translated into a measly compound annual return of just 4.25%. This compares to a total return of the Vanguard S&P 500 ETF (VOO) of 116.3%, which translates into a compound annual return of 10.1% over the same time period. Not only have REITs underperformed terribly during the past 8 years, but there have been more than 100 dividend cuts by REITs over this time period, too. REITs just aren't what some make them out to be. Be careful.
<< FAQ: Where Can I Find the Valuentum Dividend Cushion Ratio?
<< Explaining the Difference Between the Adjusted and Unadjusted Dividend Cushion Ratio and More
Also tickerized for holdings in the SCHH and REM. Updated 10:19amCT, January 20, 2023.
---------------------------------------------
Brian Nelson owns shares in SPY, SCHG, QQQ, DIA, VOT, BITO, RSP, and IWM. Valuentum owns SPY, SCHG, QQQ, VOO, and DIA. Brian Nelson's household owns shares in HON, DIS, HAS, NKE, DIA, and RSP. Some of the other securities written about in this article may be included in Valuentum's simulated newsletter portfolios. Contact Valuentum for more information about its editorial policies.
Valuentum members have access to our 16-page stock reports, Valuentum Buying Index ratings, Dividend Cushion ratios, fair value estimates and ranges, dividend reports and more. Not a member? Subscribe today. The first 14 days are free.