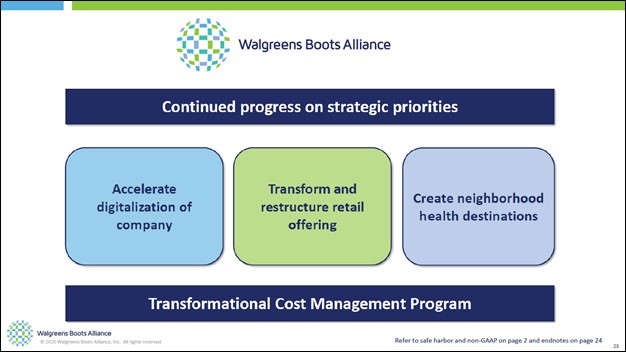 Image Shown: Walgreens Boots Alliance Inc is undergoing a major transformation. Part of that strategy involves divesting its European wholesale pharmaceutical distribution business, Alliance Healthcare, to its strategic partner AmerisourceBergen Corporation. Image Source: Walgreens Boots Alliance Inc – Fourth Quarter and Full Year Fiscal 2020 IR Earnings Presentation
By Callum Turcan
On January 6, Walgreens Boots Alliance Inc (WBA) announced it had reached a deal with AmerisourceBergen Corporation (ABC) to sell the "the majority of" its European-focused wholesale pharmaceutical distribution business, Alliance Healthcare, for about $6.5 billion ($6.275 billion in cash along with 2 million shares of ABC). Please note that Walgreens already owns a sizable stake in AmerisourceBergen as the former owned ~28% of the latter's outstanding shares as of August 31, 2020. The deal is expected to close by the end of AmerisourceBergen's fiscal 2021 (at the end of September 2021).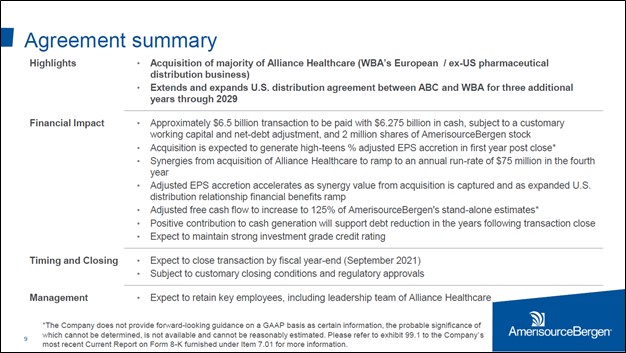 Image Shown: An overview of the deal covering Walgreens' divestment of Alliance Healthcare to AmerisourceBergen. Image Source: AmerisourceBergen – January 2021 IR Acquisition Transaction Presentation
In conjunction with the deal, Walgreens and AmerisourceBergen extended their existing pharmaceutical distribution agreement by three years to 2029 and committed to work together to locate additional opportunities where both firms could unlock incremental upside (particularly in the realm of sourcing, logistics and distribution). Here is a brief explanation of the agreement between Walgreens and AmerisourceBergen (from Walgreen's Fiscal 2020 Annual Report):
In March 2013, Walgreens, Alliance Boots GmbH ("Alliance Boots") and AmerisourceBergen Corporation ("AmerisourceBergen") announced various agreements and arrangements, including a ten-year pharmaceutical distribution agreement between Walgreens and AmerisourceBergen pursuant to which the Company sources branded and generic pharmaceutical products from AmerisourceBergen in the United States and an agreement which provides AmerisourceBergen the ability to access generic pharmaceutical products through the Company's global sourcing enterprise, Walgreens Boots Alliance Development GmbH. In May 2016, certain of these agreements were extended for three years and are now expected to expire in 2026 [please note this strategic partnership has since been extended to 2029].
Furthermore, Alliance Healthcare UK will remain the distribution partner of Boots (pharmacy chain with a large presence in Europe that is owned by Walgreens) until 2031. Walgreens and AmerisourceBergen expect to realize $150 million in total run-rate synergies within four years after the deal closing as they build up their strategic partnership further, with those synergies expected to be shared equally between both firms. Both parties seem to be getting a good deal out of this transaction, in our view.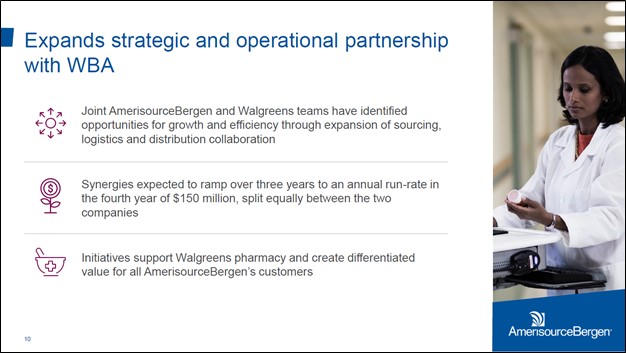 Image Shown: AmerisourceBergen and Walgreens aim to generate meaningful run-rate synergies through this transaction. Image Source: AmerisourceBergen – January 2021 IR Acquisition Transaction Presentation
Proceeds to Help Walgreens Invest in Its Core Business
Walgreens intends to use the divestment proceeds to invest in its core retail pharmacy business. Also on January 6, Walgreens announced it had accelerated its investment in VillageMD, which operates primary care clinics. First, some background information on that partnership is required to understand its significance.
Back in July 2020, Walgreens announced it would invest $1.0 billion towards VillageMD's equity and convertible debt, including a $0.25 billion equity investment that was completed that same month. The current goal is to add 600-700 VillageMD locations to Walgreens' stores across more than 30 US markets within the next four years, and the related primary care providers will be recruited by VillageMD. Please note that Walgreens appears to have stepped up its ambitions with VillageMD with this recent announcement (Walgreens initially aimed to add 500-700 VillageMD locations to its stores over the next five years, now the midpoint has been raised and Walgreens shaved a year off that timeline).
As of January 6, Walgreens had completed $0.75 billion of its total investment in VillageMD. By the end of the summer of 2021, the partnership aims "to open the next 40 full-service primary care clinics in Texas, Arizona and Florida." We are intrigued by the deal given that it will provide Walgreens with a way to differentiate itself from its competitors and could drive up recurring foot traffic. However, please note that Walgreens expects the divestment of its Alliance Healthcare unit "will be slightly dilutive in the current financial year" though it "will be accretive longer-term." These endeavors are ultimately about Walgreens fundamentally shaking up its business model to improve its cost structure and long-term outlook.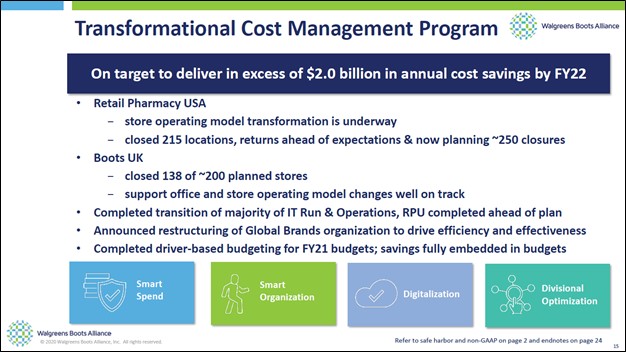 Image Shown: Walgreens expects to generate material annualized cost savings by fiscal 2022 through an ongoing strategic overhaul. Image Source: Walgreens Boots Alliance – Fourth Quarter and Full Year Fiscal 2020 IR Earnings Presentation
AmerisourceBergen Gains Scale and Greater Exposure to Europe
For AmerisourceBergen, this transaction will give the firm a strong position in the wholesale pharmaceutical distribution space in the UK, Europe, and Northern Africa. Please note that ~33% of AmerisourceBergen's revenues in fiscal 2020 (period ended September 30, 2020) came from Walgreens, highlighting the company's dependence on its strategic partnership with Walgreens. The press release announcing the acquisition noted that the deal will "enhance AmerisourceBergen's scale and margin profile" and is expected to be accretive to AmerisourceBergen's adjusted (non-GAAP) diluted EPS in the first year after closing.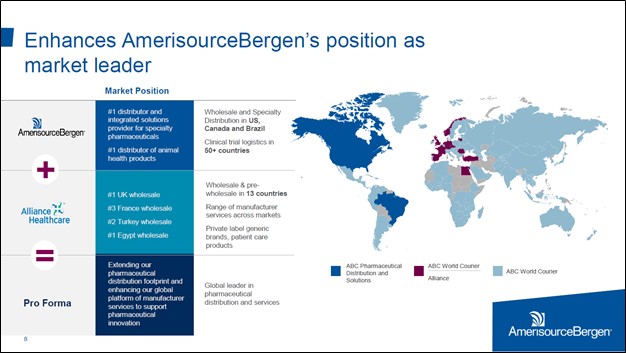 Image Shown: AmerisourceBergen's global reach will improve materially once its deal to acquire Alliance Healthcare closes, with an eye towards its European presence. Image Source: AmerisourceBergen – January 2021 IR Acquisition Transaction Presentation
AmerisourceBergen plans to use cash on hand and new debt financing to fund the deal. The company also noted that its free cash flow generating abilities should be positively impacted by the acquisition. Synergies, scale, and the ability to push deeper into Europe offers AmerisourceBergen multiple avenues for upside. Once the deal closes, AmerisourceBergen plans to pare down its total debt load, aided by its improved cash flow profile. We appreciate that AmerisourceBergen remains committed to maintaining its investment grade credit ratings.
Concluding Thoughts
In our view, this transaction should positively benefit both parties. Walgreens gets a nice cash infusion to help upgrade its core operations while AmerisourceBergen gains significant scale and greater exposure to European markets. The existing arrangements between Walgreens and AmerisourceBergen should assist both firms in realizing their targeted synergies, at least in theory, though the healthcare sector is inherently complex.
We are not changing our fair value estimate for Walgreens at this time. As of this writing, shares of WBA are trading near our fair value estimate, indicating that Walgreens is fairly valued. We continue to prefer exposure to the "pharmacy-oriented" space through one of our favorite dividend growth ideas UnitedHealth Group (UNH), "UnitedHealth Group's Dividend Growth Potential is Impressive." We also include Johnson & Johnson (JNJ) and the Healthcare Select SPDR ETF (XLV) in the newsletter portfolios.
Downloads
United Healthcare's 16-page Stock Report >>
United Health's Dividend Report >>
Johnson & Johnson's 16-page Stock Report >>
Johnson & Johnson's Dividend Report >>
-----
Health Care Bellwethers Industry - JNJ, WBA, CVS, ISRG, MDT, ZBH, BAX, BDX, BSX, MTD, SYK, BIIB, GILD, ABT, ABBV, LLY, AMGN, BMY, MRK, PFE, VRTX, ZTS, REGN, UNH
Tickerized for GDRX, KR, WBA, CVS, TDOC, TGT, WMT, RAD, MCK, ABC, XLV, CAH, UNH, CI, ANTM, WCG, CNC, MOH, GTS, CIVI, UHS, LPNT, CYH, HCA, HQY, QHC, THC
-----
Valuentum members have access to our 16-page stock reports, Valuentum Buying Index ratings, Dividend Cushion ratios, fair value estimates and ranges, dividend reports and more. Not a member? Subscribe today. The first 14 days are free.
Callum Turcan does not own shares in any of the securities mentioned above. UnitedHealth Group Inc (UNH) is included in Valuentum's simulated Dividend Growth Newsletter portfolio. Health Care Select Sector SPDR ETF (XLV) and Johnson & Johnson (JNJ) are both included in Valuentum's simulated Best Ideas Newsletter portfolio and simulated Dividend Growth Newsletter portfolio. Vanguard Consumer Staples ETF (VDC) is included in Valuentum's simulated High Yield Dividend Newsletter portfolio. Some of the other companies written about in this article may be included in Valuentum's simulated newsletter portfolios. Contact Valuentum for more information about its editorial policies.