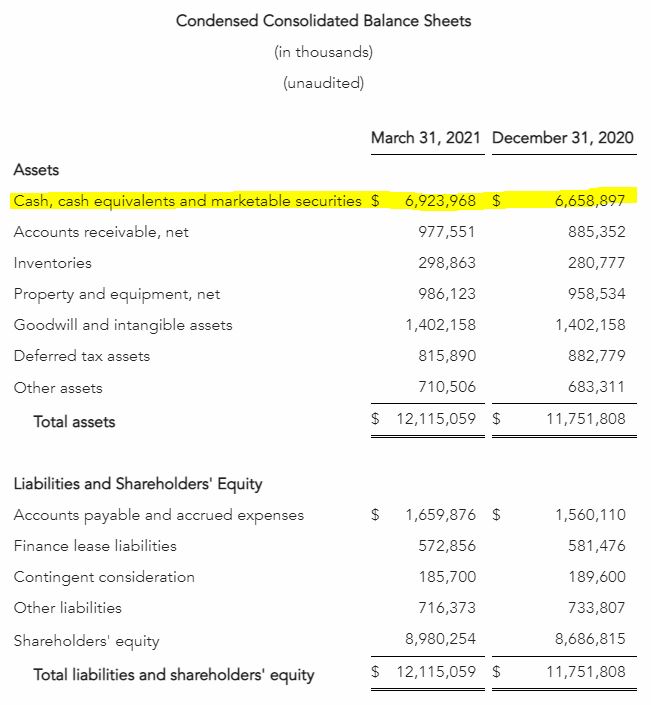 Image Shown: Vertex Pharma has a huge net cash position on the balance sheet offering it tremendous financial flexibility. Image Source: Vertex Pharma.
By Brian Nelson, CFA
A broadly diversified stock portfolio of 15-25 securities or no less than 15 securities across most, if not all S&P 500, sectors may make sense for a lot of long-term investors. Included in this diversified mix of equities may be biotech exposure, and our favorite way to play the speculative biotech space, albeit in a very small allocation in the Best Ideas Newsletter portfolio, is with Vertex Pharma (VRTX). We're not making any changes to the newsletter portfolio in light of news of a recent setback at the company.
On Thursday June 10, Vertex Pharma announced that it was abandoning its VX-864 treatment for people with alpha-1 antitrypsin deficiency (AATD) with the PiZZ genotype on account that the "treatment effect…is unlikely to translate into substantial clinical benefit." We're not too worried about this setback, and the company plans to use the insights gained in this study to advance other novel small molecule correctors with potential clinical efficacy next year.
Unlike many other biotechs, Vertex is highly profitable, generates solid free cash flow and has a very healthy balance sheet. During the first quarter of 2021 (ended March 31), it grew product revenue 14% and diluted earnings per share nearly 9%. Cash and cash equivalents stood at $6.9 billion at the end of the quarter (see image above), while it held no traditional short- and long-term debt and only ~$570 million in finance lease receivables. Free cash flow generation during the first quarter of 2021 was an incredible $850.1 million.
Product revenue for TRIKAFTA/KAFTRIO for treatment of cystic fibrosis continues to advance nicely, and Vertex Pharma still has a robust pipeline, despite the VX-864 setback. We'll be expecting results from its treatment VX-548 in acute pain and VX-880 for type 1 diabetes soon, and we are most excited by its long-term opportunities with CRISPR Therapeutics (CRSP) for gene-editing therapies in sickle cell disease and beta thalassemia. Valuentum's Callum Turcan had the following to add:
Vertex is still a solid enterprise with impressive financials (pristine balance sheet, strong free cash flows), though the biotech firm may need to utilize its balance sheet strength again to bolster its drug pipeline as it has in the recent past, including its deal with CRISPR Therapeutics regarding the investigational drug candidate CTX001. Its strength in the CF space provides Vertex with the financial capacity to develop and commercialize drugs that treat different diseases, a process that can involve Vertex buying economic stakes in drug candidates that are already progressing along with clinical trials. Share buybacks are also possible after the recent share price drop.
Concluding Thoughts
We like Vertex Pharma as our speculative biotech idea in the Best Ideas Newsletter portfolio, albeit as a small allocation. The company has solid revenue support with its treatments for cystic fibrosis, an extremely healthy net-cash-rich balance sheet, and tremendous free cash flow generating capacity as it advances its pipeline and grows its relationship with gene-editing firm CRISPR Therapeutics. As an idea within the context of a well-diversified equity portfolio, Vertex Pharma continues to make the cut. We still like shares.
---
Related: XBI, IBB
Other: AGTC, AVRO, MGTA, PASG, SRPT, SELB, SIOX, TSHA, QURE
Valuentum members have access to our 16-page stock reports, Valuentum Buying Index ratings, Dividend Cushion ratios, fair value estimates and ranges, dividend reports and more. Not a member? Subscribe today. The first 14 days are free.
Brian Nelson owns shares in SPY, SCHG, QQQ, DIA, VOT, and IWM. Brian Nelson's household owns shares in HON, DIS, HAS. Some of the other securities written about in this article may be included in Valuentum's simulated newsletter portfolios. Contact Valuentum for more information about its editorial policies.