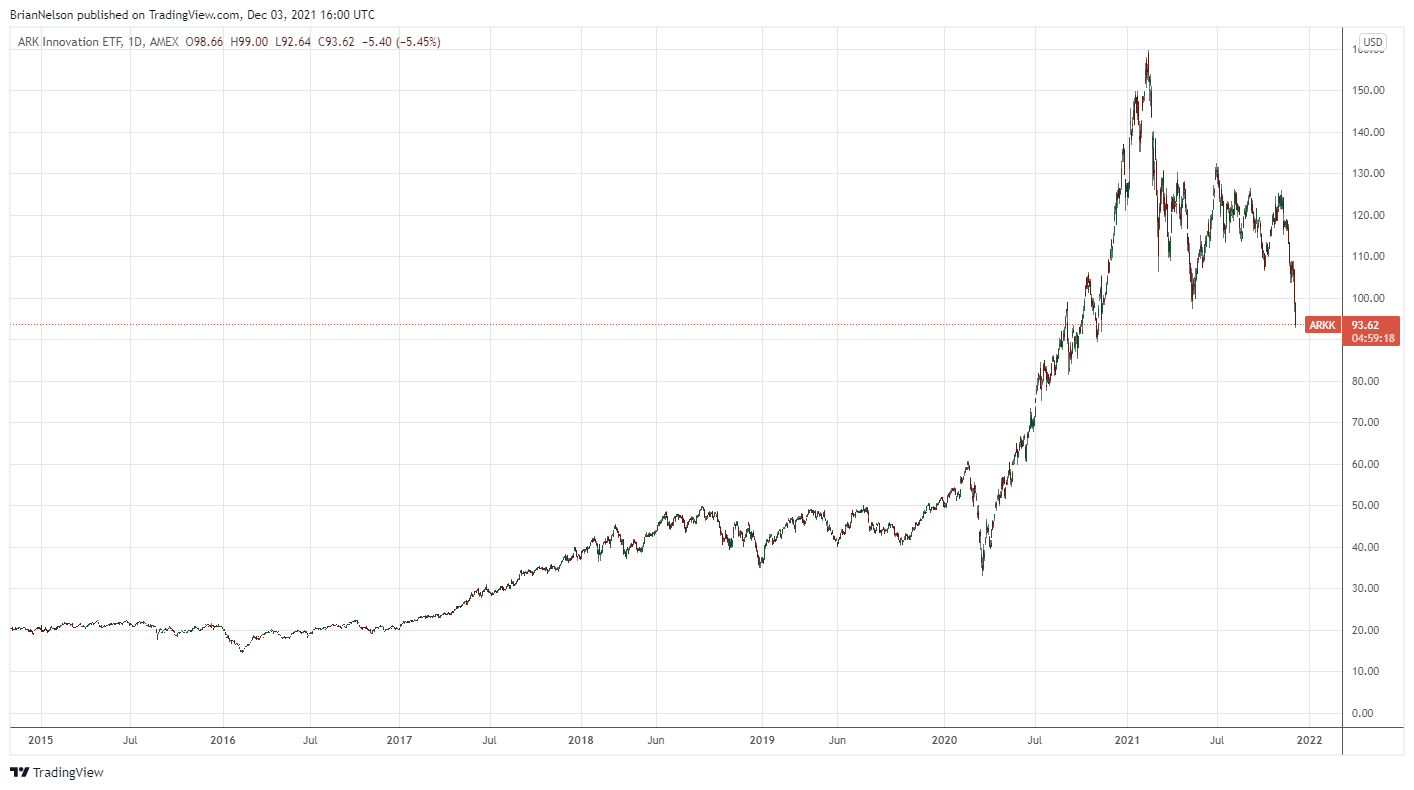 Image source: Cathie Wood's flagship ETF, the ARK Innovation ETF (ARKK) has fallen more more than 40% from its 52-week high. This is nothing short of a complete and utter bloodbath for such an actively-managed fund, in our view. We note this for context. We're not just talking about one or two or five stocks that are down 40% from 52-week highs, but the *entire fund.* Investors have to keep things in perspective. It's perfectly reasonable within the context of a portfolio to have a few stocks off 10%, 20%, or maybe even 50% from all-time highs. However, if your entire portfolio is down 40%+ from 52-week highs, you're doing something wrong.
Hi everyone:
It's the most wonderful time of the year!!!
We're finally getting a shake out of the substantial excesses in the market. Entities such as DocuSign (DOCU) are down more than 40% during the trading session December 3, 2021. All-star funds such as the ARK Innovation ETF (ARKK) with well-known fund managers are down over 40% from all-time highs. It's a bloodbath out there if you're not positioned correctly. I can only imagine the sheer panic that's going on right now.
It's laughable, but we sometimes get flak if we have one or two or five companies in a couple portfolios of 20-40 stocks that trail the index (see image that follows). My goodness, what must these investors then be saying to fund managers who are down 40%+ from 52-week highs, and whose funds are down 20%-30% on the year when the S&P 500 is up over 20%.
It's clear that Valuentum customers demand a lot more from us than even the best, highest-profile managers out there, and we appreciate that. Thank you. A lot of the traditional IBD and Motley Fool stocks look to be stumbling as well. But we're sitting pretty at Valuentum, and here's why.
It was only a few weeks ago that we told you that "Markets Look Vulnerable, Adding "Protection." Fairly sizable put options ideas were highlighted at the time, and we have published a number of newsletters showcasing the put option consideration's "weightings" in both the Best Ideas Newsletter portfolio and Dividend Growth Newsletter portfolio since then. Nothing should be surprising right now.
But that's not all. Members to our additional options commentary received two "hedging" ideas right before the latest step down in the markets.
It's days like today that I'm reminded of why we stick to our guns. There was a time when some didn't like the comparatively shorter "holding periods" of some of the long ideas in the Exclusive publication. It's probably clear to them now why we have such a disciplined process.
Unlike others that are getting margin-called at the moment on some of the high-flying castle-in-the-air names, we "closed" the vast majority of capital-appreciation ideas in the Exclusive, locking in "hypothetical gains" at the time. Members of the Exclusive publication are benefiting from awesome success rates as a result.
We've really put it together as a publisher, and again, I can't thank you enough for paying attention. Instead of screaming about stocks building castles-in-the-air, we've kept our members grounded--and now they aren't getting swept up in a collection of ideas that are down 40%+ from 52-week highs, but rather have ideas that are holding up quite well.
Let's take a look. A few of these were added in January, and we increased energy exposure throughout the year, but the majority of our ideas in the simulated Best Ideas Newsletter portfolio have "outperformed"* the market so far this year. We don't have performance, per se, as a publisher, and we don't measure the newsletter portfolio any longer given the weighting ranges, but you'd really, really have to stretch reality to be disappointed.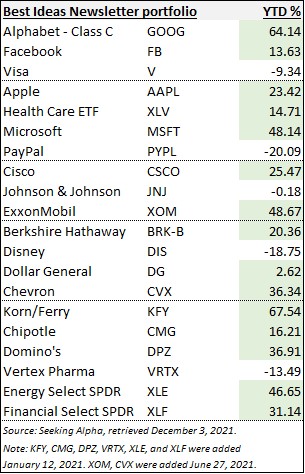 Of course, there's always someone pointing out the performance of Disney (DIS), for example, but that person may not have perspective about how poorly others are doing this year, as in the ARKK, or how poorly even asset allocators are doing relative to the 60/40 stock/bond portfolio (please read this), which has trailed large cap growth by hundreds of percentage points (not basis points, but percentage points) the past 10 years.
Please don't be that someone. There's simply not enough praise in this cutthroat industry. Give credit, not undue criticism.
Also, it's sometimes easy to forget that there are people--a lot of them--that have paid 1% of their portfolios to trail the 60/40 stock/bond portfolio by hundreds of percentage points the past 10 years relative to a very simple large cap growth index. There are also people that have lost 40% of their portfolio because they got too aggressive with castle-in-the-air companies and are down big this year, as in the ARKK.
In all seriousness, I don't think we can serve the individual investor and financial advisor better. We've put it all on the table. Please make sure that you are subscribing to everything -- including the additional options commentary, Exclusive publication, and even our new ESG Newsletter. We continue to deliver across the board and have done so for years!
So...what next? Well, we're not panicking. We're well-positioned!
We're, instead, celebrating the success -- and we're taking this weekend off from the traditional Valuentum Weekly as a result (last weekend was a holiday week, so that's why no Weekly last weekend)! We will have the screener available on Sunday evening and will have some report refreshes in the REIT industry as well as across ideas in the simulated Best Ideas Newsletter portfolio.
Enjoy the weekend folks! You deserve it. We're still bullish on stocks for the long haul!
Kind regards,
Brian Nelson, CFA
President, Investment Research
Valuentum Securities, Inc.
* Vanguard Total Stock Market ETF (+20.17% YTD), retrieved December 3, 2021
----------

Image Source: Value Trap
----------
Valuentum members have access to our 16-page stock reports, Valuentum Buying Index ratings, Dividend Cushion ratios, fair value estimates and ranges, dividend reports and more. Not a member? Subscribe today. The first 14 days are free.
Brian Nelson owns shares in SPY, SCHG, QQQ, DIA, VOT, BITO, and IWM. Valuentum owns SPY, SCHG, QQQ, VOO, and DIA. Brian Nelson's household owns shares in HON, DIS, HAS, NKE. Some of the other securities written about in this article may be included in Valuentum's simulated newsletter portfolios. Contact Valuentum for more information about its editorial policies.