This article was originally published November 10, 2021. The fair value estimate has been updated in this version.
Video: PayPal
By Brian Nelson, CFA
We knew something wasn't quite lining up at digital-payments provider PayPal (PYPL) when the rumor mill started to turn with reports it was interested in scooping up Pinterest (PINS) for a pretty penny. PayPal has since put to rest rumors about buying Pinterest, but it left investors with a sour outlook when it issued third-quarter 2021 results November 8. Though the market wasn't happy with the forecast for the fourth quarter of 2021 and into 2022, the company continues to grow revenue at a robust pace, and we expect several key initiatives to drive sustainable top-line expansion for many years to come. Our fair value estimate stands north of $270 per share.
From our perspective, third-quarter results were fine, with revenue growing 13.2% year-over-year on a foreign-exchange neutral basis, and non-GAAP earnings per share advancing to $1.11 compared to $1.07 in the year-ago period. The pace of top-line growth was in-line with the consensus forecast, while the company beat by a few pennies on the bottom-line. Quarterly operating cash flow leapt 15%, to $1.51 billion, while free cash flow jumped an impressive 20%, to $1.29 billion. What the market didn't like was the company's revenue growth guidance for the fourth quarter (~12-14%) of 2021 and for full-year 2022 (~18%). Though our forecasts for revenue growth in the near term have come down, it hasn't changed the view that PayPal's shares look attractive.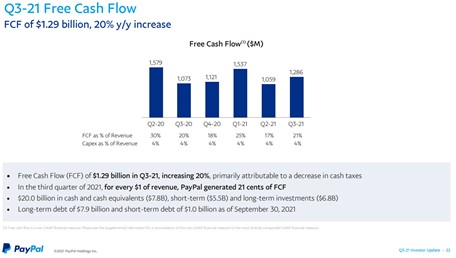 Image: PayPal continues to be a fantastic free-cash-flow generator. Image Source: PayPal's third-quarter 2021 presentation.
All things considered, we see no reason to panic. For one, there are a lot of moving parts in management's guidance, and it's likely the executive team is being conservative for a number of reasons, not the least of which is the resumption of in-person activity post-pandemic, increased competition from the likes of Square (SQ) and other payment provides such as Dutch company Adyen (ADYEY)--which teamed up with eBay (EBAY) some years ago--and broader weakness across the cross-border travel market, which was echoed at Visa (V) and Mastercard (MA) and evident in the share-price performance at Global Payments (GPN), which provides transaction processing services for Visa and Mastercard.
Offsetting these concerns are a number of positives, however. PayPal launching Venmo on Amazon (AMZN) next year is a key win, and it's hard to overlook the traction it is gaining in the Buy Now, Pay Later (BNPL) space, while remaining the "most accepted digital wallet" out there "with >75% of the top 1,500 largest global merchants utilizing PayPal at checkout." PayPal also acquired Paidy for ~$2.7 billion, with the deal closing post third-quarter 2021 end, and while the transaction was principally cash-based, PayPal has the financial capacity to handle it quite well. Paidy will expand PayPal's reach into Japan, where, as with most other developed nations, e-commerce and cashless transactions continue to surge.
PayPal's balance sheet also remains extremely healthy, and that might be why the executive team was reportedly looking at Pinterest (it has a lot of net cash sitting idly by). The company ended the calendar third quarter 2021 (September 30) with ~$20 billion in cash and cash equivalents and ~$8.9 in both short- and long-term debt--good for a very robust net cash position. We hope management got the message with respect to the market's reaction when rumors started to fly about a PayPal-Pinterest tie-up and will strive to be as conservative as possible going forward with any deal making.
Concluding Thoughts
PayPal's stock has advanced nearly 400% during the past five years. The company remains a net-cash-rich, free-cash-flow generating powerhouse with substantial secular growth opportunities. Though we've made some adjustments to our valuation model following its outlook released in conjunction with its third-quarter 2021 report, we still like shares of the digital payments giant. The stock may be in the doghouse for some time to come, however.
Tickerized for PYPL, PINS, SQ, ADYEY, EBAY, V, MA, GPN, AMZN, EWJ, SOFI
----------

Image Source: Value Trap
----------
Valuentum members have access to our 16-page stock reports, Valuentum Buying Index ratings, Dividend Cushion ratios, fair value estimates and ranges, dividend reports and more. Not a member? Subscribe today. The first 14 days are free.
Brian Nelson owns shares in SPY, SCHG, QQQ, DIA, VOT, BITO, and IWM. Valuentum owns SPY, SCHG, QQQ, VOO, and DIA. Brian Nelson's household owns shares in HON, DIS, HAS, NKE. Some of the other securities written about in this article may be included in Valuentum's simulated newsletter portfolios. Contact Valuentum for more information about its editorial policies.