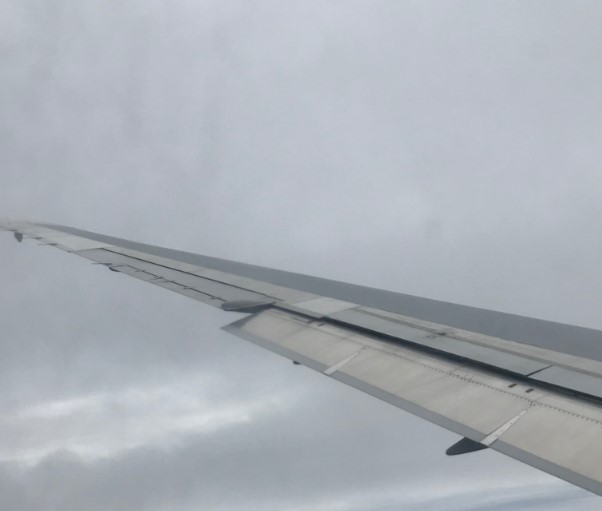 Image Source: Valuentum
By Brian Nelson, CFA
The coronavirus pandemic ("COVID-19") has fundamentally changed how companies do business. Zoom Video (ZM) has made in-person meetings largely redundant while innovative digital-agreement firms such as DocuSign (DOCU) have only contributed to the "anywhere economy." Though there may be pent-up demand for in-person meetings and handshake agreements as the number of vaccinations for COVID-19 increase across the globe, many businesses may grow to permanently embrace the "anywhere economy" for its efficiencies and cost savings. This will impact the long-term trajectory of business air travel demand, in our opinion, with implications on the normalized intrinsic values of airlines (JETS), jet makers, and the aerospace supply chain.
During most of the past decade, we have been bullish on the secular trend of air travel growth and aerospace demand given the vast backlog of unfulfilled aircraft deliveries at the airframe makers Boeing (BA) and Airbus (EADSY), but a once-in-a-century pandemic and the preferences of coming generations have changed our take. For example, during the COVID-19 pandemic, many baby boomers that never spent much time on a computer bought their first items on Amazon (AMZN) last year, while others learned to schedule their grocery pick-ups at Walmart (WMT) to avoid potential exposure to the virus. The convenience of staying at home for just about everything wasn't fully appreciated or socially accepted until COVID-19 made it so. Many baby boomers will continue the behaviors they learned to embrace during the coronavirus pandemic, but this may be ancillary to our assessment of the values of airlines, jet makers, and the aerospace supply chain.
Demographic Shifts and Changing Consumer Preferences to Impact Business Travel Demand
As we look out to air traffic and aerospace demand in the coming decades, it's impossible to ignore the demographic shifts and the changing consumer preferences that come with them. As baby boomers take advantage of new technologies to make their lives easier, millennials "grew up" in the digital age and find such technologies indispensable to their lives, with most millennials preferring impersonal interactions through digital means. For example, a millennial today may have no problem ordering Domino's (DPZ) from an app on their iPhone, while their parents may still call up the local pizza shop to order and then drive to pick up the pizza themselves and pay with cash. The takeaway, of course, is not so much that food-delivery companies Grubhub (GRUB), DoorDash (DASH) and Uber (UBER) Eats (Postmates) will fundamentally change the manner that we order and get our meals, but rather it is the idea that coming generations will prefer much more impersonal interactions within business processes than the generations before them.
We expect this demographic-driven behavioral shift to have tremendous long-term implications on the trajectory of future air travel demand growth relative to pre-COVID-19 expectations. For future millennial CEOs that today are texting with their friends (instead of chatting on the phone) and using DoorDash to deliver lunch to their home (instead of ordering at the counter), we expect the adoption curve in the coming decades of disruptive business process solutions such as Zoom Video and DocuSign to be much easier--or even preferable. By 2030, it would not be surprising for most of business to be conducted almost entirely digital--from the intro call on Zoom Video or another web-based communications platform through signing the contract online with "category killer" DocuSign's eSignature. The in-person business meeting that requires cross-continent or intercontinental business air travel may be viewed more as a costly luxury when efficiencies and cost savings can be had through digital business processing. Air travel will not go away (and it will still grow), but the future pace of expansion has certainly been disrupted.
Air Travel Demand Will Make New Highs Again But Long Term Expectations Lower Than Pre-COVID-19
We expect air travel demand to recover from the doldrums of the COVID-19 crisis, just like it has recovered from every other calamity in the history of mankind from past wars to 9/11 to other avian flu outbreaks. We also expect the newfound wealth emanating from the stock market, new IPOs and SPACs, cryptocurrencies and other alternative asset-class inflation to provide a mitigating impact via increased leisure travel in the near term, but this more-cyclical component may not be sustainable to fully offset what we expect to be a structurally changed business air travel demand landscape over the long haul. Again, the emphasis is not that air travel demand won't recover or be larger than pre-COVID-19 levels in the coming years, but rather that the future trajectory of air travel growth over a future 20-year horizon or so has changed dramatically.
Though shares of airlines and the aerospace supply chain sold off considerably during the COVID-19 pandemic (and have bounced back somewhat), investors in airlines and the aerospace supply chain may still not fully appreciate this permanently altered dynamic. They may be betting on a "return to pre-COVID-19 normal" scenario, but "normal" for all intents and purposes may have been changed as a result of an acceleration of disruptive technologies. Perhaps our altered long-term view on airlines and aerospace is shared by Berkshire Hathaway's (BRK.A) (BRK.B) Warren Buffett. In August 2015, Berkshire announced it would shell out $37 billion for one of our favorite companies in the aerospace supply chain, Precision Castparts. The company makes vital metal castings for jet engines, and with one of the best CEOs in the business in Mark Donegan, we thought Warren Buffett made a savvy acquisition at the time.
However, in Berkshire's latest shareholder letter, the Oracle of Omaha noted:
The final component in our GAAP figure – that ugly $11 billion write-down – is almost entirely the quantification of a mistake I made in 2016. That year, Berkshire purchased Precision Castparts ("PCC"), and I paid too much for the company. No one misled me in any way – I was simply too optimistic about PCC's normalized profit potential. Last year, my miscalculation was laid bare by adverse developments throughout the aerospace industry, PCC's most important source of customers. In purchasing PCC, Berkshire bought a fine company – the best in its business. Mark Donegan, PCC's CEO, is a passionate manager who consistently pours the same energy into the business that he did before we purchased it. We are lucky to have him running things. I believe I was right in concluding that PCC would, over time, earn good returns on the net tangible assets deployed in its operations. I was wrong, however, in judging the average amount of future earnings and, consequently, wrong in my calculation of the proper price to pay for the business. PCC is far from my first error of that sort. But it's a big one.
When it comes to asset write-downs, they reflect a permanent change in the long-term assessed value of the business, not one influenced by a cyclical dynamic or a one-time shock such as COVID-19, but rather as Warren Buffett puts it, an adjustment in "normalized profit potential." The rest of the aerospace supply chain is not immune to similar dynamics either--and by extension, we believe the long-term normalized earnings power of the entire aerospace supply chain has been substantially reduced in similar fashion. A confluence of factors ranging from the changing mix of leisure and business travel demand in the coming decades coupled with the cyclical tendencies of the financial health of airlines has now made investing in the aerospace supply chain tenuous at best. We do not fault Warren Buffett for his purchase of Precision Castparts. We loved the company in 2015 and 2016, too, but COVID-19 and accelerated disruptive technologies have changed the long-term game, whether we like it or not.
Honeywell Remains the Best Way to Play Aerospace In Our View
Our fair value estimate for jet-making giant Boeing stands at $234 per share, about in line with its share price at the time of this writing, but we're not interested in shares. Boeing's balance sheet is very unhealthy regardless of its credit rating, in our view, and it will be years before Boeing gets back to where it was before the 737 MAX calamity and COVID-19 crisis, if ever. We're also not interested in General Electric (GE). Though the troubled conglomerate is making progress in improving industrial free cash flow, pinpointing a fair value estimate for the conglomerate is far more art than science than we would prefer in a long-term investment consideration. The airlines, too, are more like trading vehicles than investments, and they now will be faced with headwinds from secular changes in the nature of business air travel.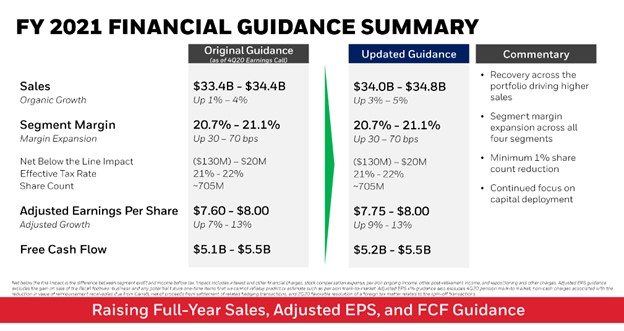 Image Shown: Honeywell's expects a better-than-expected 2021. Image Source: Honeywell 1Q 2021 Earnings Presentation.
We think the best way to gain exposure to aerospace is via Honeywell (HON), which we include in the Dividend Growth Newsletter portfolio. Honeywell is well-diversified with its 'Honeywell Building Technologies' and 'Safety and Productivity Solutions' business segments, which will help smooth out COVID-19 driven weakness in its 'Aerospace' division while providing exposure to the area for any potential upside should our and Warren Buffett's thesis on the aerospace supply chain come up short. We were pleased with Honeywell's first-quarter results, released April 23, and here's what management had to say about its outlook for 2021 in the press release:
As a result of the company's first-quarter performance and management's outlook for the remainder of the year, Honeywell raised its full-year sales guidance and raised the midpoint of its adjusted earnings per share and cash flow guidance. Full-year organic sales growth is now expected to be in the range of 3% to 5%. Adjusted earnings per share is expected to be $7.75 to $8.00, up 15 cents from the low end of the prior guidance range. Operating cash flow is now expected to be in the range of $5.8 billion to $6.1 billion and free cash flow is now expected to be in the range of $5.2 billion to $5.5 billion.
Even with Honeywell's 'Aerospace' sales falling 22% during the first quarter, the company still managed to drive resilient earnings per share performance in the period and raise its full-year 2021 guidance thanks in part to considerable growth in its 'Safety and Productivity Solutions' segment, which benefits from personal protective equipment demand. When air travel and aerospace demand return to their "new normal" -- a "normal" that is different than what we expected the future to be like before COVID-19 -- Honeywell will still benefit. Unlike others, however, the company is not exclusively tied to aerospace as with other pure plays such as Boeing, nor is it as troubled as other diversified industrials with aerospace exposure such as GE, which continues to work hard to right the ship. Relatively speaking, these considerations make Honeywell quite attractive of an aerospace and industrials idea, and its dividend is icing on the cake in this regard.
Concluding Thoughts
The future profile for air travel demand will be negatively impacted in the long run (relative to pre-COVID-19 expectations) as increased leisure travel from the wealth effect may not completely offset reduced business travel growth impaired by digital solutions permanently disrupting the way companies conduct business. As with Warren Buffett, who recently wrote down the value of metal casting jet-engine supplier Precision Castparts (one of the best aerospace suppliers in the business), we believe intrinsic values of others in the aerospace supply chain have been permanently reduced as well.
We're staying away from airlines and aerospace with the exception of Honeywell, which offers diversified industrial exposure and a "call option" on a gradual aerospace recovery to a "new normal." Honeywell is included in the Dividend Growth Newsletter portfolio and showed with its first-quarter 2021 results that it can thrive in a business environment where aerospace demand may not live up to pre-COVID-19 long-term expectations. Honeywell yields ~1.7% at the time of this writing.
Tickerized for HON, GE, EADSY, BA, SPR, TGI, HWM, SIEGY, SMEGF, SAFRF, AA, ARNC, HXL, ATRO, TDG, CW, KAMN, DCO, LHX, HEI, JETS, ALK, LUV, AAL, ACDVF, DAL, UAL, HA, SAVE, GOL, CPA, RYAAY, AZUL, ICAGY, EJTTF, DLAKF, DLAKY, AFRAF, DRTGF, WZZAF, AERZY, FNNNF, NWARF, AIBEF, QUBSF, ESYJY, LTM, SKYW, MESA, ANZFF, CEA, ZNH, AIRYY, ALGT, KLMR, JAPSY, ZM, DOCU, GRUB, DASH, UBER

-----
Valuentum members have access to our 16-page stock reports, Valuentum Buying Index ratings, Dividend Cushion ratios, fair value estimates and ranges, dividend reports and more. Not a member? Subscribe today. The first 14 days are free.
Brian Nelson owns shares in SPY, SCHG, QQQ, DIA, VOT, and IWM. Brian Nelson's household owns shares in HON, DIS, HAS. Some of the other securities written about in this article may be included in Valuentum's simulated newsletter portfolios. Contact Valuentum for more information about its editorial policies.