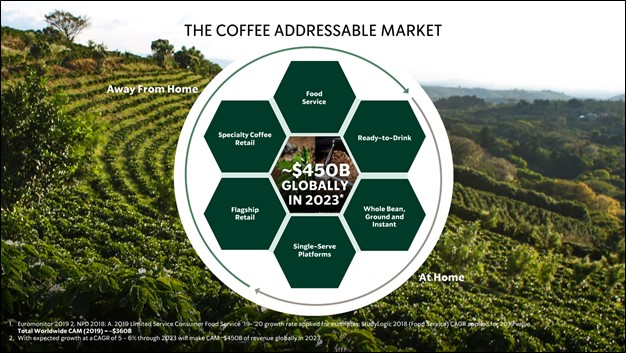 Image Shown: Starbucks Corporation sees the total addressable market for coffee products growing by a decent clip over the coming years, which is forecasted to reach ~$450 billion in 2023. Image Source: Starbucks Corporation – 2020 Biennial Investor Day Presentation
By Callum Turcan
On December 9, Starbucks Corporation (SBUX) hosted its biennial Investor Day meeting, held virtually this year due to the ongoing coronavirus ('COVID-19') pandemic and updated its financial guidance for the next several fiscal years. For reference, Starbucks' GAAP revenues and GAAP operating income fell 11% and 62% year-over-year, respectively, in fiscal 2020 (period ended September 27, 2020) as the company contended with headwinds created by the COVID-19 pandemic. Looking ahead, Starbucks expects to realize a "significant rebound" in fiscal 2021 and "outsize growth"in fiscal 2022, particularly as it concerns its non-GAAP EPS performance. We expect to raise our fair value estimate modestly upon the next update.
Improving Outlook
In fiscal 2020, Starbucks posted $1.17 in non-GAAP EPS (down from $2.83 in the prior fiscal year), though management expects that will bounce back up to $2.70-$2.90 in fiscal 2021 (please note fiscal 2021 includes a 53rd week). Looking farther ahead, Starbucks is targeting "annual non-GAAP EPS growth of at least 20%" in fiscal 2022 (even when including the negative impact the 53rd week in fiscal 2021 will have on year-over-year comparisons) and 10%-12% annual non-GAAP EPS growth in both fiscal 2023 and fiscal 2024. This rebound will be driven in part by the global economy eventually returning to pre-pandemic activities (including commuting, vacations, and business travel-related activities) which would lead to households spending more time outside--and thus, in theory, potentially driving up demand for Starbucks' offerings.
Starbucks' intends to continue improving its digital operations with an eye towards its customer loyalty program. When consumers worldwide return to pre-pandemic activities, Starbucks wants to create and cement long-lasting relationships to build up its brand. In July 2020, Starbucks announced it would change its loyalty program to make it easier for customers in the US and Canada to use its digital app to gain points (called "Stars") through this program (those Stars can be redeemed for food, beverages, and other products) at company-owned locations. New beverage launches are also likely in the works.
During the past few fiscal years, Starbucks has sought to accelerate growth in its two core markets, the US and China. As it concerns Starbucks' international growth opportunities (particularly those outside of China), Starbucks formed a 'Global Coffee Alliance' with Nestlé S.A. (NSRGY) that was announced in May 2018. Here is what the press release had to say about that strategic partnership:
As part of the alliance, Nestlé will obtain the rights to market, sell, and distribute Starbucks®, Seattle's Best Coffee®, Starbucks Reserve®, Teavana™, Starbucks VIA® and Torrefazione Italia® packaged coffee and tea in all global at-home and away-from-home channels. Nestlé will pay Starbucks $7.15 billion in closing consideration, and Starbucks – with a focus on long term shareholder value creation – will retain a significant stake as licensor and supplier of roast and ground and other products going forward. Additionally, the Starbucks brand portfolio will be represented on Nestlé's single-serve capsule systems.
Effectively, Starbucks is utilizing Nestlé's global distribution system to grow its footprint in the consumer packaged goods and foodservice industries. This partnership is expected to play a leading role in supporting Starbucks' financial rebound in the coming fiscal years. Here is what management had to say on the issue during Starbucks' fourth quarter of fiscal 2020 earnings call (emphasis added):
"Through the Global Coffee Alliance with Nestle, we accelerated growth and innovation, while maintaining our commitment to sustainability in Q4, including the introduction of non-dairy Starbucks Creamers with 100% recyclable packaging to our full portfolio of at-home products. We entered nine new markets in the quarter, bringing Starbucks at-home coffee presence through the Global Coffee Alliance to 62 markets in just 24 months. We also continue to meet customers where they are through our global ready-to-drink portfolio. Notably, the continued performance of ready-to-drink Nitro Cold Brew, the number 1 innovation in the category this year. Exceeding expectations.
Overall, we are very pleased with the accelerated expansion of the Starbucks brand around the world through the channel business. This is truly a brand amplifier. In summary, the Starbucks brand is stronger than ever." --- Kevin Johnson, President and CEO of Starbucks
Longer term, Starbucks aims to grow its retail store base to ~55,000 units by fiscal 2030, up from 32,660 at the end of fiscal 2020 (51% were company-operated and the remaining 49% were licensed at the end of fiscal 2020). Starbucks' expanding reach, if managed effectively, should go a long way in extending its growth runway and growing its cash flows over time.
Concluding Thoughts
As of this writing, shares of Starbucks are trading north of the top end of our fair value estimate range (which sits at $100 per share). We expect to modestly raise our fair value estimate in our discounted cash flow model upon its next update to take into account Starbucks' recent favorable outlook update and improving long-term growth trajectory, though we caution that serious headwinds remain as global health authorities work to put an end to the COVID-19 pandemic.
-----
Discretionary Spending Industry – ATVI, BBY, CBRL, CMG, DIS, DG, DLTR, DPZ, DNKN, EL, F, GM, HAS, HD, LOW, MCD, NFLX, NKE, SBUX, TSLA, YUM, DKS, TJX, ROST, WHR, KMX, AZO, RL
Tickerized for SBUX, DNKN, NSRGY, MCD, KDP, MNST, FIZZ
-----
Valuentum members have access to our 16-page stock reports, Valuentum Buying Index ratings, Dividend Cushion ratios, fair value estimates and ranges, dividend reports and more. Not a member? Subscribe today. The first 14 days are free.
Callum Turcan does not own shares in any of the securities mentioned above. Dollar General Corporation (DG) and The Walt Disney Company (DIS) are both included in Valuentum's simulated Best Ideas Newsletter portfolio. Dick's Sporting Goods Inc (DKS) and Home Depot Inc (HD) are both included in Valuentum's simulated Dividend Growth Newsletter portfolio. Some of the other companies written about in this article may be included in Valuentum's simulated newsletter portfolios. Contact Valuentum for more information about its editorial policies.