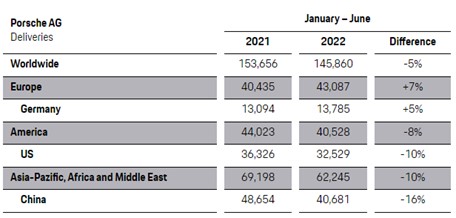 Image Shown: Unit sales at Porsche fell 5% during the first half of 2022, but demand remains particularly strong for its SUV models despite a troubled supply chain and higher input cost inflation. Image Source: Porsche AG.
By Brian Nelson, CFA
German luxury and sports car maker Porsche AG (POAHY) (POAHF) is planning to go public in the coming weeks, following in the footsteps of Ferrari (RACE), which listed a few years ago. Porsche-owner Volkswagen AG (VWAGY) (VLKAF) has been investing heavily in electric vehicles, and the IPO of the Porsche brand will provide it with fresh capital to be more competitive on that front.
The Porsche AG IPO would be one of the biggest ever in Europe at a time when the continent may be staring down one of the worst recessions in decades as energy prices soar. The backdrop for IPOs remains a difficult one and car companies continue to deal with supply chain problems and chip shortages, but the interest in Porsche AG shares remains high.
Volkswagen is looking for a giant valuation of 75 billion euros for Porsche, and the IPO is targeted to be listed on the Frankfurt Stock Exchange on September 29. Minority shareholders that buy into the IPO won't have much to say about the future direction of the company, however. According to the Wall Street Journal:
The 911 million Porsche shares will be divided evenly between non-voting preferred shares and ordinary shares with voting rights. The IPO is set to value the company at up to $78 billion, making it one of the most valuable auto companies in Europe.
VW is selling 25% of Porsche preferred shares, or about 12.5% of the entire company, to investors in the public offering. Roughly the same amount of ordinary shares are being sold to the confusingly named Porsche SE, VW's largest shareholder and the listed investment fund majority-owned by the heirs of Beetle inventor Ferdinand Porsche.
Though much of the world continues to struggle under the weight of inflationary pressures, Porsche's operating performance has been resilient. During the first half of 2022, revenue advanced 8.5% at the luxury car maker, while operating profit surged 24.6%, as the company benefited from a stronger product mix and currency effects, though unit sales dipped ~5.1% from the same period last year. Automotive net cash flow during the first half of 2022 came in at 2.39 billion euros, and while this was down from the 2.6 billion euros in the year-ago period, Porsche AG clearly is demonstrating that it can handle a difficult supply chain situation and higher input costs.
Concluding Thoughts
Near-term operating performance at Porsche AG may face pressure as much of Europe teeters on a potential deep recession, but the company's long-term outlook is as bright as ever. The company operates in an attractive niche in the automotive industry, as its brand identifies as "sports, modern luxury" for the affluent buyer. The luxury space tends to be more recession-resistant than other areas, and we expect growth in luxury sports cars to remain robust for years to come, even if there may be a pull back in unit sales in 2022 and 2023.
Though we're huge fans of Porsche AG, the business, investors need to take a hard look at the timing of this IPO, and whether it may make sense for its share price to fall a bit given the weakening situation in Europe. Investors will also have to accept that they won't have much say in the future direction of the business, as Porsche's preferred shares won't have any voting rights. Regardless of what you think about the Porsche IPO, it is nonetheless an exciting IPO for your radar -- the second-largest ever in Germany and the third-largest on the European continent. We'll be watching shares closely after they go public.
-----
Related: F, GM, HMC
Brian Nelson owns shares in SPY, SCHG, QQQ, DIA, VOT, BITO, and IWM. Valuentum owns SPY, SCHG, QQQ, VOO, and DIA. Brian Nelson's household owns shares in HON, DIS, HAS, NKE. Some of the other securities written about in this article may be included in Valuentum's simulated newsletter portfolios. Contact Valuentum for more information about its editorial policies.
Valuentum members have access to our 16-page stock reports, Valuentum Buying Index ratings, Dividend Cushion ratios, fair value estimates and ranges, dividend reports and more. Not a member? Subscribe today. The first 14 days are free.