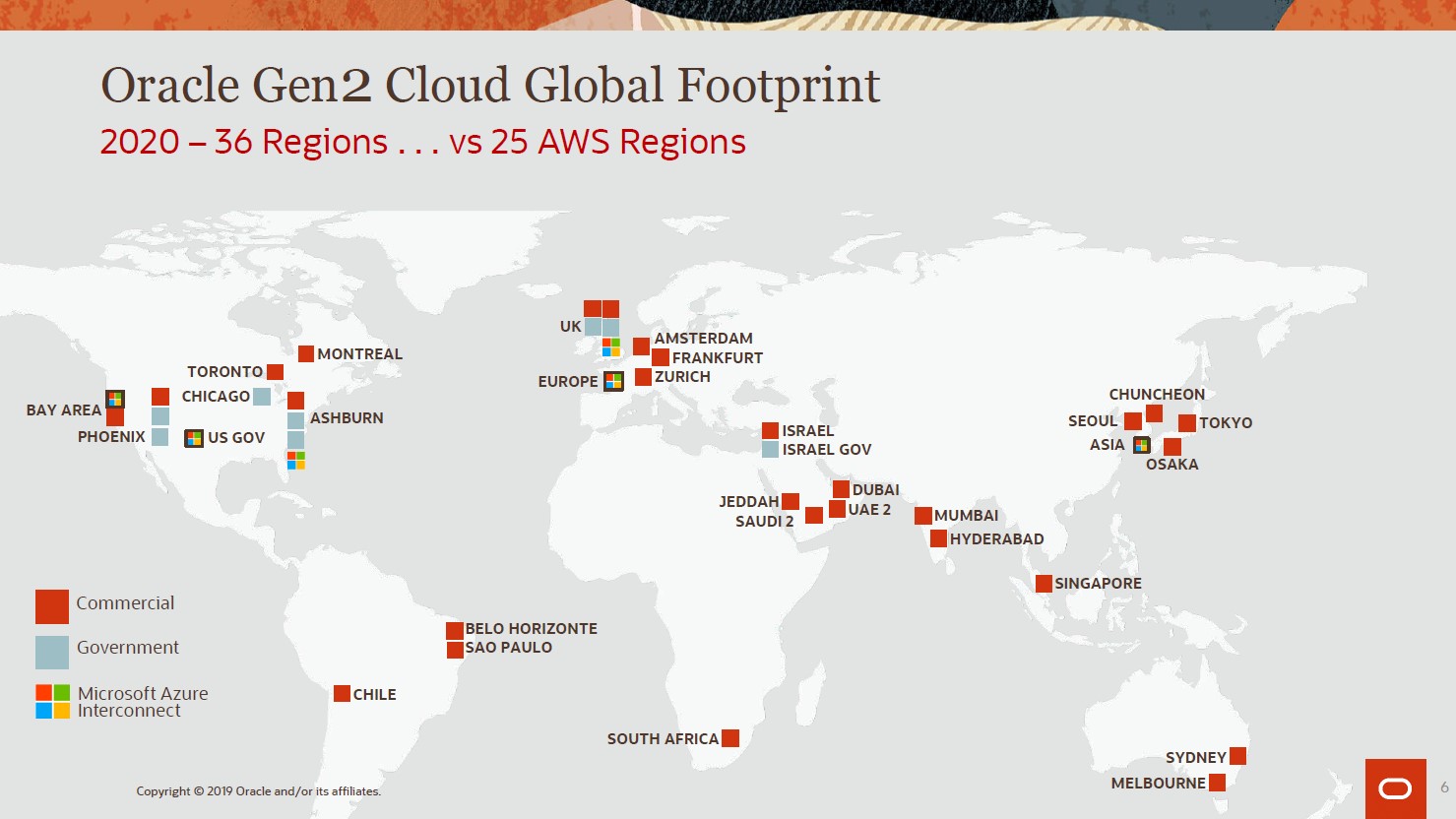 Image Shown: Oracle Corporation (ORCL) is seeking to take market share in the clouding computing space from Microsoft Corporation (MSFT) and Amazon Inc (AMZN). Image Source: Oracle Corporation – September 2019 Financial Analyst Meeting
By Callum Turcan
Oracle Corporation (ORCL) is included as a holding in our Dividend Growth Newsletter portfolio. We like the firm's high quality cash flow profile as that lends support to its Dividend Safety rating, which sits at "GOOD," and should its Dividend Cushion ratio of 2.7 tick up slightly, Oracle would be in a position to earn an "EXCELLENT" Dividend Safety rating. Shares of ORCL yield ~1.8% as of this writing, and Oracle's Dividend Growth rating sits at "EXCELLENT" given its promising payout growth trajectory. Please note our Dividend Cushion ratio and Dividend Safety rating are forward-looking, and we model in strong double-digit per share payout growth through the mid-2020s, though the ongoing coronavirus ('COVID-19') pandemic may result in management being more cautious in the near-term.
Background
Historically speaking, one of the hardest tasks Oracle faced was the shift away from an on-premise data application management hardware and services provider to one that is increasingly off-premise and cloud computing oriented. Over the past few fiscal years, Oracle has finally had some real success on this front.
Oracle Cloud Software-as-a-Service ('SaaS') and Infrastructure-as-a-Service ('IaaS') offerings (known collectively as Oracle Cloud Services) "provide a comprehensive and integrated stack of applications and infrastructure services delivered via a cloud-based deployment model" and Oracle Cloud Services offers "the software, hardware and services on a customer's behalf in a cloud-based IT environment that Oracle deploys, upgrades, supports and manages for the customer." Some customers prefer "hybrid deployments" which the company refers to as its Oracle Cloud at Customer offering. This combines on-premise and cloud computing options (such as customers that utilize Oracle Cloud at their own data center).
For reference, Oracle's SaaS offerings include "enterprise resource planning (ErP), human capital management (HCM), customer experience (CX), and supply chain management (SCM), among others." The firm also offers "a number of cloud-based industry solutions to address specific customer needs within certain industries." The goal is to provide cutting edge IT solutions and infrastructure to its clients that are cost effective, scalable, and flexible.
Pivoting to Oracle's IaaS offerings, these are "designed to deliver platform, compute, storage and networking services, among others, that Oracle runs, manages, upgrades and supports on behalf of the customer." Oracle also provides "big data and analytics solutions" to allow its clients "to gain new insights into their customers' behaviors, to anticipate future demand more accurately, to align workforce deployment with business activity forecasts and to accelerate the pace of operations, among other benefits." Data analytics is a major growth space.
Oracle also recently launched its Autonomous Database offering which "is an Oracle Cloud IaaS offering that utilizes Oracle's Generation 2 Cloud infrastructure and is designed to deliver performance and scale with automated database operations and policy-driven optimization implemented with machine learning to lower labor costs and reduce human error for routine database administration tasks including maintenance, tuning, patching, security and backup, among others." Management noted that revenues from the new offering were up 150% in the fiscal third quarter (appears to be on a year-over-year basis) during the firm's fiscal third quarter conference call, though that was off of a low base. Going forward, success here would help juice Oracle's growth trajectory.
Financial Review
Oracle's 'cloud and license business' (includes the firm's "Oracle Cloud Services offerings, cloud license and on-premise license offerings, and license support offerings") represented 83% of its revenues in fiscal 2019 (period ended May 31, 2019), up from 80% in fiscal 2017. During this period, Oracle's 'hardware business' saw its share of Oracle's revenues decline from 11% to 9% and its 'services business' segment (includes "consulting services, advanced customer support services and education services" that are geared towards Oracle's client base) saw its share of Oracle's revenue declined from 9% to 8%.
In the third quarter of fiscal 2020 (period ended February 29, 2020), Oracle's 'cloud services and license support' business posted a 4% year-over-year sales increase (5% growth in constant dollar terms) and was the only part of its business that posted year-over-year revenue growth in the fiscal third quarter. Oracle's 'cloud license and on‐premise license' segment saw its revenue slip by 2% year-over-year in the fiscal third quarter, however, sales were flat on a constant currency basis. Oracle's hardware sales slipped moderately year-over-year in the fiscal third quarter and sales from its services business were flat on a constant-currency basis.
Overall, Oracle's GAAP revenues still grew by 2% year-over-year during the period due to strength at its cloud segment. When Oracle reports its fiscal fourth quarter and full fiscal year 2020 results after the market close on June 16, what we will be monitoring is updates on Oracle's cloud segment. Winning over new customers, launching new offerings, being able to push through pricing increases, and how the segment is performing during the pandemic are all noteworthy. Please note that the ongoing coronavirus ('COVID-19') pandemic may create some noise that is not reflective of the trajectory of Oracle's operational and financial performance.
We will also be monitoring for changes in Oracle's cost structure. GAAP operating expenses climbed higher by 1% in the fiscal third quarter on a year-over-year basis (or 2% on a constant currency basis). As Oracle is not like some of its peers in terms of revenue growth, the company needs to be very focused on controlling costs. Given the return of meaningful revenue growth at Oracle in recent years, which we appreciate, there is some leeway but not much.
As an aside, Oracle's GAAP revenues grew by a little over 3% from fiscal 2014 to fiscal 2019, and all of that growth came from the past few fiscal years after a long period of declines and stagnation. Oracle's GAAP revenues grew by just under 5% from fiscal 2017 to fiscal 2019. Things are improving at Oracle, and investors want to see that trajectory continue.
Concluding Thoughts
Oracle remains a solid dividend growth player, and we are pleased with its performance of late. When Oracle publishes its fiscal fourth quarter earnings report, we will have more to say on the name. One final note, Oracle's weighted average outstanding diluted share count dropped by ~10% year-over-year in the fiscal third quarter due to meaningful share repurchases. We will get an update on how Oracle views its capital allocation priorities in the face of COVID-19 during the related quarterly conference call, and possibly within the earnings press release.
-----
Software Industry – ADBE ADSK EBIX INTU MSFT ORCL CRM
Internet Content & Services Industry – GOOG GOOGL BIDU FB JD TECHY TWTR
Internet Content and Catalog Retail Industry – BABA AMZN BKNG EBAY EXPE GRPN IAC OSTK QRTEA STMP
Related: SPY, QQQ
-----
Valuentum members have access to our 16-page stock reports, Valuentum Buying Index ratings, Dividend Cushion ratios, fair value estimates and ranges, dividend reports and more. Not a member? Subscribe today. The first 14 days are free.
Callum Turcan does not own shares in any of the securities mentioned above. Oracle Corporation (ORCL) is included in Valuentum's simulated Dividend Growth Newsletter portfolio. Alphabet Inc (GOOG) Class C shares and Facebook Inc (FB) are both included in Valuentum's simulated Best Ideas Newsletter portfolio. Both the Best Ideas Newsletter and Dividend Growth Newsletter portfolios include a SPDR S&P 500 ETF Trust (SPY) put option holding with a $295 per share strike price that expire on August 21, 2020. Some of the other companies written about in this article may be included in Valuentum's simulated newsletter portfolios. Contact Valuentum for more information about its editorial policies.