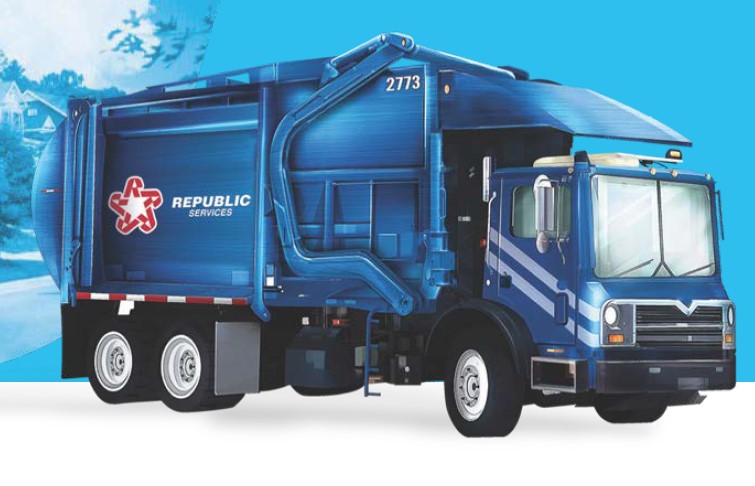 Image Source: Republic Services Inc – March 2020 COVID-19 Investor Update Presentation
By Callum Turcan
Dividend Growth Newsletter portfolio holding Republic Services Inc (RSG), which was added to the portfolio back on January 13, 2020 (link here), is well positioned to ride out the turbulence created by the ongoing novel coronavirus ('COVID-19') pandemic. Before getting into its recent refinancing activity, please note that roughly four-fifths of Republic Services' revenues comes from long-term contracts, and that fundamentally, waste disposal services are almost always in demand (hard to combat a healthcare crisis if trash is piling up on the streets, sidewalks, and can't be properly disposed of in landfills). While its financials will face some pressures from the pandemic, Republic Services should be able to emerge on the other side of this crisis with its business and balance sheet relatively intact. As of this writing, shares of RSG yield ~2.1% and its Dividend Cushion ratio of 1.9 provides for a "GOOD" Dividend Safety rating.
Image Shown: Republic Services' business model is very resilient, which is partially why we added shares of RSG to our Dividend Growth Newsletter portfolio back on January 13, 2020. Image Source: Republic Services - March 2020 COVID-19 Investor Update Presentation
Recent Refinancing Activities
On February 18, Republic Services agreed to sell $600 million in 2.30% notes due 2030 and $400 million in 3.05% notes due 2050, with these deals expected to close on February 27 according to its 8-K filling that was filed on February 21. That move raised a lot of funds at an ideal time for Republic Services, as the waste disposal company now has ample liquidity for refinancing and other corporate purposes. At the end of 2019, Republic Services had $930 million in short-term debt (current maturities of long-term debt and notes payable) versus $47 million in cash and cash equivalents and $179 million in restricted cash and marketable securities on hand. Recent debt issuances should enable Republic Services to easily make good on its 2020 maturities, which appears to have been the case (at least for the vast majority of its short-term debt, there may still be a very modest amount of notes payable outstanding, we'll see when it files its first quarter 2020 earnings report).
Within a different 8-K filing filed on March 25, Republic Services noted that the firm had "no near-term senior note maturities" and that the "next senior note maturity is $600 million due in November 2021," indicating 2020 maturities have been retired. In Republic Services' 2019 Annual Report, the firm doesn't readily break down the exact date of its upcoming debt maturities; however, according to Republic Services' 2010 Annual Report, the firm issued $850 million in 5.00% notes due March 1, 2020, back in March 2010. This is supported by information provided by Republic Services' 2018 Annual Report, which noted that this tranche of debt was still outstanding as of the end of 2018. Additionally, the $600 million in debt due on November 2021 carries a 5.25% interest rate according to its 2018 Annual Report, suggesting Republic Services can refinance that burden at a lower rate as it had apparently done with its 5.00% March 2020 notes.
Assuming those 5.00% March 2020 notes were still outstanding at the end of 2019, then it seems Republic Services is communicating that this burden has since been retired. In the upcoming graphic down below, Republic Services' highlights its upcoming contractual obligations as of the end of 2019, keeping in mind this picture has changed somewhat since then for the aforementioned reasons.

Image Shown: A look at Republic Services' contractual obligations at the end of 2019, with an eye towards its 'Maturities of Notes Payable, Finance Leases, and Other Long-Term Debt' column. Image Source: Republic Services – 2019 Annual Report
At the end of 2019, Republic Services' long-term debt load stood at $7.8 billion, meaning the firm carries a large net debt load. We view that burden as manageable given its investment grade credit ratings and quality cash flow profile, two topics we'll cover in just a moment.
Republic Services is further supported by a $2.25 billon revolving credit facility which had roughly $1.7 billion in undrawn capacity as of the end of 2019. That facility will provide the company with extensive access to liquidity as its needs dictate. In 2019, Republic Services generated ~$1.15 billion in free cash flow, which handily covered $0.5 billion in dividend obligations during this period. Share buybacks totaled $0.4 billion in 2019, which were also covered by free cash flow. We like Republic Services' cash flow profile, and view its revenue streams as relatively stable during these turbulent times, keeping in mind roughly one-fifth of its revenues comes from business activities that are more exposed to the current slowdown in the US economic activity (such as its temporary-large container collection services and environmental services).
According to its 2019 Annual Report, Republic Services carried investment grade credit ratings (BBB+/Baa2/BBB) as of the end of 2019. Back in May 2018, Moody's Corporation (MCO) upgraded Republic Services' credit rating to Baa2 from Baa3 with a stable outlook on the back of the waste disposal company's quality business model and its access to liquidity via its revolving credit line.
Concluding Thoughts
Republic Services is a high quality firm with a resilient cash flow profile, and its services should remain in demand during the ongoing COVID-19 pandemic. The company is designated by the US Federal Emergency Management Agency ('FEMA') as an essential service provider, meaning its garbage trucks, disposal services, and other operations should continue to operate during the crisis given how important it is to have clean streets and sidewalks during a pandemic. Republic Services' recent refinancing activities mean the company doesn't have to worry about debt maturities until late next year, providing the firm with ample time to wait out the current economic downturn.
Environmental Services Industry – CWST RSG SRCL WCN WM
Related: ECOL, EVX, MCO
-----
Valuentum members have access to our 16-page stock reports, Valuentum Buying Index ratings, Dividend Cushion ratios, fair value estimates and ranges, dividend reports and more. Not a member? Subscribe today. The first 14 days are free.
Callum Turcan does not own shares in any of the securities mentioned above. Republic Services Inc (RSG) is included in Valuentum's simulated Dividend Growth Newsletter portfolio. Some of the other companies written about in this article may be included in Valuentum's simulated newsletter portfolios. Contact Valuentum for more information about its editorial policies.