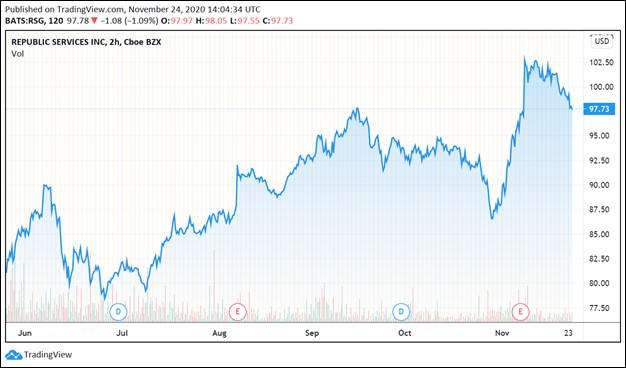 Image Shown: Shares of Republic Services Inc have been on an upward march over the past six months as investors warmed back up to the waste management company. We appreciate the company's stable cash flow profile and high quality earnings, and we continue to include shares of RSG at a modest weighting in our Dividend Growth Newsletter portfolio.
By Callum Turcan
The waste management company Republic Services Inc (RSG) has proven to be incredibly resilient during the ongoing coronavirus ('COVID-19') pandemic. We are big fans of its stable cash flow profile and high quality earnings. According to Republic Services' 2019 Annual Report the firm "is the second largest provider of non-hazardous solid waste collection, transfer, disposal, recycling, and environmental services in the United States, as measured by revenue." The firm operated in over 40 US states and Puerto Rico as of the end of 2019. We include Republic Services in our Dividend Growth Newsletter portfolio at a modest weighting. Pricing strength (assisted by industry consolidation), revenue growth (assisted by M&A activity), and the potential for meaningful margin expansion (assisted by economies of scale) underpins Republic Services' cash flow growth trajectory. Shares of RSG yield ~1.7% as of this writing.
Financial Update
In early-November, Republic Services reported third quarter earnings for 2020 and we were impressed by what we saw (article link here). In that article we wrote (emphasis added):
On November 5, Republic Services reported third-quarter results that showed the resilience of the firm's business model. The trash taker's adjusted EBITDA margin expanded 230 basis points, while it delivered double-digit growth in adjusted earnings (+11%) and adjusted free cash flow (+13.8%). Management also increased its adjusted free cash flow guidance for 2020 on the third-quarter announcement thanks in part to strength in EBITDA and improvements in working capital. Pricing remains the name of the game in the waste space, with third quarter core price increases driving revenue 4.5% higher.
Looking ahead to the all of 2020, Republic Services reinstated its full-year 2020 adjusted EPS guidance, to the range of $3.37-$3.40, and the company now anticipates that adjusted free cash flow generation on the year will come in the range of $1.15-$1.2 billion. Part of our thesis on Republic Services centers on its strong and growing free cash flow generation to keep paying out a growing dividend. We don't expect its recently announced share buyback authorization to the tune of $2 billion to compromise that dividend focus.
Expanding on that, we want to highlight that we use an adjusted Dividend Cushion ratio when evaluating the strength of Republic Services' forward-looking dividend coverage to take into account its stable cash flow profile and apparent ability to refinance its debt at relatively attractive rates. The company's adjusted Dividend Cushion ratio sits at 1.5 and Republic Services has a "GOOD" Dividend Safety rating (these metrics factor in our expectations that the company will grow its per share dividend modestly over the coming years).
At the end of September 2020, Republic Services had $0.4 billion in cash and cash equivalents on hand versus $0.2 billon in short-term debt and $8.6 billion in long-term debt. We caution that the firm does have a large net debt load, but when it comes to future refinancing activities, Republic Services is supported by its investment grade credit rating (BBB+/Baa2/BBB), which historically has enabled the firm to issue new debt at relatively attractive rates.
Back in August 2020, Republic Services issued out $650 million in 1.450% Senior Notes due 2021. The net proceeds were used to finance the call of 5.250% Senior Notes due November 2021 and management noted that this move "will reduce cash interest by approximately $20 million per year" in the press release. At the end of September 2020, there were no outstanding 5.250% Senior Notes due 2021.
Republic Services' liquidity needs can also be met through its $2.25 billion unsecured revolving credit line that matures in June 2023. There is the option for Republic Services to request two one-year extensions of the maturity date, though its lenders would first have to commit to the extension. Additionally, there is also the option to attempt to increase the total borrowing capacity under the revolving credit line by up to $1.0 billion, though Republic Services would need additional commitments from current or new lenders to do so.
As of September 30, Republic Services had no borrowings under this revolving credit line, though outstanding letters of credit reduced its available borrowing capacity to a little under $1.9 billion as of the end of September 2020. The company also has a $1.0 billion 364-day unsecured revolving credit facility which matures in August 2021 that had no borrowings against it as of the end of the third quarter of 2020. A combination of Republic Services' cash on hand, stable free cash flows, and access to liquidity should enable the firm to stay on top of its debt maturities going forward.
We were pleasantly surprised to see management raise Republic Services' adjusted free cash flow forecasts for 2020 during its latest earnings report. The company also announced it had approved a $2.0 billion share repurchase program in that report, which is slated to run from the start of 2021 to the end of 2023 (Republic Services had ~$0.6 billion in remaining buyback authority at the end of September 2020). Though we would prefer Republic Services build up cash on the balance sheet, its stable cash flows should enable the firm to cover its dividend obligations, manage its refinancing needs, and buy back its stock going forward.
On a final note here, Republic Services' adjusted (non-GAAP) operating income grew by ~3% year-over-year during the first nine months of 2020 when removing special items (specifically 'withdrawal costs - multiemployer pension funds,' 'loss (gain) on business divestitures and impairments, net' and 'restructuring charges'). We are big fans of its business model and its high quality earnings.
Top Tier Asset
Arguably the crown jewel of Republic Services' waste disposal operations is the 2,200-acre Apex Regional Landfill in Nevada that is situated northeast of Las Vegas. By some estimates, this landfill could continue accepting garbage over the next couple of centuries. In our view, local opposition to new landfill operations from NIMBYs (not in my backyard) and environmental groups means existing landfill operations are quite valuable, and we would like to stress that replacing these assets is no easy task. Please note that there is not much information available on the Apex Regional Landfill within Republic Services' annual reports, so we did some digging.
The landfill site is also home to the 11 MW Apex Landfill Renewable Energy Generating Facility, a gas-to-energy endeavor that was completed roughly a decade ago. This is a relatively small power generating operation compared to modern wind farms or combined-cycle natural gas-fired power plants.
According to a 2017 report from the Nevada Division of Environmental Protection, the Apex landfill received over 6,800 tons of trash every day in 2016, and had room to grow. The report notes that the Apex landfill is located along a rail line, which could enable Republic Services to accept trash from elsewhere. Republic Services owns the land around the Apex landfill, which could enable the firm to expand the facility and allow it to take in meaningful amounts of trash that originates from beyond the greater Las Vegas Valley region (which the Apex landfill caters to), according to the report.
We are intrigued by the opportunities that Republic Services could capitalize on in the future via its Apex landfill operation. As the population in Nevada and across the Sun Belt continues to grow, so too should demand for waste management services. One of the appealing things about the waste management industry is that it offers investors a way to capitalize on expected population growth.
Management Commentary
Ongoing consolidation in the domestic waste management industry supports Republic Services' outlook. The company and its peers, such as Waste Management Inc (WM) and Waste Connections Inc (WCN), have been steadily pursuing bolt-on acquisitions (and occasionally larger deals) of late.
For instance, Waste Management completed its $4.6 billion acquisition (when including assumed net debt) of Advanced Disposal on October 30. However, the US Department of Justice requires that the enlarged firm divest certain assets to meet regulatory requirements. Waste Connections has also been busy acquiring new waste management assets, noting that "we are also on track for another year of above average acquisition activity" during its third quarter of 2020 earnings report.
Republic Services is in the process of acquiring waste disposal firm Santek, a deal that was confirmed during Republic Services' first quarter of 2020 earnings call. During Republic Services' third quarter of 2020 earnings call, management noted (emphasis added):
"We believe investing our free cash flow in quality acquisitions is the best way to increase long-term shareholder value. We continue to prioritize acquisition opportunities to further strengthen our leading market positions and expand into new markets with attractive growth profiles. Year-to-date, we have invested $154 million in acquisitions.
We recently received regulatory approval on a leading recycling and solid waste provider in the twin cities area. Combined with the previously discussed pending acquisition of Santek, we now expect to invest $850 million to $900 million in acquisitions in 2020. Our acquisition pipeline remains robust, and we expect 2021 will be another strong year of activity." --- Donald Slager, CEO of Republic Services
Not much information has been made publicly available concerning the Santek deal, and we are keeping an eye on the pending acquisition. Such a deal would likely be funded by some combination of Republic Services' cash on hand--potentially it will slow down share repurchases for a few quarters to allow cash to build up on the balance sheet--and by the firm tapping debt markets. We are big fans of Republic Services' growth strategy. Here, we would like to stress that Republic Services' ROIC performance has been stellar in the past and we expect that the firm will continue to generate meaningful shareholder value going forward (ROIC ex-goodwill > estimated WACC).
Concluding Thoughts
Industry consolidation combined with contractual price increases and favorable demographic trends should help Republic Services grow its margins over time (aided by economies of scale) as cost inflation is more than offset by price increases across the board. Pricing strength and meaningful barriers to entry underpin Republic Services' promising long-term growth outlook, which is supported furthermore by its stable cash flow profile and high quality earnings. As the firm offers an essential service, we expect Republic Services' financials will continue to hold up well, relatively speaking, in the face of the ongoing COVID-19 pandemic and that the company will be able to continue making good on its dividend obligations going forward with room for meaningful payout growth.
---
---
Related: CWST, SRCL, EVX, USMV, CLH, CVA, DAR, ECOL, VEOEY, SZEVY, ENGIY
Valuentum members have access to our 16-page stock reports, Valuentum Buying Index ratings, Dividend Cushion ratios, fair value estimates and ranges, dividend reports and more. Not a member? Subscribe today. The first 14 days are free.
Callum Turcan does not own shares in any of the securities mentioned above. Republic Services Inc (RSG) is included in Valuentum's simulated Dividend Growth Newsletter portfolio. Some of the other companies written about in this article may be included in Valuentum's simulated newsletter portfolios. Contact Valuentum for more information about its editorial policies.