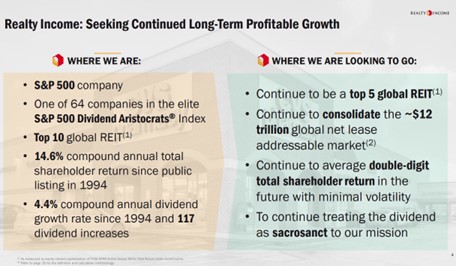 Image Source: Realty Income
By Brian Nelson, CFA
The equity REIT area continues to face considerable pressure during 2022, with the Vanguard Real Estate ETF (VNQ) down ~30% so far this year, but Realty Income (O), known prominently for its monthly dividends and dividend growth track record, has bucked the trend. With an estimated forward dividend yield of ~4.9%, Realty Income is down only ~14% so far this year, an enviable position relative to its peers.
Realty Income reported third-quarter results for the period ending September 30, 2022, and they were pretty good. Adjusted funds from operations (AFFO) advanced 7.7%, while normalized FFO advanced 9%, during a period when the company declared its 100th consecutive quarterly dividend increase, a payout that is now ~5% more than that of a year ago. Here's what management had to say about the quarter:
During the quarter, we invested approximately $1.9 billion in real estate at a cash cap rate of 6.1%, bringing our total to $5.1 billion year to date. Additionally, we enhanced our financial flexibility by raising over $2.0 billion of equity during the quarter, $1.3 billion of which we intend to settle in the fourth quarter at $66.70 per share, while further de-risking the balance sheet with a $750 million 10-year bond offering in October…
…Finally, the operating fundamentals of our business remain healthy as we finished the quarter with occupancy of 98.9% while registering a rent recapture rate of 108.5% on properties re-leased. We are fortunate to manage a consistent business model that provides dependable results, and believe we are well-positioned to continue generating long-term value for shareholders.
Looking ahead, Realty Income raised its normalized FFO per share for 2022 to the range of $3.99-$4.07 (was $3.92-$4.05) and its AFFO per share to the range of $3.87-$3.94 (was $3.84-$3.97). Same store rent growth was reiterated at a 2% pace of expansion for the year, and occupancy rates are still targeted to be over 98%. The "Monthly Dividend Company," as Realty Income is dubbed, remains one of the best-executing Dividend Aristocrats on the market today.
Concluding Thoughts
We continue to be impressed with Realty Income's ability to keep raising its dividend payout, and while REIT economics have deteriorated in 2022, the company is doing much better than peers. We're not fans of the capital-market dependence risk of REITs, in general, and Realty Income holds a rather elevated net debt to annualized pro forma adjusted EBITAre ratio of 5.2x, but we're sticking with the company as an idea in the simulated Dividend Growth Newsletter portfolio at this time. The company has raised its dividend 117 times since it was listed on the New York Stock Exchange in 1994.
---------------------------------------------

About Our Name
But how, you will ask, does one decide what [stocks are] "attractive"? Most analysts feel they must choose between two approaches customarily thought to be in opposition: "value" and "growth,"...We view that as fuzzy thinking...Growth is always a component of value [and] the very term "value investing" is redundant.
-- Warren Buffett, Berkshire Hathaway annual report, 1992
At Valuentum, we take Buffett's thoughts one step further. We think the best opportunities arise from an understanding of a variety of investing disciplines in order to identify the most attractive stocks at any given time. Valuentum therefore analyzes each stock across a wide spectrum of philosophies, from deep value through momentum investing. And a combination of the two approaches found on each side of the spectrum (value/momentum) in a name couldn't be more representative of what our analysts do here; hence, we're called Valuentum.
---------------------------------------------
Brian Nelson owns shares in SPY, SCHG, QQQ, DIA, VOT, BITO, and IWM. Valuentum owns SPY, SCHG, QQQ, VOO, and DIA. Brian Nelson's household owns shares in HON, DIS, HAS, NKE. Some of the other securities written about in this article may be included in Valuentum's simulated newsletter portfolios. Contact Valuentum for more information about its editorial policies.
Valuentum members have access to our 16-page stock reports, Valuentum Buying Index ratings, Dividend Cushion ratios, fair value estimates and ranges, dividend reports and more. Not a member? Subscribe today. The first 14 days are free.