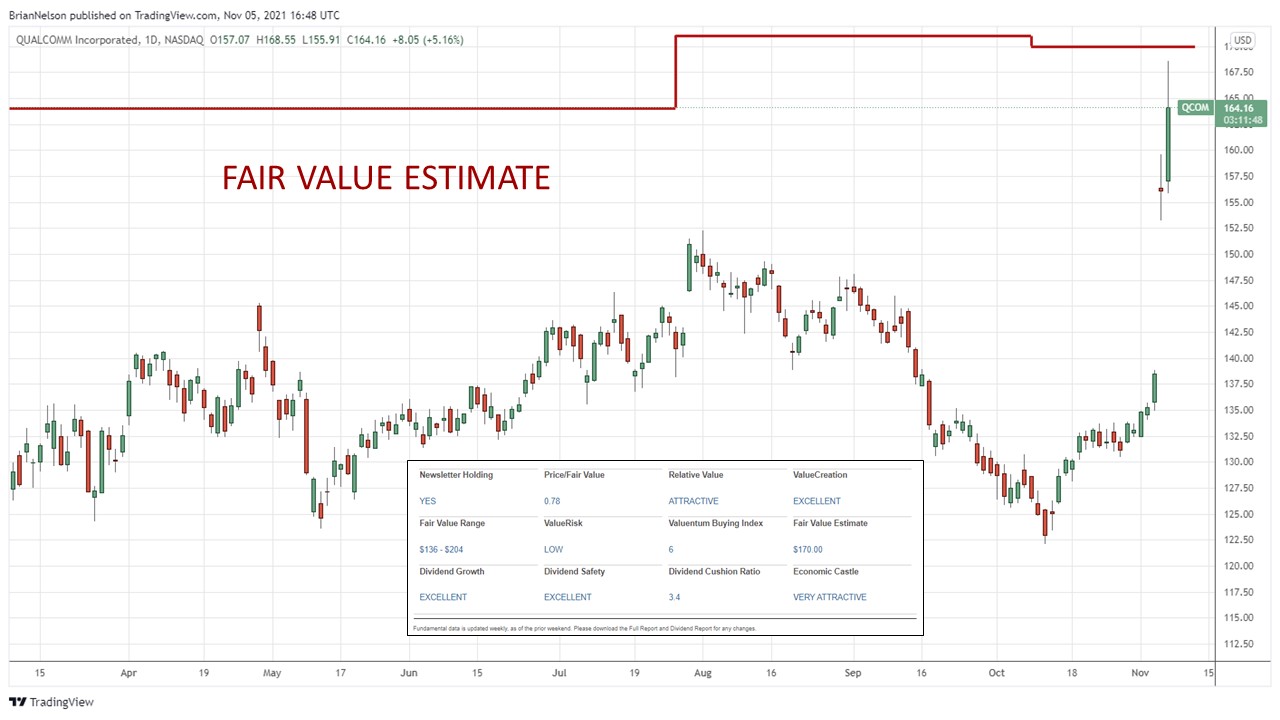 Image Source: Qualcomm's shares have surged toward our fair value estimate. We continue to like shares of this dividend growth giant.
By Brian Nelson, CFA
On November 3, communications chip-maker Qualcomm (QCOM) reported strong results for its fiscal fourth quarter (the calendar third quarter), rounding out an excellent fiscal 2021. We're reiterating our $170 per share fair value estimate for QCOM and the company as an idea for long-term dividend growth investors. Shares yield ~1.7% at the time of this writing.
The growth rates in revenues, earnings before taxes (EBT), net income, and diluted earnings per share (EPS) were fantastic for the fiscal year. On a GAAP basis, revenues leapt 43%, EBT advanced 80%, net income jumped 74%, while EPS followed with a 74% increase as well, to $7.87 per share.
The strength was evident across the board, with revenue on a year-over-year basis jumping 61% for handsets, 76% for RF front-end, 51% for Automotive, and 67% for the Internet of Things (IoT). Management continues to reiterate its strong competitive stance in the industry:
We are well positioned to continue to lead in mobile and enable the digital transformation of industries with our broad portfolio of relevant technologies. Our results across RF front-end, Automotive and IoT attest to the success of our technology roadmap and revenue diversification strategy.
At the end of Qualcomm's fiscal year, cash and marketable securities stood at $12.4 billion against long-term debt and short-term debt of $15.7 billion, revealing a modest net debt position. However, free cash flow generation was phenomenal during the fiscal year, nearly doubling in the period to $8.6 billion, representing ~2.9x cash dividends paid in the fiscal year. Qualcomm retains a very healthy Dividend Cushion ratio.
The company's outlook for the current fiscal quarter was bright, too. Qualcomm expects to earn between $2.90-$3.10 in non-GAAP diluted EPS for the period, exceeding the consensus forecast by ~$0.50 per share at the high end, while revenue for the quarter is expected to come in the range of $10-$10.8 billion, also beating the market's expectations by a large margin.
Qualcomm has been working aggressively through supply chain issues as we outlined earlier this year, "Dividend Growth Idea Qualcomm Proactively Managing Fallout from Global Chip Shortage." Many are taking the strong quarter and forward guidance to mean that supply-chain issues impacting the semiconductor (SMH) industry may be easing a bit. Here's what the executive team said about the supply chain hurdles in their responses from analysts on the conference call (lightly edited):
"...we were able to work through the supply constraints to address the demand that came up...
...we do have constraints really across-the-board...But we feel pretty comfortable that the overall supply picture is playing out exactly as we had planned. We saw this coming early and we've been talking about it for the last couple of quarters, and we have put in place plans both for dual sourcing for certain parts. We've now announced three parts that are dual sourced, that are available…
...And then also capacity expansions with our suppliers that were previously being planned (to) come in towards the end of the year. So that's definitely something that we are very excited about...
...we said that we expect to see material improvement in our supply towards the end of the calendar year...(when we) look at the first half of 2022, we still have some shortage. But as we get to the second part the year, in general, supply and demand are going to be aligned."
Concluding Thoughts
Qualcomm remains a free-cash-flow generating juggernaut that has a very healthy dividend. Management surprised the market to the upside with its fiscal fourth-quarter report and guidance and indicated that supply chain issues are "playing out exactly as (they) planned," as the firm expects supply and demand to be aligned by the second half of 2022. We were pleased by the news and are reiterating our $170 per share fair value estimate and the company as an idea for long-term dividend growth investors.
Qualcomm's 16-page Stock Report (pdf) >>
Qualcomm's Dividend Report (pdf) >>
Tickerized for holdings in the SMH.
----------

Image Source: Value Trap
----------
Valuentum members have access to our 16-page stock reports, Valuentum Buying Index ratings, Dividend Cushion ratios, fair value estimates and ranges, dividend reports and more. Not a member? Subscribe today. The first 14 days are free.
Brian Nelson owns shares in SPY, SCHG, QQQ, DIA, VOT, BITO, and IWM. Valuentum owns SPY, SCHG, QQQ, VOO, and DIA. Brian Nelson's household owns shares in HON, DIS, HAS, NKE. Some of the other securities written about in this article may be included in Valuentum's simulated newsletter portfolios. Contact Valuentum for more information about its editorial policies.