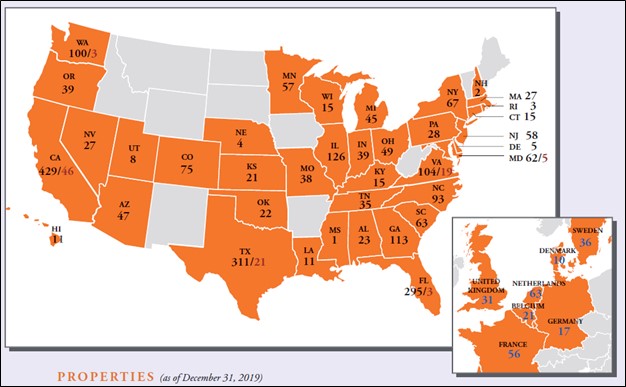 Image Shown: A look at Public Storage's geographical footprint at the end of 2019, keeping in mind some of these properties are owned by its strategic partners. Image Source: Public Storage – 2019 Annual Report
By Callum Turcan
We are big fans of the self-storage industry and include Public Storage (PSA) in our High Yield Dividend Newsletter portfolio. One of the greatest things about Public Storage is the ability for this self-storage real estate investment trust ('REIT') to generate sizable positive free cash flows, a rarity in the REIT world. We have covered this dynamic in detail in the past (link here). Shares of PSA yield ~3.6% as of this writing and we see room for significant payout growth over the coming years. Recently, Public Storage received a letter from a major activist investor that seeks to shake up the company to improve the REIT's ability to reward shareholders going forward.
Activist Investor Pushing for Change
On December 14, Public Storage put out a statement in response to a letter from two hedge funds (Elliott Associates L.P. and Elliott International Group, together "Elliott") that are managed by Elliott Management, which is run by activist investor Paul Singer. We will cover that response in just a moment. The letter was made public by Elliott on the same day. In that letter, Elliott noted its hedge funds "have made a substantial investment in the common stock and economic equivalents of Public Storage" and were pushing for some big changes at the REIT including a shake-up of its corporate structure.
The WSJ reports that Elliott Management privately nominated six directors to Public Storage's board of directors. Additionally, Elliott mentioned in its letter that it is pushing for Public Storage to form a new board committee "to evaluate [Public Storage's] performance and plan, focusing specifically on organic growth strategy, capital allocation and balance sheet optimization" in order "to evaluate, design and implement value-creative changes." The primary goal of this potential new committee would likely be to aggressively push for and ultimately help implement Elliott's various recommendations.
Public Storage's announcement in response to Elliott's letter and recommendations largely highlighted the firm's historical financial performance, recent events, and why the company was on the right trajectory. However, on December 13, Public Storage announced it had appointed three new trustees to its board effective January 1, 2021, replacing three trustees that are now set to retire on December 31, 2020. Keeping these changes in mind, Public Storage notes that its board of directors will have appointed five independent trustees over the past 18 months.
In our view, this is a sign of Public Storage agreeing to some of the changes that Elliott put forth. Beyond shaking up its board and corporate structure, Elliott is pushing for Public Storage to invest more in its asset base, bulk up its third-party management platform, place a greater emphasis on growing its market share, focus on reviving same-store sales growth and improve its investor relations strategy. Public Storage announced on December 14 that it would host a virtual Investor Day event on May 3, 2021, in another nod to Elliott.
While Elliott applauded some of Public Storage's recent endeavors, the activist fund is seeking deeper structural changes. It is possible Public Storage will significantly step up its capital investments going forward after recently announcing its five-year $500 million 'Property of Tomorrow' investment program. That program will see Public Storage increase investments in its existing assets with an eye toward enhancing its customer service operations. Additionally, Public Storage continues to be acquisitive, completing the first phase of a two-phase acquisition worth $528 million in December 2020 (the two-phase acquisition covers 36 properties with 3.6 million in combined net rentable square feet) with the second phase expected to be finalized once the self-storage properties under construction are completed.
Concluding Thoughts
Public Storage is a great company, though there is always room for improvement. We are intrigued by Elliott taking an interest in the self-storage REIT, though our interest in Public Storage goes far beyond potential changes due to shareholder activism. During Public Storage's Investor Day presentation that is due to be held in early May 2021, we expect management to come out swinging in defense of the REIT's total shareholder return strategy, though the firm may opt to meet some of Elliott's other demands. We are following this story closely.
Tickerized for UHAL, CAR, PSA, R, URI, CUBE, EXR, JCAP, VNQ, PSTG, LSI, NSA, SELF
-----
Valuentum members have access to our 16-page stock reports, Valuentum Buying Index ratings, Dividend Cushion ratios, fair value estimates and ranges, dividend reports and more. Not a member? Subscribe today. The first 14 days are free.
Callum Turcan does not own shares of any of the securities mentioned above. CubeSmart (CUBE), Public Storage (PSA) and Vanguard Real Estate ETF (VNQ) are all included in Valuentum's simulated High Yield Dividend Newsletter portfolio. Some of the other companies written about in this article may be included in Valuentum's simulated newsletter portfolios. Contact Valuentum for more information about its editorial policies.