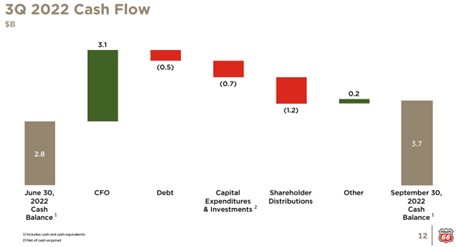 Image Source: Phillips 66
By Brian Nelson, CFA
The refining industry continues to mint profits these days, and Phillips 66 (PSX) has been no exception. We warmed up to the stock earlier this year, and we continue to like shares. The high end of our fair value estimate stands at $140 per share, and we would not be surprised to see the company reach those levels, given sentiment regarding energy equities these days.
Phillips 66's portfolio spans operations across 'Midstream,' 'Chemicals,' 'Refining' and 'Marketing and Specialties,' and the big driver in the company's third-quarter report, released November 1, was its 'Midstream' division, which saw adjusted pre-tax income advance to $645 million from $292 million in the year-ago period. Though most of the strength in this area came through its efforts to consolidate DCP Midstream, Sand Hills Pipeline and Southern Hills, things are looking better for the midstream space these days.
The company's 'Refining' operations also held up well in the period. Phillips 66 did realize lower margins ("crack spreads") in this division during the quarter, but higher volumes helped to mitigate weakness in that area. 'Refining' adjusted pre-tax income in the period came in at $2.8 billion and remains the firm's bread-and-butter profit driver. Phillips 66's 'Chemicals' operations faced some pressure as polyethylene margins took a hit, but its 'Marketing and Specialties' operations saw adjusted pre-tax income leap to $847 million from $765 million previously.
Phillips 66's financials are quite healthy. The firm hauled in $3.1 billion in cash flow from operations during the third quarter, and it spent less than a quarter of that on capital expenditures, showcasing strong free cash flow generation. Paying dividends and buying back stock remain a priority, with the firm returning $466 million in dividends and allocating $694 million in buybacks in the quarter. Its liquidity position remains sound, too, with cash and revolving credit capacity standing at $10.5 billion, a nice sum to handle the ups and downs of the cyclical energy sector.
We like Phillips 66's financial health and assign it a Dividend Cushion ratio of 1.6.
Concluding Thoughts
Shares of Phillips 66 have soared more than 40% this year, and we believe there is still upside on the basis of the high end of our fair value estimate range ($140 per share). The company's equity has been mighty volatile this year, however, sporting a 52-week range of ~$67-$111, so investors should continue to expect large swings. Right now, things in the energy markets are favorable, and we see no reason to sour on PSX shares at the moment. The company yields ~3.7% at the time of this writing.
Tickerized for CRAK, COP, VLO, CVX, PSX, MPC, USO, BOIL, XLE, XOP, VDE, OIH, DRIP, GUSH, USO, BNO
---------------------------------------------

About Our Name
But how, you will ask, does one decide what [stocks are] "attractive"? Most analysts feel they must choose between two approaches customarily thought to be in opposition: "value" and "growth,"...We view that as fuzzy thinking...Growth is always a component of value [and] the very term "value investing" is redundant.
-- Warren Buffett, Berkshire Hathaway annual report, 1992
At Valuentum, we take Buffett's thoughts one step further. We think the best opportunities arise from an understanding of a variety of investing disciplines in order to identify the most attractive stocks at any given time. Valuentum therefore analyzes each stock across a wide spectrum of philosophies, from deep value through momentum investing. And a combination of the two approaches found on each side of the spectrum (value/momentum) in a name couldn't be more representative of what our analysts do here; hence, we're called Valuentum.
---------------------------------------------
Brian Nelson owns shares in SPY, SCHG, QQQ, DIA, VOT, BITO, and IWM. Valuentum owns SPY, SCHG, QQQ, VOO, and DIA. Brian Nelson's household owns shares in HON, DIS, HAS, NKE. Some of the other securities written about in this article may be included in Valuentum's simulated newsletter portfolios. Contact Valuentum for more information about its editorial policies.
Valuentum members have access to our 16-page stock reports, Valuentum Buying Index ratings, Dividend Cushion ratios, fair value estimates and ranges, dividend reports and more. Not a member? Subscribe today. The first 14 days are free.