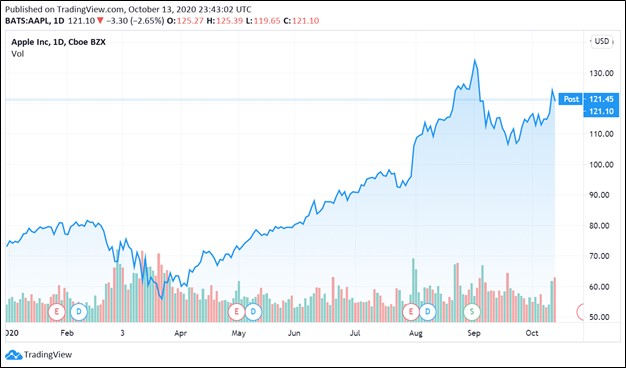 Image Shown: Shares of Apple Inc have surged higher year-to-date.
By Callum Turcan
On October 13, Apple Inc (AAPL) announced its first-ever lineup of 5G-capable iPhones along with a new smart home speaker offering HomePod Mini. While the 5G-capable iPhone announcement was largely expected, we appreciate the good news all the same. We include shares of Apple as a holding in both our Best Ideas Newsletter and Dividend Growth Newsletter portfolios and are big fans of the name. The HomePod Mini offering represents Apple's way of staying competitive with similar offerings from Amazon Inc (AMZN) and Alphabet Inc (GOOG) (GOOGL).
The Big News
Apple's four new iPhone offerings (iPhone 12 mini, iPhone 12, iPhone 12 Pro, and iPhone 12 Pro Max) are powered by the Apple-designed A14 Bionic chip that will allow for significant computing power improvements over previous versions of the iPhone and Apple's competitors. The more expensive iPhone 12 Pro and iPhone 12 Pro Max come with an advanced camera system along with a LiDAR Scanner that supports augmented reality ('AR') functions, while the cheaper iPhone 12 and iPhone 12 mini have a dual-camera system. Additionally, the iPhone 12 and iPhone 12 Pro will each have a 6.1-inch screen while the iPhone 12 mini will have a 5.4-inch screen and the iPhone 12 Pro Max will have a 6.7-inch screen (that is on a diagonal basis, though please note that these smartphones have rounded corners, meaning the screen sizes are slightly smaller if "measured as a rectangle" according to footnotes in Apple's press releases).
Each one of these new iPhone products come with a Super Retina XDR display and a Ceramic Shield front cover. The company also announced a new "high-powered" wireless charging system dubbed MagSafe in conjunction with the launch of the iPhone 12 lineup. Apple launched its new iOS 14 mobile operating system this past September to set the stage for the rollout of the iPhone 12 lineup.
Starting October 16, Apple will start receiving pre-orders for the iPhone 12, iPhone 12 Pro, and iPhone 12 Pro Max (the iPhone 12 mini will start receiving pre-orders in early-November) in numerous nations (including potential customers in Australia, China, Germany, Japan, the UK, and the US) and the market will be watching the firm's supply chain closely to gauge the level of initial demand for the new iPhone offerings.
Some of Apple's key suppliers include Taiwan Semiconductor Manufacturing Company Limited (TSM) and Broadcom Inc (AVGO). Qualcomm (QCOM) reached a major "ceasefire" with Apple back in April 2019, which helped enable Apple to launch its first 5G-capable iPhone and in return, Qualcomm should receive a significant amount of royalty revenues going forward.
The iPhone 12 will cost $100 more than the iPhone 11 when that product first launched, according to CNBC, whichis partially why Apple also launched the cheaper iPhone 12 mini (for cost-conscious consumers). For reference, the gross margin at Apple's 'Products' segment shifted lower from fiscal 2017 to fiscal 2019, indicating Apple may be trying to reverse this trend (as an aside, Apple's fiscal year ends the last Saturday of September). Please note those headwinds were offset by strong gross margin increases at its 'Services' segment, which now carries gross margins that are about twice that of its Hardware sales, and due to Services revenue growing as a percent of Apple's total revenues (from ~14% in fiscal 2017 to ~18% in fiscal 2019).
Concluding Thoughts
We continue to be huge fans of Apple and the company's fair value estimate sits at $140 per share, indicating there is still room for significant capital appreciation upside here. The top end of our fair value estimate range sits at $168 per share. Though shares of AAPL yield a modest ~0.7% as of this writing, we see room for Apple to push through significant dividend increases over the coming fiscal years indicating there is room for sizable income generation upside as well. Going forward, we will be keeping a close eye on the success of Apple's first-ever 5G-capable iPhone, though as always, please note most of the intrinsic value of equities comes from the mid-cycle (Year 6 – Year 20) and perpetuity (Year 21+) part of the business cycle. To read more about Apple, check out this article here.
-----
Broad Line Semiconductor Industry – AMD AVGO FSLR INTC TXN
Computer Hardware Industry – AAPL BB HPQ IBM TDC
Communication Equipment Industry – CIEN SATS LHX PLT QCOM VSAT
Communications Equipment Space – CSCO JNPR KN NOK SMCI
Integrated Circuits Industry – ADI MCHP MRVL NVDA SWKS TSM XLNX
Internet Content & Services Industry – GOOG GOOGL BIDU FB JD TCEHY TWTR
Semiconductor Equipment Industry – AMAT CREE IPGP KLAC LRCX MKSI SNPS TER
Software Industry – ADBE ADSK EBIX INTU MSFT ORCL CRM
Telecom Services Industry - CMCSA CTL DISH T TMUS VZ
Related: AMZN, SPY, QQQ
-----
Valuentum members have access to our 16-page stock reports, Valuentum Buying Index ratings, Dividend Cushion ratios, fair value estimates and ranges, dividend reports and more. Not a member? Subscribe today. The first 14 days are free.
Callum Turcan does not own shares in any of the securities mentioned above. Apple Inc (AAPL), Alphabet Inc (GOOG) Class C shares, Cisco Systems Inc (CSCO), Facebook Inc (FB), Intel Corporation (INTC) and Microsoft Corporation (MSFT) are all included in Valuentum's simulated Best Ideas Newsletter portfolio. Apple, Cisco Systems, Intel, Microsoft, and Oracle Corporation (ORCL) are all included in Valuentum's simulated Dividend Growth Newsletter portfolio. AT&T Inc (T) is included in Valuentum's simulated High Yield Dividend Newsletter portfolio. Some of the other companies written about in this article may be included in Valuentum's simulated newsletter portfolios. Contact Valuentum for more information about its editorial policies.