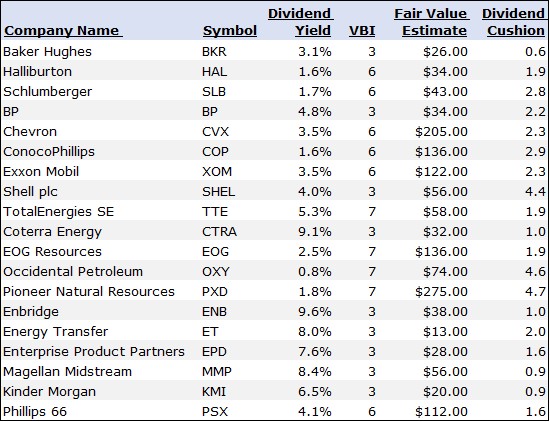 Dividend Yield: Estimated on a forward-looking annualized basis.
VBI: The Valuentum Buying Index, a timeliness indicator that overlays a price-to-fair-value estimate consideration.
Fair Value Estimate: Derived by Valuentum's enterprise valuation process.
Dividend Cushion ratio: A ratio assessing the health of the dividend (the higher, the better).
Data as of the date of this article. Individual company reports may have been updated subsequent to the publishing of this article, so please download a company's stock and dividend report for its latest information and data.
Note: The data in the tables of each of the below companies' respective stock pages is updated the weekend after the publishing of this update.
Please click on a company name below to view the corresponding equity report.
Pioneer Natural Resources (PXD)
Enterprise Product Partners (EPD)
----------
In our 16-page equity research reports, we offer a fair value estimate for each company based on a rigorous and transparent discounted cash flow process, assess the attractiveness of a stock based on a firm-specific margin of safety, and provide a relative valuation comparison in the context of the company's industry and peers. Each report includes detailed pro forma financial statements, explicit fundamental forecasts, and scenario analysis. A cross section of the ValueCreation and ValueRisk ratings provides a financial assessment of a company's business quality (competitive position), while the ValueTrend and Economic Castle ratings offer insight into the trajectory of a firm's economic profit creation (ROIC versus WACC). Included in each 16-page report is a company's rating on the Valuentum Buying Index (VBI), a methodology that combines rigorous financial and valuation analysis with an evaluation of a firm's technicals and momentum indicators to derive a score between 1 and 10 for each company (10=best). We believe the VBI methodology helps identify the most attractive stocks at the best time to consider buying, helping to avoid value traps and lagging performance due to the opportunity cost of holding a stock with great potential but at an inopportune time. The Best Ideas Newsletter portfolio puts the VBI into practice. Read more about the Valuentum Buying Index rating system, "Value and Momentum Within Stocks, Too." Members can access our 16-page company research reports, generally updated on a quarterly basis by using our 'Symbol' search box in our website header.