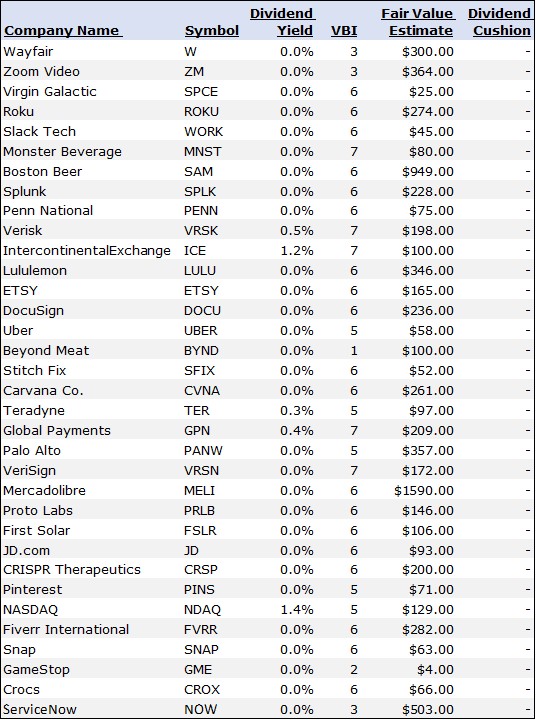 Dividend Yield: Estimated on a forward-looking annualized basis.
VBI: The Valuentum Buying Index, a timeliness indicator that overlays a price-to-fair-value estimate consideration.
Fair Value Estimate: Derived by Valuentum's enterprise valuation process.
Dividend Cushion ratio: A ratio assessing the health of the dividend (the higher, the better).
Data as of the date of this article. Individual company reports may have been updated subsequent to the publishing of this article, so please download a company's stock and dividend report for its latest information and data.
Note: The data in the tables of each of the below companies' respective stock pages is updated the weekend after the publishing of this update.
The 'Disruptive Innovation' industry is unique in almost every way. The companies included don't necessarily share a similar traditional industry or sector make-up, but they do share one big thing in common: They continue to disrupt the traditional way of doing things. Slack Technologies, for example, is revolutionizing email, Carvana is changing how consumers buy used cars, Roku is leading the streaming charge against linear TV, Teradyne's industrial robotics technology is fascinating, Beyond Meat is working to alter the substance of the meat products industry, Virgin Galactic wants to make spaceflight accessible for private individuals, Uber is changing how we think about getting from point A to point B through ridesharing, Penn National is aggressively expanding into sports betting with its investment in Barstool Sports, CRISPR Therapeutics' revolutionary gene-editing technology may offer a path to curative solutions for the worst diseases, Wayfair is disrupting how we buy home goods, ETSY is carving out a niche online marketplace in craft items, while Zoom Video has come of age during the outbreak of COVID-19. Others have been around for a while. Monster Beverage continues to innovate within the energy drink market, while Boston Beer has found new life with its Truly brand. There are other companies in this industry, and sure to be many more added in the future.
Please click on a company name below to view the corresponding equity report.
IntercontinentalExchange (ICE)
---
Valuentum also releases many new exciting ideas at the cutting edge of disruptive innovation in its Exclusive publication. Excerpts from the thesis of a few disruptive innovators that were highlighted as capital appreication ideas in the publication are provided below. The success rates of the Exclusive publication have also been great, too. From inception through October 2020, for capital appreciation ideas, the success rates have been 86.5% -- meaning that 86.5% of capital appreciation ideas that we've highlighted in the Exclusive publication have advanced from their highlight price to their close or current price (including dividends). For short idea considerations, the success rates have been 92.3% -- meaning that 92.3% of short idea considerations that we've highlighted in the Exclusive publication have fallen from their highlight price to their close or current price (including dividends).
An excerpt from the September 2018 edition of the Exclusive: "Genetic testing is already making a big difference in medicine. According to Invitae (NVTA), roughly 16% of healthy individuals that engaged in proactive testing were "presented with a medically actionable genetic condition they were not aware they had." That's incredible. Invitae is not dreaming small either...Invitae is building a strategy to reach billions of people! It's going to take a tremendous amount of effort when it comes to improvements in customer experience and scaling costs, but the end market is out there. According to the company, "of the up to 10% of the population affected by genetic disease, less than 0.5% receive that information by way of an indication-based screen or test report." View the Exclusive publication's archives >>
An excerpt from the December 2018 edition of the Exclusive: "Spotify (SPOT) is one of the largest global music streaming subscription services and is at the forefront of the digital transformation of the music industry. The company has a presence in more than 60 countries and territories, and its platform has approximately 190 million monthly average users and nearly 90 million premium subscribers, as of the third quarter of 2018. It's hard to believe this day and age that a company can make Apple look small, but the company notes that it has nearly double the scale of Apple Music. Now that's something." View the Exclusive publication's archives >>
An excerpt from the May 2019 edition of the Exclusive: "Teladoc Health Inc (TDOC) is the largest and most global provider of virtual healthcare services. While there is certainly competition from the likes of MDLive, Inc., American Well Corporation, and Grand Rounds, Inc. and other smaller industry participants, Teladoc has been rapidly scaling its first mover advantage via organic and acquisitive growth. In fact, the company guides for 20-30% annual organic revenue growth and has been delivering against that lofty goal. The industry is really in a rather nascent stage, but we would argue that the business model has already proven it has a place in the global healthcare industry. Teladoc Health solutions are transforming the access, cost and quality dynamics of healthcare delivery for all of its market participants." View the Exclusive publication's archives >>
An excerpt from the November 2019 edition of the Exclusive: "In the case of Shopify (SHOP) and some of the other best in class SaaS companies, we believe in both the growth case as well as the ability to scale the business into high levels of profitability in the future. We think the evidence is there that there is a long growth runway internationally and with layered on services and that the scalability of the business will show up as soon as management slows down its investment in growth. We really like Shopify's long-term growth prospects as a top quality capital appreciation idea. View the Exclusive publication's archives >>
----------
Also tickerized for ARKK, ARKG, UFO, ROKT
Biotech related: GBT, BLUE, IMRA, EDIT, NTLA, PACB
In our 16-page equity research reports, we offer a fair value estimate for each company based on a rigorous and transparent discounted cash flow process, assess the attractiveness of a stock based on a firm-specific margin of safety, and provide a relative valuation comparison in the context of the company's industry and peers. Each report includes detailed pro forma financial statements, explicit fundamental forecasts, and scenario analysis. A cross section of the ValueCreation and ValueRisk ratings provides a financial assessment of a company's business quality (competitive position), while the ValueTrend and Economic Castle ratings offer insight into the trajectory of a firm's economic profit creation (ROIC versus WACC). Included in each 16-page report is a company's rating on the Valuentum Buying Index (VBI), a methodology that combines rigorous financial and valuation analysis with an evaluation of a firm's technicals and momentum indicators to derive a score between 1 and 10 for each company (10=best). We believe the VBI methodology helps identify the most attractive stocks at the best time to consider buying, helping to avoid value traps and lagging performance due to the opportunity cost of holding a stock with great potential but at an inopportune time. The Best Ideas Newsletter portfolio puts the VBI into practice. Read more about the Valuentum Buying Index rating system, "Value and Momentum Within Stocks, Too." Members can access our 16-page company research reports, generally updated on a quarterly basis by using our 'Symbol' search box in our website header.
* Success rate: The percentage of ideas highlighted in the Exclusive that have moved in the direction of our thesis (i.e. up for capital appreciation ideas and down for short idea considerations) through the current price or closed price, with consideration of cash and stock dividends. Success rates do not consider trading costs or tax implications. Trading is simulated. Past results are not a guarantee of future performance.